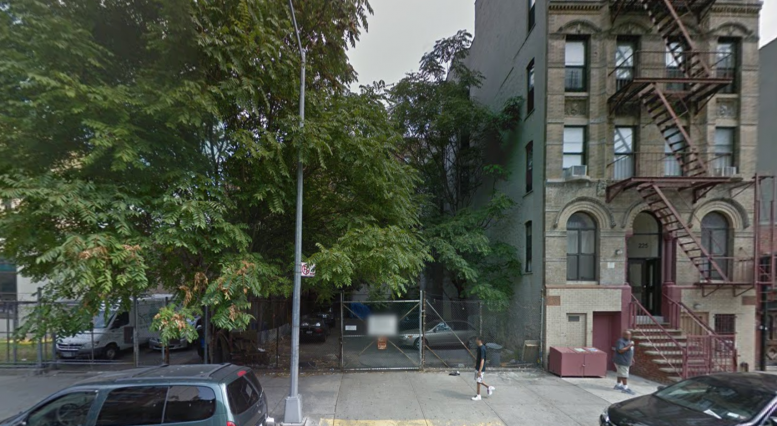 One of the few remaining vacant lots in East Harlem is about to become an apartment building. New building applications were filed yesterday to erect a seven-story residential project at 221 East 105th Street, between Second and Third Avenues.
The 75-foot-tall building will bring 23 apartments to a mostly prewar block. They'll be spread across 15,137 square feet of residential space, for average units measuring 658 square feet. The development will likely house rentals, and the average unit size means the apartments will be mostly studios and one-bedrooms.
The first floor will include only one apartment, followed by four units apiece on the five middle stories and two units on the seventh floor.
No parking is included, and none is required because the building is small enough to duck the parking minimums built into the zoning code.
The city rezoned this block, along with 56 others in East Harlem, back in 2003. Most of the new zoning was contextual, which means that side streets like East 105th gained height caps for new buildings. Now the mayor's administration is eyeing this area once again for a potential upzoning—probably along the main avenues—to encourage more affordable housing development.
---
Become a Harlem insider - Sign-Up for our Newsletter!
---
The developer is William Schneider, a bankruptcy attorney based in the Financial District, and RSLN Architecture will handle the design. Schneider picked up the 4,000-square-foot lot for $2,000,000 in August, paying $132 for each square foot of his planned building.
Via New York Yimby
Related Articles
---
VIDEO
---
"Dr. Harry Delany is a renowned Harlem born and raised surgeon, the son of the great jurist and civil rights leader, Hubert Delany...." This monthly post is made in partnership with Harlem Cultural Archives.