---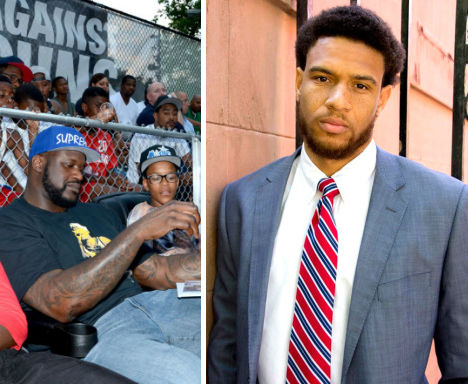 There's a new sheriff in Harlem looking to rejuvenate the Entertainers Basketball Classic at famed Rucker Park — Cordell Marius (pictured above right).
Cordell is the nephew of the late Greg Marius, who ran Rucker for 35 years and died at age 59 in late April, 2017 of colon cancer, sending a shock through the streetball community.
Cordell Marius, who is 28, said his uncle had groomed him the past five years for this move to CEO of the EBC once he got diagnosed with cancer.
"He wanted to keep it in the family,'' Cordell told The Post.
The Rucker League — which will have eight men's teams and eight high school teams — begins June 19, 2017 on the courts off 155th Street and 8th Avenue. On June 23, a ceremony will be held in Greg Marius' honor and Mayor DeBlasio is expected to attend to present a "proclamation.''
"We want the first week to be a celebration of Greg's legacy,'' Cordell said.
Cordell's immediate goal is to get more young musical artists to own teams and NBA players to drop in for cameos. Kevin Durant, who joined a team during the 2011 lockout when he bagged a record 66 points in front of over 1,000 frenzied onlookers, said playing Rucker was one of the most indelible moments in his basketball career.
Cordell said he has reached out to Shaquille O'Neal (pictured above left) to play and will invite Durant. Last summer, precious few NBA guys came in as ringers as Greg Marius' sickness deepened.
Rapper Fat Joe still owns a team and vowed to use his influence to attract more of his colleagues and NBA players to participate, according to Cordell. Two summers ago, Brandon Jennings and Kemba Walker played a series of Rucker games.
Cordell said the EBC started to lose touch with the NBA and the new rap scene the past few years.
"I think the music changed and my uncle didn't realize it,'' Cordell said. "We want to get back to having more NBA guys. We'd love to have that NBA atmosphere again.''
Related Articles
---