---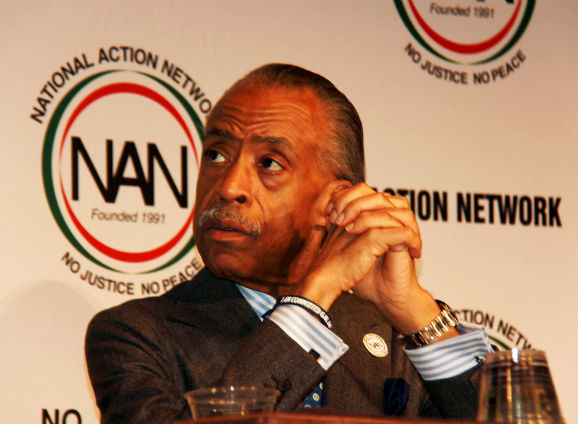 The Rev. Al Sharpton discussed the race for retiring Congressman Charles Rangel's seat—using a weekly live address to endorse Rangel's favored successor and to blast "political gentrification," "new leadership" and "negroes you ain't never seen before."
The controversial black leader launched apparent attacks on candidates Clyde Williams and State Senator  Adriano Espaillat during a gathering with supporters broadcast from the Harlem headquarters of his National Action Network. Joining him at the event were Rangel himself and former New York City Mayor David Dinkins, both backers of Harlem Assemblyman Keith Wright's candidacy for the soon-to-be-vacant House seat.
Speaking from the podium, Sharpton echoed Rangel's repeated attacks on Williams, a former White House aide and native of Washington, D.C.—but in far more inflammatory language.
"You're supposed to be attracted to Negroes you ain't never seen before. I mean, they must have a laboratory to just create these Negroes," Sharpton declared. "Just because you joined the church this Sunday doesn't mean you get to preach next Sunday. You gotta pay some dues."
Sharpton urged those listening on the radio to turn out to vote, apparently endorsing Wright by noting his political ties to Rangel. He scoffed at calls for "new leadership," warning that letting "outsiders" control the seat would further displacement of low-income residents in the district
"We need continued leadership," he insisted. "You are concerned about gentrification. I am telling you they want to gentrify the politics in this community. Political gentrification will seal the deal."
He also alluded to a memo that leaked from a political action committee backing Espaillat, which noted that reduced African-American turnout would benefit the a Dominican-American candidate. The reverend praised as "giants" the two black Harlemites, Adam Clayton Powell Jr. and Rangel, who have held the upper Manhattan seat throughout its entire existence—and warned of a potential racial usurper.
"They are planning on suppressing our vote. And they're planning on you not showing up. Because after 65 or 70 years of leadership of Powell and Rangel, they think you too dumb to stand up for yourself," he said. "They betting on you being stupid. They want to suppress us, they want to distract us."
"They want to control who speaks for us. It's all a matter of control," he added.
Williams reacted to Sharpton's commentary via social media.
"Scare tactics instead of innovative ideas. Racial coding instead of addressing #NY13's real challenges," Williams tweeted in response to Sharpton's remarks.
Espaillat let his latest backer, Harlem State Senator Bill Perkins, to answer Sharpton's charges at an endorsement rally this afternoon.
"I can guarantee you, nobody is suppressing the black vote. I'm not suppressing it, nobody here is suppressing it," said Perkins, an African-American who briefly sought the seat himself. "Quite frankly, the black vote is going to come out strong. And I daresay Espaillat has a very good chance of capturing a significant, if not a majority, vote from that point of view."
The commentary is particularly interesting in light of Sharpton's famously contentious relationship with Rangel.  The congressman often tweaked the civil rights leader for his public controversies, and a Sharpton ally, Rev. Michael Walrond, unsuccessfully challenged the longtime lawmaker in 2014.
The Democratic primary, in which Wright, Espaillat, Williams and a half dozen other candidates are competing, is this Tuesday. The victor is virtually assured to win the deep-blue district in November.
Via Observer
Related Articles
---