---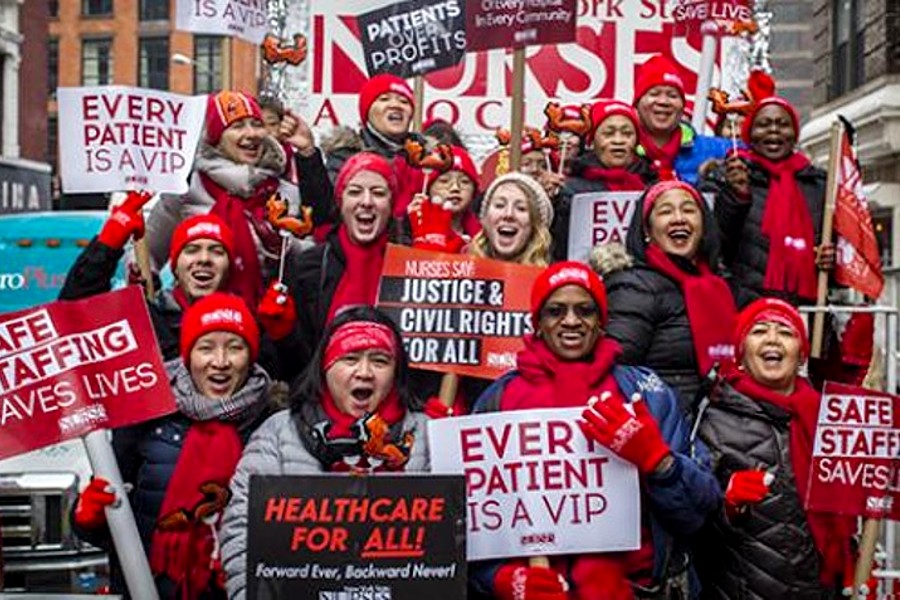 The New York State Nurses Association congratulates the nearly 4,000 NYSNA nurses at NewYork-Presbyterian Hospital who reached a tentative agreement on a fair contract.
That contract was late on Saturday, December 31, 2022, hours before their contract expired and one day after delivering a 10-day notice to strike to hospital management.  
The NYSNA bargaining committee at NewYork-Presbyterian will present the agreement to their members with a recommendation they accept the contract. The contract will be settled and ratified only with a majority vote by NYSNA members at the hospital. 
NewYork-Presbyterian nurses' hard work and commitment to patients helped deliver a tentative agreement that will help recruit and retain more nurses for safe patient care and improve conditions for patients. NYSNA urges other hospitals to follow NewYork-Presbyterian's lead in negotiating in good faith for fair contracts that respect nurses and patients.  
Negotiations continue at BronxCare Health System, Flushing Hospital Medical Center, Maimonides Medical Center, Montefiore Bronx, Mount Sinai Hospital, Mount Sinai Morningside and West, and Richmond University Medical Center.
NYSNA nurses from all seven hospitals, representing approximately 12,000 nurses in the five boroughs all delivered 10-day notices to strike on Dec. 30. Unless contract agreements are reached, nurses at those hospitals will strike on Jan. 9, 2023.  
Nurses are expected to be back at the bargaining table all week at the seven other facilities. They have been sounding the alarm about the short-staffing crisis that puts patients at risk, especially during a tripledemic of COVID, RSV and flu.
Nurses say hospitals aren't doing enough to keep caregivers at the bedside, and instead of working with COVID nurse heroes, in some cases, have violated union rights, spied on and interrogated nurses about union activity and tried to silence nurses from speaking out about understaffing.  
Striking is always a last resort, but nurses say they are prepared to strike if hospital administration gives them no other option to protect their patients and their practice. 
The New York State Nurses Association represents more than 42,000 members in New York State. We are New York's largest union and professional association for registered nurses. NYSNA is an affiliate of National Nurses United, AFL-CIO, the country's largest and fastest-growing union and professional association of registered nurses, with more than 225,000 members nationwide.
For more information, visit nysna.org.
---