---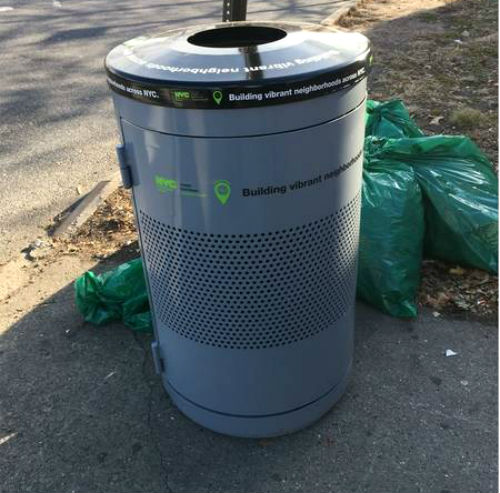 Patch reports that the city department of small business services has purchased nearly 50 new trash cans for the East Harlem's highly-trafficked corridors, a spokesperson for the department said.
The city decided to purchase the trash cans to supplement the work it's doing with East Harlem nonprofit Union Settlement, which was awarded a $1.49 million grant through the department's Neighborhood 360 program. The program funds commercial revitalization projects with the help of local stakeholders, a department spokesperson said.
Forty-six new trash cans will be rolled out on East 116th Street, Third Avenue and East 125th Street, a small business services spokesperson said. The new cans will help cut down on litter in the area and, in turn, eliminate a food source for pests such as roaches and rats.
"Strong neighborhoods are the backbone of our city, and the over $1.49 million in investments to East Harlem are going a long way towards revitalizing key commercial corridors," Gregg Bishop, Commissioner of the NYC Department of Small Business Services, said in a statement.
"These new waste baskets will cut down on litter and eliminate a food source for pests. Together, we are responding to local needs and building more vibrant neighborhoods for residents and small businesses alike."
In addition to the new trash cans, grant money will also go toward funding increased sanitation services along the three business corridors. These services include: sidewalk, curb and street cleaning, graffiti removal, snow removal and removing debris from tree pits.
Photo courtesy New York City Department of Small Business Services
---