---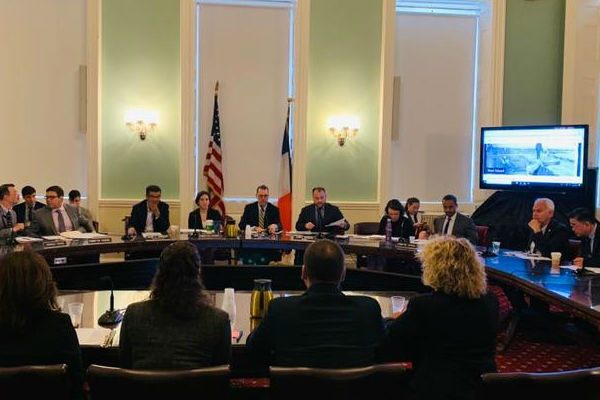 Today, uptown Council Member Ydanis Rodriguez Chairman of the Transportation Committee, joined by Speaker Corey Johnson and the Committees on Health and Parks & Recreation, held a hearing related to the Hart Island legislation. Hart Island remains one of the largest public cemeteries in the United States with over 1 million people buried at the site, the majority of which are poor, homeless, immigrants or prior HIV patients. The hearing highlighted four bills that are focused on transferring Hart Island jurisdiction from the Department of Corrections to the Department of Parks & Recreations, as well as the development of a transportation plan to visit the site
Thanks to the hard work of colleagues, former Councilwoman Elizabeth Crowley, Speaker Corey Johnson, Harlem Council Members Mark Levine, Deborah Rose, and Diana Ayala, the Hart Island transfer was able to receive a hearing. Today we heard testimonies from different City agencies involved, including the Department of Parks and Recreation, Department of Transportation, Human Resources Administration, The Office of the Chief Medical Examiner, as well as from Melinda Hunt from the Hart Island Project and other advocates.
The island was purchased by the City of New York in 1868 and has since been the site of a psychiatric ward, medical institutions, juvenile delinquent facility, and a prison, prior to serving as a potter's field. Mass burials began in the 1870's with its original intentions to be the burial ground for "strangers" who died during the Civil War. 'Strangers' were considered to be people who were either black, immigrants, or poor and who had died in the cities slums. Today, prisoners from Rikers Island bury unclaimed and unidentified New Yorkers in mass graves. Only after 2015 were family members granted access to visit loved ones and visits are limited to one weekend a month.
Elected officials and activists have advocated for greater transparency and dignity for the families and their loved ones on the island. Another longstanding concern includes the need for DOC staff to accompany family members which could make for a negative experience. Undocumented immigrants wanting to visit the island are particularly impacted by this policy and often remain away out of fear of law enforcement. According to Hart Island Project Director, Melinda Hunt, the city buries approximately 1,100 people on the island each year.
"These two bills will open Hart Island, and give the dignity and respect to the families of men, women, and children who are buried there." said Council Member Ydanis Rodriguez, Chairman of the Committee on Transportation. "It is my hope that the transportation plan will eventually make Hart Island easier for New Yorkers to pay their respects to their loved ones, and allow visitors to walk freely on the island, and learn about its history. A history that tells the countless stories of New York's immigrants, the poor, the homeless, the marginalized and the rejected"
"By law, New York City must provide a decent burial for anyone whose family cannot afford services of a licensed funeral director," said Melinda Hunt, of the Hart Island Project. "A decent burial is not a prison burial. After one hundred and fifty years, it is now time to end penal control of Hart Island."
---