---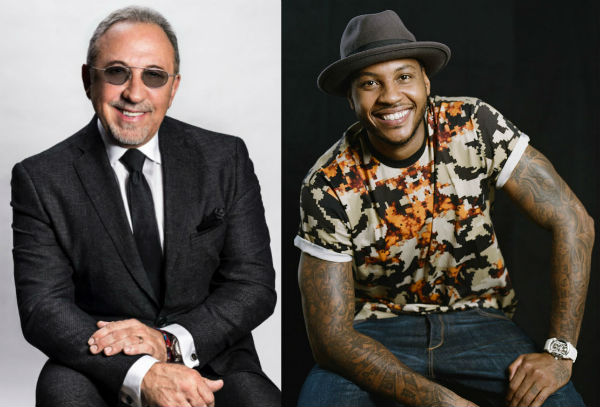 19 time Grammy winning legendary musician and producer Emilio Estefan, NBA All-Star and Harlem resident Carmelo Anthony, Ingrid Otero-Smart (president and CEO of Casanova//McCann), and Larry Lugo-Cruz (president of AgroIndustria Lechera de Puerto Rico/INDULAC).
The honorees will receive top honors at the National Puerto Rican Day Parade's Annual Gala Fundraiser, scheduled for Friday, June 10th, 7:00 PM, at the New York Hilton Midtown.
Estefan will receive the Corporate Trailblazer Award for his contribution to advancing the careers of several award-winning Puerto Rican musicians.  Anthony will receive the Humanitarian Award, while Otero-Smart and Lugo-Cruz will receive the Corporate Leadership and Corporate Responsibility awards, respectively.  The Gala will also feature an intimate musical performance by Salsa music legend Andy Montañez, who will also perform at the 32nd Annual New York Salsa Festival on June 11 at the Barclays Center, Brooklyn, NY.
"Historically, Puerto Ricans have made a tremendous contribution to the corporate and humanitarian world.  Our Gala 2016 will honor them, as well as people of all cultural backgrounds who have championed Puerto Rican presence and success in every industry.  Corporate leadership comes with a tremendous responsibility, and our 2016 Gala honorees, embody the principles of innovative entrepreneurship rooted in altruism, empowerment and community service", said Lorraine Cortés-Vázquez, chairperson of the the National Puerto Rican Day Parade (NPRDP).
NPRDP's Gala Fundraiser is held each year in anticipation of the annual Parade on Fifth Avenue.  In 2016 the event will be held for the first time at the New York Hilton Midtown,1335 Avenue of the Americas (between 53rd and 54th Streets).  The event seeks to raise Funds for NPRDP's Scholarship Program, which this year increased its scholarship awards and scholarship dollar amount to 60 scholarships totaling $120,000, a historic record for the organization.  The Parade's goal is to increase the scholarship awards to 100.
To purchase tickets for the Gala, the public can visit www.nprdpinc.org/gala/.
For more information on the parade, participation applications, Scholarship Fund and other information, visit http://www.nprdpinc.org.
Related Articles
---