---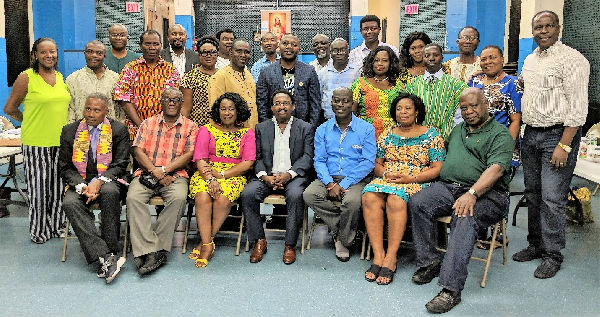 Ghanaweb reports that on Saturday, August 25, 2018, the New York City-based National Council of Ghanaian Associations (NCOGA), led by its Executive Secretary General, Frederick Ansong-Dwamena.
The association hosted a high-level retreat to look at itself in the mirror, and answer the question: How do we revitalize NCOGA and make it relevant?
The retreat was held at the Ghana Presbyterian Church in Harlem, NY and facilitated by seasoned business consulting expert, Mr. Robert Miss, President of Strategic Management Exchange. The participants gleefully recalled the years when NCOGA, founded in 1981, was well-known for hosting the famous annual Ghana Picnic.
In addition, NCOGA provided scholarships and materials to Ghana, led causes of concern to Africans (AIDS assistance), hosted the annual Ghana Independence Day celebrations, organized community workshops and provided SAT preparations for youth. Hosting Ghana's presidents, NCOGA was the go-to organization that served as the umbrella for the many ethnic Ghanaian associations in the New York metropolitan area. Mr.
Miss skillfully led the group to painfully admit the depths into which NCOGA has fallen lately becoming almost irrelevant as the demographics of Ghanaians in the area have shifted, needs changed, and centers of assembly altered from associations into churches.
The group believes that there is still a need for NCOGA to remain an umbrella organization, but it must speedily look to provide services that member organizations are not capable of doing for themselves. These include a permanent place of operation, full time staff, and better definition of the NCOGA product that "it is selling." Services for youth, immigration, and workforce activities are some needs that cry for collective attention in the Ghanaian community.
Participants charged the executives of NCOGA to immediately review and change its organizational structure and empower an executive board of directors to guide it. The members of the current board of advisors who were in attendance were: Dr. Victor Essien (Chair), Dr. Kofi Boateng (Vice Chair), Mr. Japhet Aryiku, Mr. Mawuli Agbenu, Mrs. Florence Nyarkoa, Ms. Ivy Rose Quarshie, and Dr. Anukware Ketosugbo.
The following organizations were represented: Akan Association, Akyem Association, Ghana Heritage & Cultural Committee, Ghana Chamber of Commerce, USA, Inc., Ghana Veterans Association, Kwahuman Association, Kwakwaduam, Okuapeman Association, PUSIGA, and United Volta Association. Conspicuously absent were some NCOGA founder-associations such as Asanteman Association and Ga Dangbe-Kpee, USA. Their absence was seen as symptomatic of the waning influences of the associations themselves and their consequent disjointed relationships with NCOGA.
The next step is for the board and all interested members to develop specific activities to achieve the new directions that NCOGA has decided to steer itself to become more relevant and impactful after nearly 40 years of community service. Dr Victor Essien (Chairman) concluded the meeting with these words:"If an unexamined life is not worth living, then NCOGA is restarting with the right attitude with this critical retreat. God willing NCOGA shall succeed if we all put our shoulders to the wheel to reenergize our only association that is committed to unity of purpose."
---