---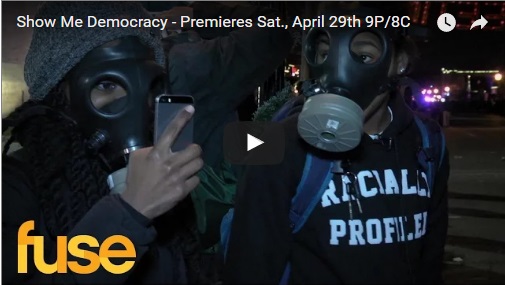 The NAACP and Fuse have teamed up to raise awareness and advance the dialogue of the issues highlighted in Show Me Democracy, the first film featured in Fuse's recently announced documentary series entitled "We The Dreamers." Premiering on Saturday, April 29, 2017 at 9 p.m. ET/PT on Fuse, Show Me Democracy follows seven St. Louis college students as they evolve into advocates and activists in the wake of the Ferguson uprising.
NAACP will serve as a resource for Fuse's young, diverse, multiplatform audience by providing additional information on the issues showcased in the documentary, as well as offering options for viewers to take action. Information provided by the NAACP will appear during the broadcast and the organization will support tune-in through a variety of strategic social media account activations.
"We are proud to partner with the NAACP to present a viewing experience that goes beyond traditional and expands the level of engagement and awareness of crucial issues," said Fuse Media President and CEO Michael Schwimmer. "As the inaugural project in our documentary series, our partnership with this legacy organization supports Fuse Media's vision of creating a multiplatform conversation and providing key resources and additional content across all of our platforms."
"The Civil Rights movement was fueled by the energy and activism of young people and the current and future struggle rests on the awareness and advocacy of young people. This partnership with Fuse Media represents a dynamic way to reach and inspire that audience," said NAACP President and CEO Cornell William Brooks.
Directed by Dan Parris (What Matters, When the Saints), Show Me Democracy centers on seven St. Louis college students as they evolve into advocates and activists, demanding change through policy and protest. The feature-length documentary chronicles their diverse approaches to combating racism and police brutality; advocating for educational reform; and asks the question: Can a small group of young people make a difference in complex and imperfect systems?
Show Me Democracy is produced and directed by filmmaker Dan Parris from his company, Speak Up Productions, in collaboration with The Scholarship Foundation of St. Louis and Continuity. Partial support for the making of the film was provided from the Missouri Arts Council, Missouri Humanities Council, Regional Arts Council and the Greater St. Louis Community Foundation.
Check out more below:
You can read more about the NAACP's work and our six "Game Changer" issue areas here.
Related Articles
---