---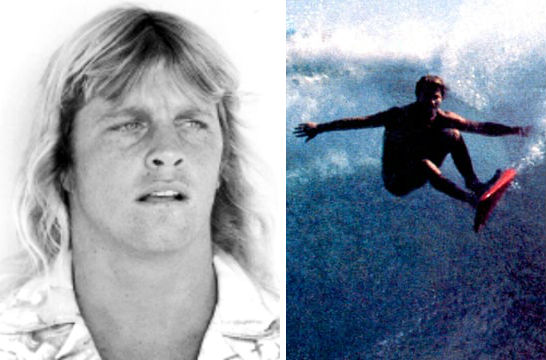 The Inertia reports that surfing attracts more than its fair share of interesting characters.
The ones with the most interesting stories, of course, are generally the ones who are attracted to seedier parts of life's underbelly; the ones willing to push the limits in everything they do, including the limits of the law.Is it that same attraction to pushing one's own limits in the ocean that draws a certain type of person to a life beyond the boundaries of what's accepted by society?
Those stories, while interesting from a viewer's perspective, are interesting because of how they end, and more often than not, they end sadly. In surfing, there is one story that stands out from the rest: the life of Rick Rasmussen, a man who spent the '70s among surfing's brightest stars. He was a championship surfer, known both for his small wave style and tube-riding. A standout at Pipeline, Rasmussen was one of the first American east coasters to travel to Indonesia, surfing during those halcyon days in Uluwatu and Grajagan. He was loved by nearly everyone, appeared in films, attained international attention, drove a Mercedes, and had a beautiful girl at his side. For while, his life was bright and full of excitement. But by the summer of 1982, at the age of 27, he was lying on Harlem sidewalk, dying from a gunshot wound to the face after a drug deal with a West Point cadet went wrong.
For some strange reason, people have a thirst for watching a downward spiral. Surfing has its own examples, of course–people who lived too fast and came to sad ends. No matter how sad it is, people want to know the gruesome details, and there are good arguments for telling them. But there's something very primal about watching someone else struggle through a murky, fetid swamp, sinking deeper and deeper until finally, their head slips under for the final time. Of course, just as interesting are the stories of those who manage to pull themselves out, but Rasmussen's story isn't one of those.
A quick recap of the brighter parts of Rasmusen's life, as told by Matt Warshaw from the Encylopedia of Surfing:
"Hard-charging, rock-and-rolling goofy-footer from Westhampton, New York; winner of the 1974 United States Surfing Championships. Rasmussen was born in 1955, the son of an aerospace test pilot and former pro basketball player, raised in Maine, and began surfing at age 10, not long after his family moved to an affluent Westhampton neighborhood.

As a juniors division surfer Rasmussen placed fourth at the 1972 U.S. Championships, first in the 1973 East Coast Championships, and third at the 1973 U.S. Championships; moving up to the men's division in 1974, the blond-haired 18-year-old finished fifth in the East Coast Championships, then became the first East Coast male to win a U.S. surfing title—taking the kneeboard division for good measure."
The end of the '70s, though, was the beginning of the end of Rasmussen's charmed life. He was charged with drug possession in Bali. It was no small amount, either, and although most reports claim it was a kilo of cocaine, a fantastically well-written piece called The Cadet and the Surfer in the 1982 issue of New York Magazine says differently.
In 1978, Rick headed for Bali," wrote Michael Daly. "He and a girlfriend moved into a tree house and became known in the surf magazines as the "Swiss Family Rasmussen.' Then, on a Sunday night, the parents received the first hint that drugs were a part of Rick's surfing life. A phone call from Bali informed them that he had been arrested for possession of narcotics. Rick told his parents that the police had mistaken a health-food seasoning in his bag for heroin. The father cabled $54,000 in "legal fees" and flew to Bali. During his three months in jail, Rick organized volleyball games and made money betting on Ping-Pong. When he came to trial, he was found not guilty."
Like Daly says, he was aquitted–a rare feat when it comes to Indonesia's outlook on drugs. Although escaped the long arm of the law, it could be inferred from his actions over the next few years that he may not have been wholly innocent.
Two years later, in 1980, Rasmussen had shacked up in Encinitas, California. According to Daly's story, Rasmussen was almost involved in a $50,000 heroin deal but backed out of it at the last minute, suspecting that it was a sting operation. That didn't stop him, however, from doing a drug deal a year later–this time worth $60,000–with an undercover cop. He was arrested and held with a bail of $1 million. The police, however, had a better idea than just simply arresting him. Since he was the one with the heroin but not the one producing it, they asked him to become an informant in exchange for a lighter sentence. He accepted and with that, rounded the last bend on the road towards his death.
Vincent McCall was involved in Rasmussen's death. He didn't have an easy life. Originally from North Carolina, he spent part of his childhood in Harlem, New York, after his family moved there when he was twelve. Soon after, he fell in with a rough crowd, led by a drug-dealer named Robert Void who would end up dead with a bullet in his gut on the dirty floor of a New York pool hall. Although McCall seemed destined for a similar fate, his course was changed when his family moved back to Lumberton, North Carolina. He set to work bettering himself, studying hard, joining the Junior Reserve Officers Training Corps, and eventually earning a spot at the famed military academy, West Point.
After a few years there, however, he was suspended for a year for various strange infractions, including intentionally failing a test that his superior had ordered him to fail. In July of 1982, just after his suspension began, McCall left West Point for New York. Once there, he found that many of his old friends were now dead–most shot to death over drugs. There was one left, though, a 23-year-old named Robert Mendez. As old friends do, they fell in with each other. On the warm August night that Rasmussen was shot, McCall and Mendez were propositioned by Rasmussen. "You know anybody interested in getting some cocaine?" he asked them. "I'll make it worth your while." By this time, remember, Rasmussen was a police informant but was still involved in the drug trade in a very real way. According to the story, a dealer called him and told him that he needed to move a pile of cocaine, and he had to move it by the next morning.
McCall and Mendez agreed to help him find a buyer for the coke. By 3 am, they had one lined up: a taxi driver named Frank Angel. When they met to do the deal, Angel and Rasmussen began arguing because the taxi driver didn't want to buy enough. McCall and Mendez were there, too, but waiting in a different car. Rasmussen, who was wearing a Rolex, thought he was going to be robbed. Instead, though, either Angel or Mendez pulled out a gun, pointed it at his head, and pulled the trigger. The bullet entered his head just below his left eye but didn't immediately kill him. He would spend the next sixteen days in a coma before eventually succumbing to his wounds on the afternoon of August 26th.
When police arrived at the scene of the shooting, they found a piece of paper with McCall's number on it in his pocket. He was brought in as a suspect and eventually charged with robbery in the first and second degrees. Soon after, however, he was informed that all charges would be dropped if he would testify against Mendez and Angel in the shooting death of Rasmussen. They were subsequently indicted for felony murder, and McCall walked free.
Rick Rasmussen, once a surf star of the highest order, lay dead at the age of 27, killed by a bullet fired from a gun that was drawn because he pushed the limits, both in the water and on the street. And while he was murdered by another human being, his own inexorable march towards self-destruction put him on the road that ended there.
Related Articles
---