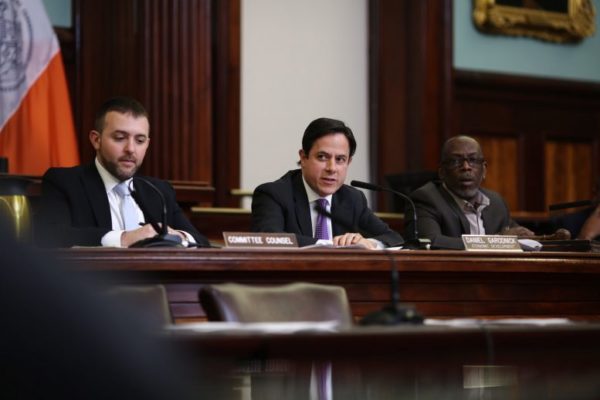 By the time Donald Trump becomes President of the United States next week, Harlemites and New York City taxpayers will have spent $37 million to keep him and his family safe from harm in Trump Tower. The City Council grilled the NYPD Tuesday over how much it's going to cost to protect the President if he treats his Manhattan apartment like a weekend "pied-a-terre" for the next four years.
The answer: roughly $500,000 a day. That comes mostly from paying overtime to NYPD officers…
The answer: roughly $500,000 a day. That comes mostly from paying overtime to NYPD officers, who have to be pulled from regular patrols at precincts around the city to secure the area around the 58-story highrise at Fifth Avenue and 56th Street.
NYPD brass were quick to defend the practice of relocating officers, emphasizing that there hasn't been any spikes in crime since neighborhood beat cops were re-assigned to Trump Tower. But Councilman Donovan Richards Jr., who reps southeastern Queens, pointedly asked if cops were being pulled from high-crime precincts like Brownsville and Far Rockaway.
"Yes, they're being diverted from all over the city," said Deputy Chief James Kehoe. "But there's no correlation between officers being pulled from precincts and a rising crime rate."
And the expected price of protecting Trump is up from the $35 million the city previously requested from the federal government. However, Congress has only offered to reimburse the city for $7 million, buried in a stopgap federal spending bill released last month.
Depending on how much time Trump spends at his Fifth Avenue apartment, the NYPD could end up far outspending its $550 million overtime budget.
Depending on how much time Trump spends at his Fifth Avenue apartment, the NYPD could end up far outspending its $550 million overtime budget. The city is lobbying for more federal funding to cover the cost of protecting Trump, which will hit $91 million if he spends half the year at his Midtown pad.
If it doesn't get the extra money, "what you will see at the end of the year is an exponentially higher overtime budget, dependent on the number of days Trump does decide to reside in Midtown," said deputy commissioner of management and budget Vincent Grippo. "This is an unprecedented event of a tremendous scale and size," he added. "New York City taxpayers should not ultimately be on the hook for that."
Even when Trump isn't in town, the NYPD will still provide security at Trump Tower. The Council peppered officials with questions about how much that would cost, but Kehoe refused to answer, citing security risks.
"What if we say, we can't afford it? Can the Secret Service send more people?," asked Councilwoman Julissa Ferreras-Copeland, who chairs the council's Finance Committee. "It would have to fall on the shoulders of the NYPD," answered Kehoe, who explained that security needs are "larger than what the Secret Service can provide."
And taxpayers aren't the only ones losing money because of Trump's security operation.
"We are looking at four years of disruptions," said Councilman Dan Garodnick, who chaired the hearing and represents Midtown East. "Businesses need to know how they can plan for and survive them."
Neighboring retailers on Fifth Avenue, 56th and 57th Streets may have lost more than $40 million in revenue, according to Fifth Avenue Business Improvement District president Tom Cusick. Street closures, barricades, media, and protesters all contributed to a drop in foot traffic to stores, testified Cusick and Partnership for New York City's Kathy Wylde.
---
---
Cusick suggested a few solutions to encourage more customers, including moving TV cameras from the west side to the east side of Fifth Avenue, moving parades further south down the avenue, and installing a taxi stand at 58th Street. But he shot down the suggestion of closing Fifth Avenue to traffic, which Janette Sadik-Khan suggested this week in an op-ed for the Times.
SBS Commissioner Gregg Bishop also said that the city re-opened 56th Street between Fifth and Sixth avenues a few weeks ago, a move that helped draw customers back to the area's high end stores.
Travel time for traffic on Sixth Avenue has also shot up 66 percent, and it's increased by 25 percent going east on 57th Street, according to DOT statistics cited by Garodnick.
Photo credit: Council members Dan Garodnick and I. Daneek Miller grill the NYPD over the cost and impact of Trump's security detail. Via source.
Related Articles
VIDEO
---
Harlem Cultural Archives is a donor and foundation-supported Historical Society, Its mission is to create, maintain and grow a remotely accessible, online, interactive repository of audio-visual materials documenting Harlem's remarkable and varied multicultural legacies, including its storied past as well as its continuing contributions to the City and State of New York, the nation, and the world.
Support Harlem Cultural Archives
and
click here to get more Harlem History
, Thank you.