---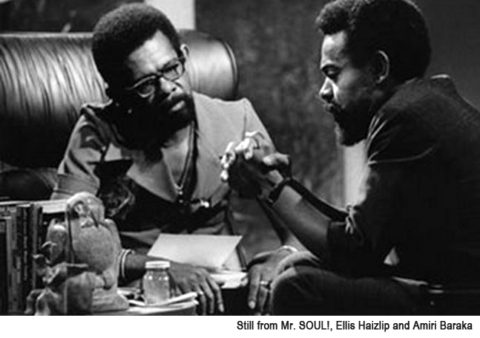 Right on the heels of the Civil Rights Movement, one fearless Black pioneer reconceived a Harlem Renaissance for a new era, ushering giants and rising stars of Black American culture onto the national television stage.
He was hip.
He was smart.
He was innovative, political and gay.
In his personal fight for social equality, this man ensured the Revolution would be televised.
Mr. Haizlip began his career at Howard University, where he was a producer with the Howard Players during a summer season. After graduating in 1954, he left for New York City, where he began producing plays with Vinnette Carroll at the Harlem Y.M.C.A. One of their productions was "Dark of the Moon," with Cicely Tyson, Clarence Williams 3d, Isabel Sanford, Calvin Lockhart, James Earl Jones and the Alvin Ailey Dancers.
The man was Ellis Haizlip. The Revolution was SOUL! Haizlip was the host and executive producer of SOUL!, the first "Black Tonight Show." In 1968, SOUL! was launched as a local, New York broadcast. In 1969 the series rolled out nationwide on PBS, on WNET Channel 13. By 1973, Haizlip had produced over 130 hour-long shows featuring a dazzling array of A-list guests: Sidney Poitier, Harry Belafonte, James Baldwin, Stevie Wonder, Maya Angelou, Ashford and Simpson, Nikki Giovanni, Al Green and Muhammad Ali — even a sixteen-year-old Arsenio Hall doing magic tricks. Mr. SOUL! (2018, 1:55 min) invites us behind-the-scenes of this groundbreaking phenomenon, from its initial conception to its final broadcast, including the very public battle to keep it on the air despite a shifting political landscape.
Here's a teaser:
Filmmakers Melissa Haizlip and Sam Pollard's Mr. SOUL! start a new dialogue about this critical moment in American broadcast history while offering a nuanced and fascinating portrait of the soul behind SOUL!
Thursday, December 13, 2018, 6:00 pm – 8:00 pm
Please RSVP:nyuiaaa-cbvc-events@nyu.edu  or (212) 998-IAAA(4222)
Please make sure to state the event name and date in your email.
Silver Center-NYU, Jurow Lecture Hall, 100 Washington Square East, Room 101A, 1st Floor, (between Waverly Place and Washington Place)
---