---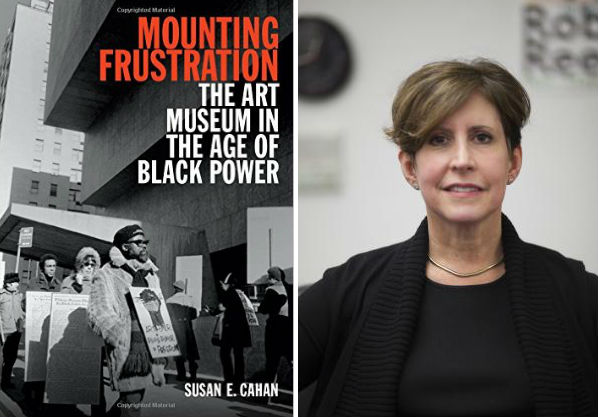 Consider this: Prior to 1967, fewer than a dozen museum exhibitions in the U.S. had featured the work of African American artists.
In Mounting Frustration: The Art Museum in the Age of Black Power (Duke University Press, February 2016), Susan E. Cahan (pictured on right) tells the stunning and largely-erased story of the battle waged by Black artists to have their work recognized and shown at the major NYC museums in the 1960s and 1970s.
Mounting Frustrations recounts:
The wildly contested "Harlem on My Mind" 1969 exhibition at the Metropolitan Museum of Art which failed to include the work of any Black painters or sculptors
The "Contemporary Black Artists in America" 1971 exhibition at the Whitney Museum– protested by well-known Black artists like Cliff Joseph (pictured in the picket line) for its haphazard and non-representative curation.
The Museum of Modern Art's 1984 exhibition " 'Primitivism' in Twentieth Century Art" which presented modern art as a white European/American creation influenced by the so-called "primitive" art of people of color.
Susan Cahan's book also recounts the complex history of the establishment of the Studio Museum of Harlem in 1968, the proliferation of Black artist collectives like Weusi, the impact of new institutions featuring artists of color which sprang up across the city in the wake of the 60s — and much more.
Join us for this important reading and conversation about racism in the art world, the Black liberation struggle and the visual arts, and art and social change.
"In this outstanding and nuanced book, Susan E. Cahan illuminates a discourse over inclusion that took place all over the country, and not just in visual art but even in opera and ballet, where the very presence of the black body became an issue. Her analysis reveals the museums' duplicity, confusion, and attempts to serve only their interests, and the names of excluded artists repeated in this book are shocking, as are the indications that curators claimed to have not known of people like Jacob Lawrence. Mounting Frustration is a most welcome means of cracking the silence and complacency around the retrenchment since activists opened the discourse on who owns culture."
– Thulani Davis, author My Confederate Kinfolk: Twenty-First Century Freedwoman Discovers Her Roots
Susan E. Cahan is Associate Dean and Dean of the Arts in Yale College, the editor of I Remember Heaven: Jim Hodges and Andy Warhol, and the co-editor of Contemporary Art and Multicultural Education. She has directed programs at the New Museum of Contemporary Art, the Museum of Modern Art, and the Peter Norton Family Foundation.
Andy Zee is the spokesperson for Revolution Books.
Suggested donation to benefit Revolution Books: $5-$10.
Wednesday, July 13, 7:00pm
Revolution Books in Harlem, 437 Malcolm X Blvd. @ 132nd Street, New York, NY,
---