---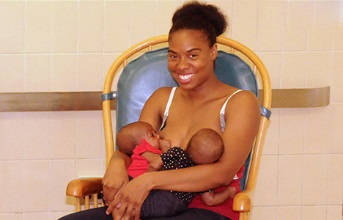 More than 20 mothers from the New York City Health and Hospitals Corporation's (HHC) Queens Hospital Center (QHC) and HHC Harlem Hospital Center participated today in the "2015 Global Big Latch On," an attempt to set a new world record for most women breastfeeding simultaneously.
The Big Latch On is held every year to celebrate World Breastfeeding Week and highlight the benefits of breastfeeding to both baby and mother. The world record for most women breastfeeding simultaneously was established during the event in 2013 when 14,536 children at 845 locations in 28 individual countries were breastfed at the same time.
"Queens Hospital Center is now at the forefront of a borough-wide movement recognizing breastfeeding as the best and healthiest start for mothers and babies," said Chris Constantino, Executive Director of Queens Hospital Center and Senior Vice President of HHC'S Queens Health Network. "There is a significant body of medical evidence confirming the immediate and lifelong health benefits of breastfeeding for the baby, the mother, and the community. It's our mission to change the culture in Queens with respect to breastfeeding and do all we can to make it a 'Baby-Friendly' borough."
 "As a 'Baby-Friendly' hospital, Harlem Hospital Center continues its commitment to supporting a mother's decision to breastfeed, and also to educating new mothers and fathers about the health benefits breastfeeding provides to new parents and their babies," said Denise C. Soares, Senior Vice President, Generations+/Northern Manhattan Health Network, Executive Director, Harlem Hospital. "Breastfeeding is not always easy, so our staff strives to create an environment where mothers and fathers feel supported and encouraged." 
 HHC Queens Hospital Center and HHC Harlem Hospital Center both hold the prestigious designation of "Baby-Friendly" hospital from the World Health Organization and the United Nations Children's Fund (UNICEF). HHC Harlem Hospital was the first hospital in New York City to be designated and HHC Queens Hospital Center is the only in the borough to be designated. "Baby-Friendly" hospitals offer the highest levels of breastfeeding education and support. After giving birth, mothers and babies maintain 24-hour "rooming in" instead of the traditional nursery setting, have skin-to-skin contact immediately after birth from the Labor & Delivery unit to the hospital's Post-Partum area, and all new mothers receive exceptional encouragement and assistance from highly trained staff to achieve a successful breastfeeding experience.
 "A successful breastfeeding experience for both mother and baby is one of the most important things we can accomplish for the babies born at QHC," said Marcy Stein Albert, M.D., HHC Queens Director of Pediatrics. "The benefits of breastfeeding extend well beyond infancy and we are very proud of our breastfeeding statistics that have increased exponentially over the past two years. Even after discharge from the hospital, we encourage our new moms to participate in support groups where many experienced breastfeeding moms assist our new moms and provide much needed support. This is without a doubt, one of the most important things new mothers can do for their babies."
Approximately 1,800 infants are born at QHC annually, and 80 percent of women who give birth at QHC participate in all elements of prenatal breastfeeding education and counseling, including classes on the benefits of breastfeeding, exclusivity of breastfeeding, duration of feeding, the importance of skin-to-skin contact with their infant, and rooming-in together with their baby at the hospital. The percentage of mothers who exclusively fed their babies with breast milk at QHC increased from 12 percent in 2012 to 55 percent in 2014; the volume of baby formula used in the hospital's post-partum unit decreased by over two-thirds from 2011 to 2014; and in 2014, 96 percent of babies received breast milk while in QHC's Neonatal Intensive Care Unit (NICU).
In 2014 1,100 infants were born at HHC Harlem Hospital with an average breastfeeding initiation rate of 95 percent in 2015. About 80 percent of babies currently receive breast milk in HHC Harlem Hospital's NICU, and the rate of skin-to-skin initiation after cesarean births increased from 60 percent in 2014 to currently 90 percent.
"This is not only an educational and supportive experience, but an exciting one. We are trying to help break a world record while continuing to raise awareness for breastfeeding and garner support for breastfeeding mothers," explains Barbara Holmes, IBCLC, Breastfeeding Coordinator at HHC Queens Hospital Center. "We are proud to be an official participant in this special event."
Parents or future parents seeking more information about obstetrical or breastfeeding services at HHC Queens Hospital Center should call 718-883-4880, and at HHC Harlem Hospital at 212-939-4093.
To learn more about Queens Hospital Center, visit www.nyc.gov/hhc.
For more information, visithttp://www.nyc.gov/html/hhc/harlem/html/home/home.shtml .
For more information, visit www.nyc.gov/hhc.
Related Articles
---