---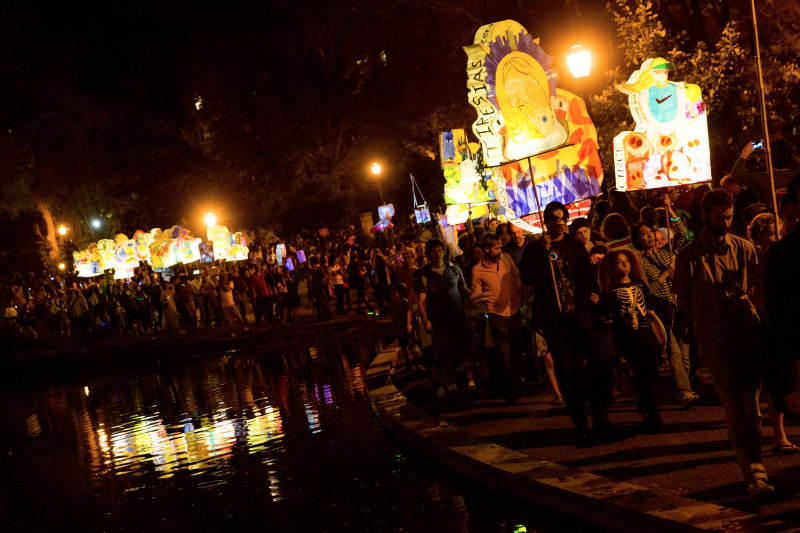 The 4th annual Morningside Lights, presented by the Arts Initiative and Miller Theatre at Columbia University, kicks off on Saturday, September 19 with the theme NEW YORK NOCTURNE.
Free lantern-making workshops, open to all, will be hosted daily at Miller Theatre from September 19–25. The week culminates in an illuminated parade of community creations that will light up Morningside Park on Saturday, September 26. All are welcome to participate; information and sign-ups are available at www.morningside-lights.com.
Over the course of the week, visiting artists Alex Kahn and Sophia Michahelles of Processional Arts Workshop will help community members imagine and design vibrant lanterns inspired by New York City after dark. Fluorescent food trucks, Art Deco building spires, and decked-out party people are all fair game for inclusion in this year's procession. Kahn and Michahelles will also facilitate the production of the fleet of 100+ illuminated objects by teaching participants the artistic fabrication techniques needed to bring their ideas to life.
"What image defines New York at night? Is it the bustling nightlife of club-goers and hipsters, or rustling wildlife of raccoons, luna moths, bats, and owls? A glowing marquee or a backlit steam vent?" ask Kahn and Michahelles. "New York is many things to many people, but never more so than after dark.  This year's edition of Morningside Lights will bring a host of nocturnal images into fleeting focus, as we once again gather to illuminate the nightscape of Morningside Park."
Morningside Lights is produced in collaboration with the Friends of Morningside Parkand their annual Common Ground festival, which takes place during the day on September 26. The festival fills Morningside Park with performances and art-making, including a family-friendly craft table dedicated to creating lanterns for that evening's Morningside Lights procession – the culmination of a day of celebration.
Family craft table at the Common Ground festival, Sept. 26, 2–5 p.m.
Morningside Park (114th St. and Morningside Ave.)
Illuminated procession on Saturday, September 26, 8 p.m.
Begins in Morningside Park (116 St. & Morningside Ave.)
---