---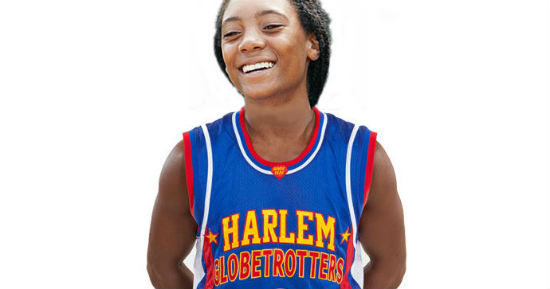 Score another point for 14-year-old Mo'ne Davis!
Originally made famous by her stellar performance at the 2014 Little League World Series, Mo'ne is adding accomplishments to her resumé at a remarkable pace: a shoe line, a memoir, several athletic awards, and most recently, an offer from traveling exhibition basketball team, the Harlem Globetrotters.
Wait — isn't her sport baseball?
Davis' talents can't be confined to one realm, and apparently not to one sport either. New York Magazine reports that The Globetrotters have instituted a "Future Discovery Clause," meaning that Davis will begin playing for them after she graduates from college, but she has indeed been offered a spot on the team.
And since she's not yet a high school freshman, she's got plenty of time to practice. Although, she seems to be in pretty good shape already. According to ESPN, she's been playing for her school's varsity basketball team since she was in 8th grade.
We're on Team Mo'ne — whatever sport she ends up playing (source).
Photo credit: conceptual photograph by Harlem World Magazine.
Related Articles
---