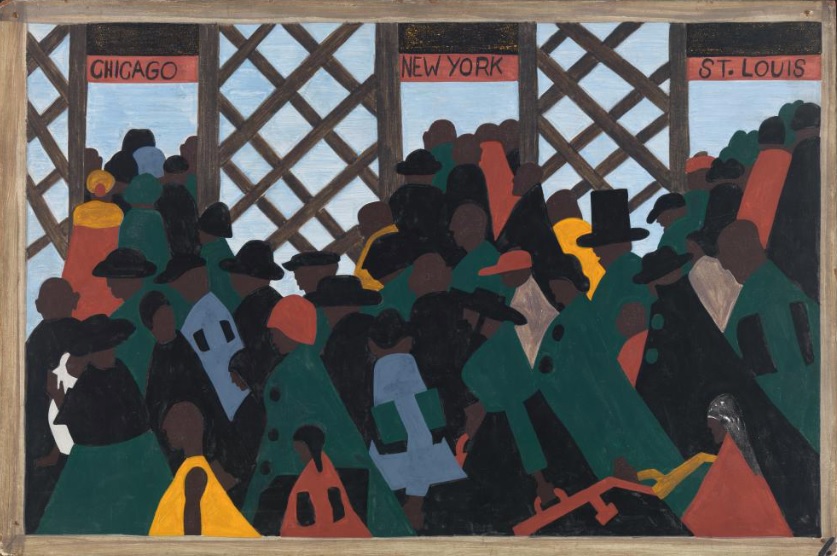 The current Museum of Modern Art exhibition One-Way Ticket: Jacob Lawrence's Migration Series and Other Visions of the Great Movement North expands uptown, beyond the Museum's galleries, with the launch of a self-guided walking tour that explores the Harlem that nurtured Lawrence as a young artist in the 1930s.
Featuring commentary from cultural leaders working there today, this audio tour puts Harlem's past and present in dialogue. It is available beginning today at MoMA.org/harlemwalkingtour.
The tour introduces audiences to people and places that helped to shape Lawrence's perspective as an artist, and visits artworks related to the exhibition that can only be seen at their locations in Harlem, such as Aaron Douglas's landmark mural cycle at the Schomburg Center for Research in Black Culture and his mural at the YMCA on 135th Street; and Charles Alston's recently restored murals at the Harlem Hospital Center. Together, the stops on the walking tour create a portrait of how the Great Migration unfolded in Harlem, and how it came to be the subject of Lawrence's great masterwork.
An in-depth multimedia website focused on Jacob Lawrence's Migration Series can be found at MoMA.org/MigrationSeries.
For more information on A Road Three Hundred Years Long: Cinema and the Great Migration, click here.
For more information on Steffani Jemison: Promise Machine, click here.
Related Articles