---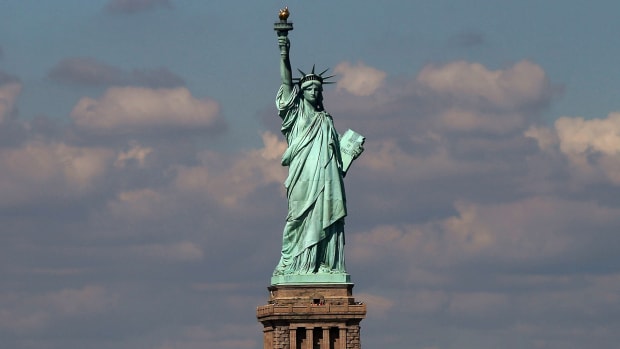 Mayor's Office of Immigrant Affairs (MOIA) Commissioner Bitta Mostofi today announced the City of New York and New York State's joint $1 million investment in continued efforts to support immigrant New Yorkers in accessing justice through innovative solutions.
"Immigration enforcement and threats have created widespread fear and concern among our immigrant communities and dramatically increased the need for community education, rapid response and more immediate, quality legal assistance," said Bitta Mostofi, Commissioner of the Mayor's Office of Immigrant Affairs. "With this investment, we stand up for immigrant New Yorkers in moments of crisis – when they are at high risk of fast deportation and devastating separation from their families and communities."
"New York State, through its Office for New Americans (ONA), is proud to support this new legal initiative. At a time when immigrants are being targeted by federal authorities and families are being separated through increased numbers of detentions and deportations, we welcome the opportunity to expand free access and expert legal services for the most vulnerable through this important legal collaborative," said Vilda Mayuga, Deputy Secretary of State for Economic Opportunity. "This partnership builds upon the many landmark programs to assist immigrants that New York State already funds, including the Liberty Defense Project's Regional Rapid Response program, which provides urgent immigration legal services to local communities in 62 counties across the state."
The City's investment includes expanding the capacity of the ActionNYC hotline operated by Catholic Charities Community Services. As demonstrated by the calls experienced during the threatened enforcement raids this summer and following the publication of the public charge rule, the hotline has become a crucial resource for New York City immigrants to obtain information about immigration developments and to schedule an appointment with an ActionNYC provider for free, safe immigration legal help available in over 200 languages. This additional funding will expand the hotline's capacity into evenings and weekends during urgent periods of high demand and need, to receive calls and provide information, resources, and referrals.
Furthermore, this investment supports the work of the new Rapid Response Legal Collaborative (RRLC), jointly funded by New York City's ActionNYC program and the New York State Office for New Americans. The RRLC, a coalition of immigration legal service providers—Make the Road New York, New York Legal Assistance Group (NYLAG), and UnLocal—will provide legal assistance to those detained, or at imminent risk of detention and deportation, who may not have the right to see an immigration judge or are otherwise facing a fast-track to removal. The investment complements and fills an existing gap in available immigration legal services related to such rapid response needs.
Additional seed money, provided by the City's ActionNYC program to the RRLC in June 2019, supported the development of a raids intake tool as well as a community resource for loved ones in the aftermath of raids by U.S. Immigration and Customs Enforcement (ICE). This RRLC-produced resource is forthcoming and will be translated into 10 languages—Spanish, Chinese, Korean, Russian, Haitian, Bengali, Arabic, Polish, French, and Urdu.
This announcement also follows the submission of the City's comment in response to the Department of Homeland Security's (DHS) notice of the expansion of expedited removal. The expanded use of expedited removal, where immigrants may be deported without a hearing before an immigration judge, is an affront to the democratic principle of due process and will harm New Yorkers and New York City by creating an increasingly pervasive atmosphere of fear among immigrants. For this reason, the City has called upon DHS to rescind this notice.
Immigration enforcement in the New York City area has increased 88 percent under the Trump Administration, compared to the last year of the Obama Administration.
Under the leadership of Mayor de Blasio, the City has invested historic amounts into supporting immigrant access to justice, with over $30 million funding a range of immigration legal help, from community-based screenings and advice to removal defense.
"With the federal government targeting immigrants across the country, we are prepared to stand with immigrant New Yorkers," said Human Resources Administrator Grace Bonilla. "We've made our commitment clear: we intend to protect immigrant New Yorkers with everything we've got. That's why our Agency has dramatically increased our investment in legal services under this Administration and that's why we're doubling down by increasing that investment today, so that individuals and families who feel they are at risk are afforded the same access to lawyers and legal services as those with means and power, chief among them the Trump Administration. In a time of uncertainty for many, vital confidential tools like ActionNYC are more important than ever before—and with this expansion, rest assured that you can continue to count on us. If you have questions or concerns, don't hesitate to call."
Bessy Cáceres, member of Make the Road New York, said: "My father has lived in the Bronx for nearly twenty years, but because he has an old removal order, he faced swift deportation after he was pulled over for a minor traffic offense and taken into ICE custody. Our family had nearly lost all hope when a Make the Road NY attorney took on his case. She represented him at a bond hearing and helped bring him back home to his family—where he belongs. We appreciate this investment from the city to help more families like mine have access to critical legal support and representation."
"As manager of the ActionNYC Hotline, Catholic Charities is proud to partner with the City, the Office of New Americans, Make the Road, NYLAG and UnLocal in this important initiative that will provide access to legal services to vulnerable members of our community at imminent risk of ICE detention and removal," said Raluca Oncioiu, Director of Immigration Legal Services and the Immigration Hotlines at Catholic Charities Community Services.
"It's unfathomable that ICE agents can now arrest and deport immigrants from the interior of the U.S. without a court hearing or ability to challenge the deportation. Hundreds of thousands this year alone have been arrested in their homes, in courthouses, and outside of their children's school. Now more than ever, immigration lawyers with deep expertise are needed to help immigrants detained by ICE and facing imminent removal from their families and communities. NYLAG (New York Legal Assistance Group) and our partner organizations fill that role," said Beth Goldman, NYLAG's President and Attorney-in-Charge. "We are so grateful to the Mayor's Office and MOIA Commissioner Bitta Mostofi for creating and supporting the new Rapid Response Legal Collaborative to ensure immigrants have the legal counsel and representation they need. Let our message be loud and clear: we will stand by Immigrant New Yorkers and protect their rights."
"UnLocal is thrilled to form part of the Rapid Response Legal Collaborative, a much-needed addition to New York City's arsenal in the fight to protect our immigrant communities. For too long, New Yorkers facing imminent deportation have confronted the terror of deportation alone, isolated by swift detention, an accelerated deportation process, limited access to judicial review, and far from access to free and quality legal advice," said Rebecca Press, Legal Director at UnLocal. "This collaborative seeks to address this critical need and provide New Yorkers facing imminent deportation with a lifeline to legal services. We applaud the City's commitment to fighting on behalf of and together with immigrant New Yorkers and look forward to our continued robust partnership with Make the Road NY and NYLAG."
"When immigrants need legal help in the kind of world we're living in today, they need that help quickly," said Manhattan Borough President Gale A. Brewer. "This fresh approach to solving that problem should help meet that need. I applaud the Mayor's Office of Immigrant Affairs and New York State's Office for New Americans for thinking hard about on-the-ground problems facing immigrants."
"Legal services are key to ensuring that the rights of immigrant families are protected," said Assembly Member Catalina Cruz. "At a time when our community is under constant attack, I am proud to see our city and state uniting to ensure that we can get assistance to immigrant families as quickly as possible. I look forward to working with our agencies to ensure the success of this initiative.
"Many of our neighbors are being subjected to cruel targeting for imprisonment and deportation from federal agencies. Even worse, most of those individuals and their families experience a complete upheaval when these entities barge into their lives," said Assembly Member Michael DenDekker. "I appreciate that the Mayor's Office of Immigrant Affairs is devoting more resources to providing these marginalized folks with legal services."
"As the federal government continues to attack immigrant communities and separate families, the need for safe and trusted immigration legal advice has never been greater," said Council Member Carlos Menchaca, Chair of the Committee on Immigration. "Thankfully, our immigrant neighbors can rely on the ActionNYC network for these services. With the added funding announced today, ActionNYC's ability to respond rapidly is even more secure. I applaud the Mayor's Office of Immigrant Affairs for working with the State to fill this gap and strengthen this indispensable resource."
"This $1 million allocation will protect thousands of New Yorkers from the Trump administration's harmful immigration policies," said NYC Council Member Daniel Dromm. "The federal government continues to tear families apart. NYC is pushing back against this injustice by providing immigrants with the legal services they need to defend themselves. This effort will help immigrants stay where they belong: in the Big Apple. I am proud to stand with MOIA, ONA and advocates across the five boroughs in support of our immigrant neighbors."
"Immigrant communities across Queens and all of New York City don't have to hear the President's hateful rhetoric to know how he feels — we're surrounded by the concrete manifestations of his anti-immigrant beliefs daily," said Council Member Francisco Moya. "We see it in the form of increased ICE raids around the city. We see it in federal agents stalking people around city courthouses. We see it in the deportations tearing our families and neighborhoods apart. I applaud the Mayor's Office of Immigration and immigration advocates for investing in rapid response services to defend New Yorkers facing imminent deportation and I proudly stand with them to fight the nativist policies targeting our communities."
"Our immigrant brothers and sisters face the very real threat of deportation and separation from their families every day," said Councilman I. Daneek Miller, Co-Chair of the Black, Latino/a, and Asian Caucus. "This investment will go a long way in ensuring that they receive the support services they deserve as contributing members of our community. New York has been a leader in providing these support services, and I applaud this action by the City and State to expand the great work already being done to protect their rights and preserve the integrity of our communities of color.
"From the Lower East Side to Chinatown, I have seen the terror and trauma immigration enforcement and threats have created," said Council Member Margaret S. Chin. "This $1 million investment in rapid response legal services will get immigrant New Yorkers help when they need it most—as they are facing the trauma of possible deportation and separation from their families and communities. With a Federal Administration deeply hostile to the very idea of immigration, it is incumbent upon New York City to step up and make clear we will always be a safe haven for immigrants."
"I want to commend the Mayor's Office of Immigration Affairs, the Office for New Americans, and the many community organizations for their efforts to provide rapid response legal services to members of our immigrant community," said Council Member Mathieu Eugene. "As a city, we must continue to provide all necessary resources to help our hardworking immigrants navigate the legal system. These individuals are entitled to know their rights under the law and have access to the proper representation to protect themselves and their families."
The NYC Mayor's Office of Immigrant Affairs promotes the well-being of NYC's immigrant communities by recommending policies and managing programs that help to successfully integrate immigrant New Yorkers into the civic, economic, and cultural life of the City. For more information on all MOIA services, go to nyc.gov/immigrants
ActionNYC is for every immigrant New Yorker. The hotline offers free, safe immigration legal help in a network of trusted community organizations, public health facilities, and schools. To make an appointment to receive free immigration legal help, call 1-800-354-0365 or 311 and say "ActionNYC." ActionNYC is a partnership between the Mayor's Office of Immigrant Affairs and the City University of New York. Visit nyc.gov/ActionNYC for more information.
Since its creation, the Liberty Defense Project (LDP) has been a critical tool for state-led, community-based response to the ongoing changes in federal immigration policy. From Deferred Action for Early Childhood Arrivals (DACA) to representation in removal proceedings, the LDP program and its partners have responded quickly to provide vital legal services to communities in need, particularly the most vulnerable immigrants who have become targets of federal immigration enforcement. The LDP, administered by the Office for New Americans, in partnership with legal and community-based organizations, is committed to protecting immigrant New Yorkers and keeping families together.
---