---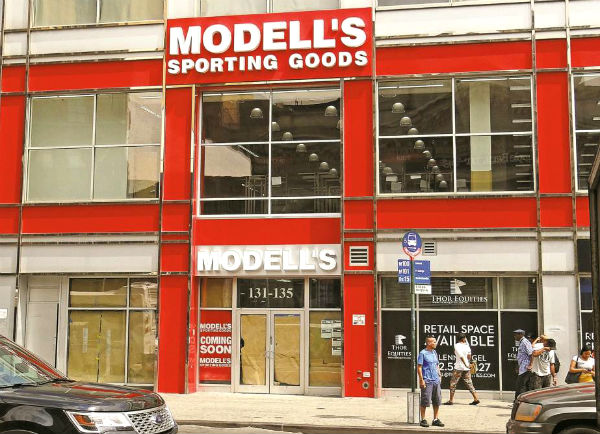 The NYDaily News reports that the is a tale of two immigrants, two successful businesses — and two new stores coming to Harlem's vibrant 125th St. commercial strip this year.
Fine-Tune Your Brand By Identifying Your Business Niche In HarlemOne of the best brands in Harlem has been Rao's (see above), there brand has been anything but gener…Jun 17 2017harlemworldmag.com
The companies and their immigrant founders are Modell's Sporting Goods — started in 1889 by Morris Modell, originally from Russia — and P.C. Richard & Son — begun in 1909 by Peter Christian (P.C.) Richard, a newcomer who arrived in America from Holland.
Shortly, amid the business hustle and bustle uptown, two firms will open stores on Harlem's major commercial strip.
Corporate Social Responsibility Is On The Rise. Is It Right For Your Small Business In Harlem?Everyone has a favorite cause or two. Maybe you and your employees volunteer in your community. But …Jul 3 2017harlemworldmag.com
And Mitchell Modell — president and CEO of Modell's — and Gregg Richard, president and CEO of P.C. Richard & Son, are excited about the new ventures and committed to supporting the economic revival uptown.
P.C. Richard & Son's Harlem's new store is on the way, coming to 309 W. 125th St. (between Frederick Douglass Blvd. and St. Nicholas Ave.) in the fall.
And on August 24, Modell's Sporting Goods is due to open a new store at 135 E. 125th St. and Lexington Ave. — second location for the retailer on the uptown avenue.
"There's a whole renaissance, and it has really became a tourist spot," said Mitchell Modell, noting that the formerly "local community" is now bustling with residents and visitors. "It's not only a local community; it's also a destination for tourists. When tourists arrive on the weekend and during the week, it's unbelievable!" said Modell, whose company is doubling down by opening its second 125th St. store and growing the Modell family business of more than 150 stores throughout the Northeast.
Rep. Adriano Espaillat Leads District Small Business Summit 2017Yesterday, Harlem Rep. Adriano Espaillat held his "State of Emergency: Small Business Summit" at Yes…Jul 12 2017harlemworldmag.com
"So right now, we have only two stores — on Fulton St. in Brooklyn and Fordham Road in the Bronx," Modell said, calling Bill Clinton's 125th St. office and Magic Johnson's movie theater, AMC Magic Johnson Harlem 9, major sparks of the uptown renaissance.
The array of P.C. Richard & Son products –TVs, appliances, mattresses and more – will be available when family-run retail chain debuts its Harlem store in the fall, according to President and CEO Gregg Richard.
Gregg Richard said his company has been looking for a Harlem location at add to the appliance chain's portfolio.
Don't Knock The Hustle, Apply Your Hustle At The Lillian Project With The Harlem Business AllianceThe women pictured above are successful single women, who happen to be mom's. Spark you and your chi…Jul 12 2017harlemworldmag.com
"We identified Harlem as an extension of our market, and recognized its rapid retail growth in recent years," said Richard. "After a thorough review of the market, we were fortunate to acquire space at 309 W. 125th St. that is currently being renovated." He noted that the store is scheduled to open in a few months.
"We now operate over 20 stores in the boroughs, and 66 in total," said Richard, adding that the Harlem store will open with the all the appliances, televisions, mattresses, and other products the chain offers, along with the firm's motto of founding principles: "Honesty, Integrity, and Reliability."
Learn more about PC Richard and Son at www.pcrichard.com. And visit www.modells.com for more about Modell's Sporting Goods.
Photo credit: Mitchell Modell — president and CEO of Modell's – says his family business is doubling down on Harlem by opening a second store on August 24. (JEFF DREXLER/ACEDARTER@GMAIL.COM)
No related posts found...
---