---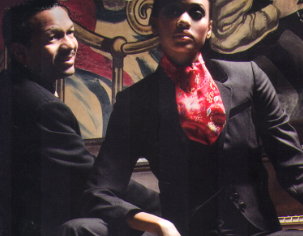 Need something to do Harlem this month? Check out  this August jazz performance schedule at the super sexy supper club at Minton's, 206 West 118th Street, New York, NY.
Get you pen and paper of you phone:
JC Hopkins Biggish Band — 7th, 8th, 14th, 15th, 21st, 22nd, 28th, 29th
Grammy nominated JC Hopkins and his ensemble of pedigreed jazz musicians, the JC Hopkins Biggish Band, swing hard and passionately. The 12-piece group has worked with a wide range of innovative vocalists including Mose Allison, Elvis Costello and Madeleine Peyroux.
Charles Turner (7th, 8th, 14th, 15th) — Brianna Thomas (21st, 22nd) — Jazzmeia Horn (28th, 29th)
For the month of August, JC Hopkins brings Minton's bandstand to life with a specially curated quintet featuring the outstanding vibraphonist Joe Doubleday and today's most notable and dynamic jazz vocalists: Charles Turner, Brianna Thomas, and Jazzmeia Horn.
Queen Esther — 4th, 11th, 18th, 25th
Queen Esther is an award-winning vocalist, songwriter, librettist, playwright, actor and recording artist. After forming the critically acclaimed avant-blues duo Hoosegow (Mighty/Homestead) with guitarist Elliot Sharp, she beat out more than 6,000 hopefuls to land a plumb role in the original cast of the first national tour of the Broadway musical RENT. While on tour, she started her own label (EL Recordings) and continued to develop her ideas, regardless of genre.
Candice Hoyes — 5th
Candice Hoyes embraces her jazz and classical influences to render a style all her own, distinguished as a "magnificent soprano vocalist" and an ideal "singing instrumentalist," (Jazziz Magazine). On the jazz scene, Hoyes has performed and toured with Jazz at Lincoln Center Orchestra. In March 2015 at Minton's Harlem, Hoyes released her acclaimed debut album, On a Turquoise Cloud, a collection of Duke Ellington's rarely recorded songs for soprano.
Lauren Henderson — 6th, 13th, 20th, 27th 
Lauren Henderson is a jazz and Latin jazz vocalist and composer from Massachusetts. Henderson's Caribbean and Latin Heritage are central themes in her original music and performance. Having earned college degrees in both Music and Hispanic Studies, Lauren continues to combine her love for music and culture. While living in Puebla, México she studied the traditional music of the Yucatán and popular music throughout the country at Benemérita Universidad Autónoma de Puebla.
Brandee Younger — 9th
A versatile artist who has been proven to defy genres and labels, this young harpist has created a unique niche in both traditional and non-traditional harp arenas. In addition to expressively interpreting traditional harp repertoire, this young harpist plays in a style reminiscent of Dorothy Ashby and Alice Coltrane, yet has developed a beautiful and fresh sound all her own.  Ms. Younger is most recognized for working with Jazz royalty as well as Grammy winning Hip-Hop producers and artists.
Johnny O'Neal — 12th
"Critics and peers acknowledge Mr. O'Neal as perhaps the leading exponent of mid-20th-century jazz piano technique," according to the New York Times. O'Neal is best known as a Jazz Messenger and for playing Art Tatum in the Oscar-winning Ray Charles biopic. His latest album, Live at Smalls was released earlier this year to great critical acclaim.
Brianna Thomas — 16th
Brianna Thomas "may be the best young straight ahead jazz singer of her generation" according to music critic and author Will Friedwald of the Wall Street Journal. Born and raised in Peoria, Illinois, Brianna made her singing debut at the age of six with her father, drummer and vocalist Charlie Thomas, singing the classic "What A Wonderful World."
Bruce Harris — 19th
Bruce Harris' affinity for Jazz music began as a child listening to his grandfather play the alto sax in his family's Bronx, New York apartment. In a 2013 Ebony Magazine article, Legendary Jazz Trumpeter Wynton Marsalis highlighted Bruce as one of the five important young jazz musicians you should know. Bruce is one of the young cornerstones at Jazz at Lincoln Center in New York, and their new sister establishments in Doha, Qatar, and Shanghai China, where he has been invited to bring his band for weekly residencies.
"Killer" Ray — 23rd  
"Killer" Ray Appleton records and performs with his own sextet, the group's recent release on record being Killer Ray Strikes Again, featuring alto saxophonist Charles McPherson, trumpeter Jim Rotondi, trombonist Slide Hampton, and pianist John Hicks. "Killer" Ray is one of the few surviving musicians who came-of-age when jazz was at its zenith, having had the opportunity to play with jazz music's greats and who deeply understands the concept of "swing."
Dezron Douglas Trio — 26th
Bassist Dezron Douglas is one of the top-call bassists of his generation, an exceptionally hard swinger with a deep reverence for the tradition of the music.  With him is the legendary vibraphonist Steve Nelson and the wonderful Anthony Wonsey on piano.
Fred Staton — 30th  
Fred Staton is an 100 year old musical saxophonist who is a member of the Harlem Blues and Jazz Band.
Get details here: http://music.mintonsharlem.com/
Photograph from the Fashion issue of Harlem World Magazine 2010 at Mintons.
Related Articles
---