---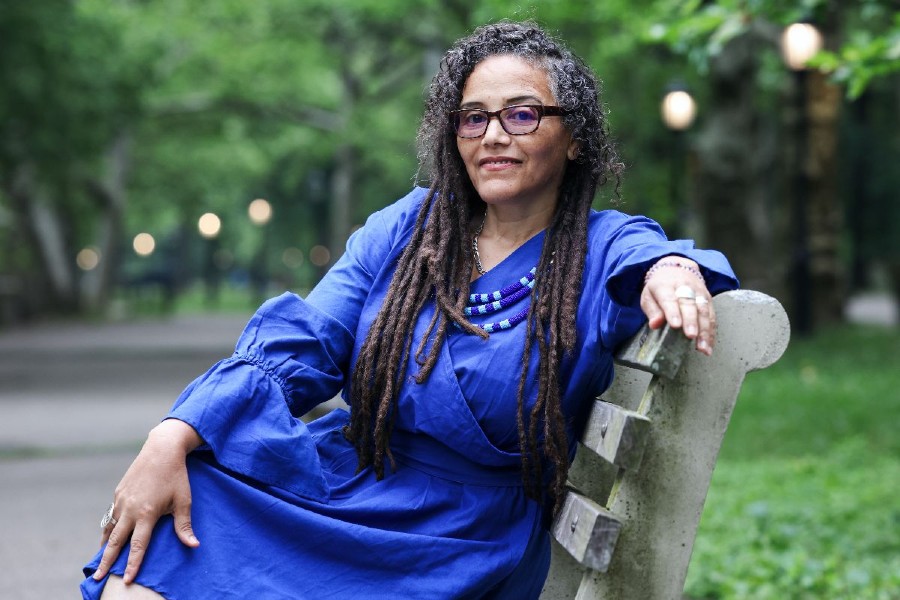 The artistry of Nicole Mitchell is wide-ranging—a virtuosic flutist, acclaimed bandleader, and noted educator.
Also, she is the first woman president of Chicago's Association for the Advancement of Creative Musicians (AACM). An award-winning composer, her music defies classification and celebrates contemporary African American culture. International Contemporary Ensemble performs a selection of her work from the past decade, featuring the composer as flutist.
Nicole M. Mitchell
Nicole M. Mitchell is an award-winning flutist, composer, bandleader, and educator, and the former first woman president of Chicago's Association for the Advancement of Creative Musicians (AACM). Mitchell is best known for her work as a flutist; she developed a unique improvisational language that garnered her awards including "Top Flutist of the Year" by DownBeat Magazine's Critics Poll and the Jazz Journalists Association (2010-2022). She emerged from Chicago's innovative music scene in the late '90s, performing with Maia and Shanta Nurullah in Samana (the AACM's first all-woman ensemble) and as a member of David Boykin Expanse. Mitchell is the founder of the Black Earth Ensemble, Black Earth Strings, Sonic Projections, and Ice Crystal.
As a composer, Mitchell creates works for contemporary ensembles of varied instrumentation and size, while incorporating improvisation and a wide aesthetic expression. She has been commissioned by the French Ministry of Culture, the Chicago Museum of Contemporary Art, the Art Institute of Chicago, The Stone, the French American Jazz Exchange, Chamber Music America (New Works), the Chicago Jazz Festival, International Contemporary Ensemble, and the Chicago Sinfonietta. Mitchell has performed with music luminaries including Craig Taborn, Roscoe Mitchell, Joelle Leandre, Anthony Braxton, Geri Allen, George Lewis, Mark Dresser, Steve Coleman, Anthony Davis, Myra Melford, Bill Dixon, Muhal Richard Abrams, Ed Wilkerson, Rob Mazurek, Billy Childs, and Hamid Drake. She is the recipient of the Herb Alpert Award (2011), the Chicago 3Arts Award (2011), the Doris Duke Artist Award (2012), and the United States Artist Award (2020). Mitchell is currently a professor of music at the University of Virginia. nicolemitchell.com
International Contemporary Ensemble
With a commitment to cultivating a more curious and engaged society through music, the International Contemporary Ensemble—as a commissioner and performer at the highest level—amplifies creators whose work propels and challenges how music is made and experienced. The Ensemble's 35 members are featured as soloists, chamber musicians, commissioners, and collaborators with the foremost musical artists of our time. 
Works by emerging composers have anchored the Ensemble's programming since its founding in 2001, and the group's recordings and digital platforms highlight the many voices that weave music's present. Now in its third decade, the Ensemble continues to build new digital and live collaborative environments that strengthen artist agency and musical connections around the world. Read more at www.iceorg.org and watch over 350 videos of live performances and documentaries at www.digitice.org.
Lisa E. Harris, voice
Lisa E. Harris, Li, is a filmmaker, soprano, composer, improviser, writer, researcher, educator, and cultural producer from Houston, TX. Harris is the recipient of the 2021 Foundation for Contemporary Arts Dorothea Tanning Award, a 2022 Brown Foundation Inaugural Houston Affiliate Fellowship at the American Academy in Rome, and a 2022 Guggenheim Fellowship. Currently, she is an artist-in-residence at Harvard ArtLab. She is also the founder and creative director of Studio Enertia, an arts collective and production company in Houston, which produced her recent work Cry of the Third Eye, a new opera film in Three Acts, which archives the effects of development and the displacing of people and culture on her Houston neighborhood. Harris has curated events in Houston including the inaugural Free Time Flow Festival at MacGregor Park (2018), celebrating the intersections of basketball, electro-acoustic music, and improvisational performance, and the Pauline Oliveros Day at Discovery Green. In January 2023, Harris joined flautist Claire Chase at Carnegie Hall for Pauline at 90, celebrating the legacy of the humanitarian, composer, and native Houstonian Pauline Oliveros. Harris' albums include EarthSeed (FPE Records, 2021), co-composed with Nicole M. Mitchell and inspired by the writings of Octavia Butler, and her solo release Life and That (Studio Enertia, 2021). lisaeharris.com
Thursday, March 30, 2023, 8 PM EST
Tickets start at $20; Students with valid ID starting at $10
Miller Theatre, 2960 Broadway at 116th Street, Harlem, New York, millertheatre.com
Photo credit: Photo by Caitlin Ochs for Miller Theatre.
---