---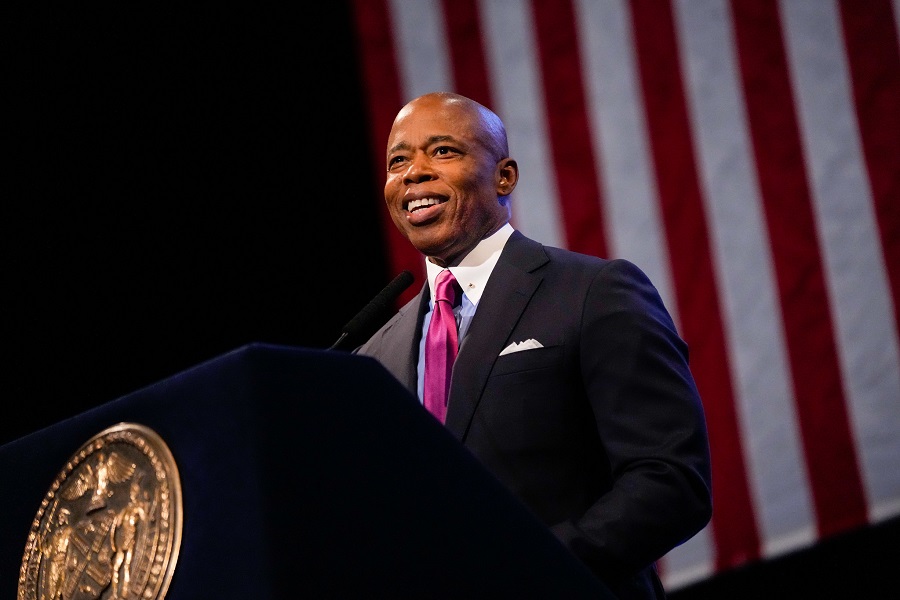 Mayor Eric Adams has called on New Yorkers from Harlem to Hollis to volunteer or donate funds to help ease the asylum crisis.
But knowing where to turn for help or what items to donate can be tricky.
For information on how New Yorkers can help, representatives from the mayor's office, as well as several organizers who are involved in daily work to help migrants who have recently arrived in the city.
Nearly 60 asylum seekers are currently in the city's temporary accommodation system, and about 19 homeless children have entered public schools since the wave of migrants began last year.
While many organizers have warned that their needs often change, here's what they say they need at the moment.
What to donate
Hygiene products and toiletries: deodorant, toothpaste and toothbrushes.
New and used clean clothes for men, especially small and medium sizes.
New socks and underwear for men.
Baby diapers.
Money. Take advantage Website, which shows how donations are spent.
Contact the organizers to arrange donations, which can be sent to the following address: PO Box 216, Bronx, NY 10464.
Please contact South Bronx Mutual Aid before mailing items.
How to become a volunteer
South Bronx Mutual Aid is in dire need of volunteer interpreters to communicate with migrants. To volunteer, call the number above or send a direct message to the organization on Instagram to find out which migrant shelter to contact. Translators are required for:
Spanish
French
African languages, including Wolof and Fulani,
Arabic.
Organization work
Since its founding in April 2020, South Bronx Mutual Aid has regularly provided assistance to immigrants in the area. The group now devotes most of its time to visiting migrant shelters, getting to know them, discussing their needs and providing direct assistance.
Ariadna Phillips, founder of the group, says translators are urgently needed to educate migrants about conditions at the Humanitarian Emergency Response and Relief Centers, HERRCs).
"There are a lot of concerns about abuse by the operators of these centers," Phillips said. Volunteers, she said, will be part of "the accountability system and make sure that if something happens, people have reliable neighbors who can come and offer support and care."
What to donate
Weekly or monthly MetroCards or OMNY prepaid cards.
New men's clothing, especially socks, underwear, sweatpants, t-shirts and sneakers.
Hygiene products: deodorant and soap.
Money that covers the cost of transport and food for migrants. Donations can be made through PayPal or Zelle by emailing info@thegyo.com.
Please contact the organizers by email or call the number above to arrange a time and place for donations.
How to become a volunteer
Salim Drammeh, founder of the Gambian Youth Organization, said his group's greatest need is for volunteer lawyers to help migrants at the organization's community center at 214 East 181st St. in the Bronx.
The organization spends most of its time meeting and transporting migrants from the Port Authority when they first arrive in the city. Contact the organization to find out exactly where your help is needed.
Organization work
The Gambian Youth Organization was founded in 2002 to support African migrants. The organization has been critical of the city's handling of migrants at the Roosevelt Hotel, who were left to sleep on the sidewalk for several days in July. Mayor Eric Adams said the city simply ran out of space.
"We are seeing the results of putting politics before people's lives, to the fullest," the group said in a statement. "Hundreds of asylum seekers, who are mostly black and Muslim, were left sleeping on the street."
Dramme said asylum seekers face difficulty paying lawyers to represent them in immigration cases.
"Without pro bono legal assistance, asylum seekers are at risk of exploitation, misinformation and, most importantly, risk of being deported back to the dangerous environment from which they fled," Drammeh said.
What to donate
Men's clothing, in particular, men's trousers in small and medium sizes. Women's clothing is not required at this time.
Clothes for children of school age. Clothing for newborns and infants is not required.
New or used footwear, such as sneakers or walking boots.
Financial donations can be sent through Team TLC website.
Donations can be delivered to 12 West 40th St in Manhattan on Mondays from 13:00 to 16:00 and Tuesday to Friday from 9:00 to 15:00.
How to become a volunteer
The TLC team manages Little Shop of Kindness at 12 West 40th St. in room Ukrainian Seventh-Day Adventist Center in Bryant Park. The store, which offers free clothes, toys and books to migrants, also has a lawyer. The group also plans to place a shower van outside the store for asylum seekers to use.
The TLC team is looking for volunteers to help sort clothes, as well as assist migrants by walking them through the store and acting as a "personal shopper". Volunteers can sign up for free shifts in the shop on the Team TLC website. There is a need for native Spanish speakers.
Organization work
Team TLC received migrants at the port, providing them with food and other resources until May, when the mayor's office demanded that this activity be stopped.
Team TLC is now centered around the Little Shop of Kindness. According to its manager, Ilse Tillmann, the volunteers at this store provide a huge help: they distribute goods to migrants who do not receive what they need from the city authorities.
"We definitely need more volunteers," Tillmann said. "Volunteers can work here in the store sorting clothes or become a personal shopper helping people looking for clothes."
What to donate
Money can be donated through the band's website.
Things for "parcels" consisting of non-perishable food, hygiene products, toothbrushes, deodorant and lotion.
The group does not accept clothing donations.
Call or email to arrange donation transfers.
How to become a volunteer
African Communities Together, based in Harlem, is dedicated to providing migrants with hot, home-cooked meals. The group has partnered with Harlem restaurants to organize food fundraisers and welcome requests from restaurateurs and other chefs to provide good food for large groups.
Organization work
Sophie Kouyate, community navigator for African Communities Together in New York, says the group's goal is to enable African immigrants to "integrate into society, advance economically, and take part in community life."
The quality of the food provided to newcomers is an ongoing problem, she said. "Another problem is food at the shelter," Kouyate said. "When they are given food, most often it is not very good."
What to donate
The group does not accept donations, but may refer you to other organizations that do.
How to become a volunteer
Coming soon, the New York Immigration Coalition will be hosting weekly Key to the City Resource Fairs to help immigrants and low-income workers enroll in school, access city services, find health care, resolve their immigration cases, and more.
Volunteers will help run the fairs:
Registration of people.
Arrangement of tables and cleaning at the end of the fair.
Table set.
To become a volunteer, please fill out online application. For pro bono legal assistance, please email.
Organization work
Murad Awawdeh, the coalition's executive director, says volunteering at events like the Key to the City resource fair is the best way to help asylum seekers.
"We encourage everyone who is interested in helping to sign up to volunteer with us," Awawdeh said. "A few hours of work can do a lot for you, your community, and new New Yorkers."
What to donate
Money. Donations can be made at Relief fund Asylum Seekers at the Mayor's Fund for Development of New York. The donations will go towards "urgent survival needs, legal information and services, workforce support, housing and relocation services," the website says.
Clothing, toiletries and hygiene items can be donated in all areas of the city listed here.
Bicycles. Reception points can be found here.
Organization work
"Each of us can do something. If you're good at math, there's nothing stopping you from doing financial literacy. If you are a carpenter, there is nothing stopping you from teaching people the basics of carpentry," Adams said during an August briefing on the asylum crisis. I mean stop asking, "Hey Eric, what are you doing?". This is the Michael Jackson moment. Look at the man and woman in the mirror, what are you doing? We all have a role to play in order to cope with the crisis, we need to gather all our strength. That's exactly what I was talking about. We can all become volunteers. We can all do something."
What to donate
Underwear, pajamas, long and short sleeve T-shirts, sweaters, trousers, sneakers, boots, coats and jackets.
Gloves, scarves and hats.
Diapers and baby formulas.
Washing powder and hygiene items: deodorant, shampoo, soap, toothpaste and toothbrushes.
Bags for books, school supplies, duffel bags.
Money. Make a donation to Support fund public schools. Write "STH" or "Recently Arrived Families" in the gift box to make sure the money goes to the Student Accommodation Team.
Organization work
"Regardless of immigration status or language spoken at home, every student deserves access to high-quality schools that meet their unique needs," said Foundation spokeswoman Nicole Brownstein. "As we have done since the launch of Open Hands, we will continue to work with students, families and partners to ensure that newcomers have what they need in our public schools and that our schools are well equipped to meet those needs."
Thank you goes to ForumDaily New York and Gothamist for their reporting.
---