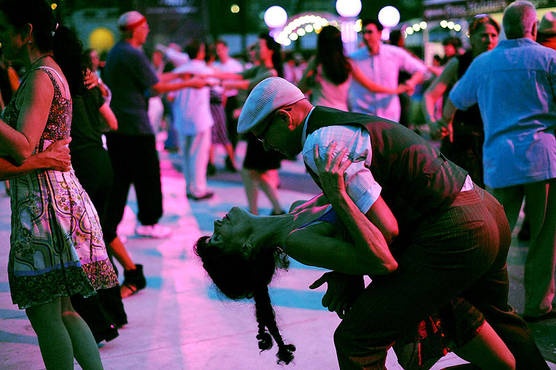 Midsummer Night Swing celebrates the dance bands and soloists who fill the dance floor.Happening in a specially designed, open-air ballroom in Damrosch Park (West 62nd Street between Columbus and Amsterdam Avenues) Tuesdays through Saturdays, June 21–July 9, 2016 Midsummer Night Swing kicks off with the Catherine Russell Septet. The Grammy Award–winning vocalist will pull from her vast repertoire of swing standards for the opening night concert.
Ismael Miranda, recognized as one of the best salsa music soneros of all time, takes the stage on June 22.
Joe McGinty and The Loser's Lounge return to Midsummer Night Swing with an ebullient concert that will take audiences back in time to the glory days of disco for Thursday Night Fever on June 23.
Influenced by the likes of Duke Ellington, Benny Goodman, and Ella Fitzgerald, the Mint Julep Jazz Band will have Damrosch Park jumping and jiving to the sounds of big band and swing on June 24.
The Allen Toussaint Band with guest vocalists Irma Thomas, Cyril Neville, and Deacon John bring the sounds of New Orleans to New York with a joyful musical celebration of Allen Toussaint on June 25.
Midsummer Night Swing brings together people of all ages, at every skill level, and from diverse backgrounds for 15 evenings of social dance. Acclaimed bands will play as dancers Lindy hop, salsa, hustle, Charleston, tango, and more in a gorgeous, open-air ballroom in Damrosch Park (West 62nd Street, between Columbus and Amsterdam Avenues).
Lincoln Center for the Performing Arts, 70 Lincoln Center Plaza, New York, NY10023, http://aboutlincolncenter.org/
Related Articles