---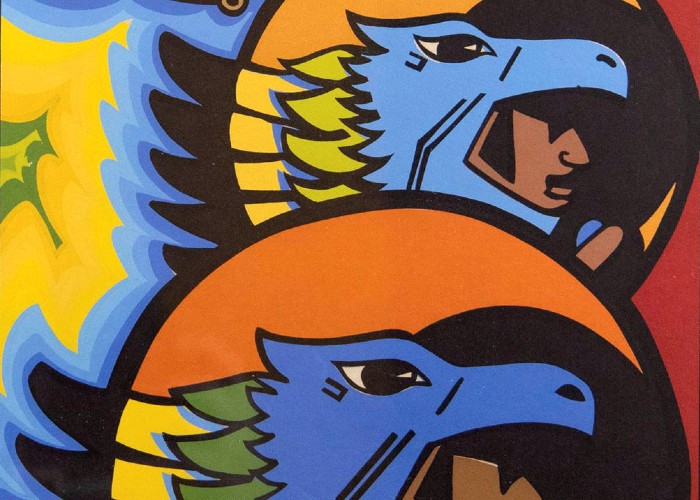 W love that Harlem to Houston vibe, the Chicano/a Art, Movimiento y Más en Austen, Tejas 1960s to 1980s highlights Chicano and Chicana artists in Austin, Texas has it.The focus of the show will be during "El Movimiento" (The Chicano Civil Rights Movement).
This exhibition serves as a primer on the rich and understudied Chicano art movement in Austin, presenting a variety of mediums, themes, and artists.
Artwork by prolific artists of the area paired with documentary ephemera creates the context for those turbulent times.
This exhibition highlights the challenges these artists faced as they learned about their history, dealt with systemic injustice, sought a unique Chicano/a art voice, and found or created a place for themselves.
The exhibition brings together revolutionary artwork with abstract, conceptual, and commercial art, showing the breadth of creativity that these artists achieved in this time in a variety of forms including visual art, music by the band Conjunto Aztlán and others, photography, dance, music, poetry, literature, film, and other forms.
Prominent visual artists in the exhibition include Tito Aguirre, Mary Ann Ambray Gonzales, Alicia Arredondo, Alicia Barraza, Santa Barraza, Sam Coronado, Nora Gonzáles Dodson, Carolina Flores, Rey Gaytan, Carmen Lomas Garza, Mary Jane Garza, Marsha Gomez, Luis Guerra, Juan Pablo Gutierrez, Luis Gutierrez, Luis Guerra, Bruce Harnett, Bill Leissner, Pedro Meyer, Sylvia Orozco, Janis Palma, Amado Peña, Alan Pogue, Pio Pulido, Manuel "Chaca" Ramirez, Vicente "Chente" Rodriguez, Marta Sanchez, José Treviño, Modesta Treviño, and Raul Valdez; murals by the next generation master muralist Amado Castillo IV with student assistants.
The 1960s saw the beginning of a great push for socioeconomic and racial justice across the United States, Texas, and Austin.
Protests took place demanding access to affordable housing, better working conditions, quality education, and later in the decade and into the 1970s, a push against higher-than-average draft rates of Mexican American and Black men into the Vietnam War.
Multicultural alliances were seen in events like Cesar Chavez and Dolores Huerta helping the United Farm Works Union organize Mexican American and Filipino farmworkers.
These tumultuous times and events touched the heart of Texas as well. In and around Austin protests for farmworkers' rights took place, KKK rallies occurred, police brutality went unchecked, the Texas Farm Workers marched in the advocation of better labor rights for farmers, and the Brown Berets called upon Mexican Americans and the U.S. Government for a more just existence for Mexican Americans.
Many Chicana and Chicano artists began to connect the lessons they were learning about the systemic oppression of Mexican Americans to the events that were happening around them.
For some of these Austin artists, a "Concientización" (Awakening of consciousness) took place while learning the history of oppression their people faced, gaining pride in their connections to indigenous and mestizo roots, or finding unity in the concept of "Aztlán" (the ancestral Aztec homeland). This awakening led to a reevaluation of their artwork. During this time The University of Texas art faculty focused on the popular art trend of "Universal" art; artwork that appealed to all people. These teachers made it clear that art should not be used as a political tool, but instead as a more personal expression. For some of these young Chicano and Chicana artists, standing outside the fray with their artwork was not an option. Many of these artists created work for local Chicano newspapers and political causes, while also creating more traditional art projects to fulfill their assignments as students.
In and out of the university arena, anxiousness about systemic injustice spilled into the community and artists reacted by joining community protests and creating opportunities to learn and teach Chicano art and culture. These efforts evolved into the creations of civic and cultural organizations pushing for greater equality. Some of these included LUChA (League of United Chicano Artists), MAS (Mujeres Artistas Del Suroeste), CASA (Chicano Art Student Association), MAYO (Mexican American Youth Organization), the Brown Berets, and the Raza Unida Party. A push for greater education equality led to the founding of the Center for Mexican American Studies at The University of Texas, a leader in Chicano education in universities. A push for creative independence would lead some of these people to begin their own organizations like La Peña Gallery and Mexic-Arte Museum in the mid-eighties.
Enjoy this exhibition of original artwork, documents, live performances, and scholarly lectures that tell the story of a defining time and place for the Chicano movement and for Chicano and Chicana artists.
This project is funded by the National Endowment for the Humanities area of interest, A More Perfect Union: Exploring America's Story and Commemorating its 250th Anniversary. This Initiative, "encourages projects that explore, reflect on, and tell the stories of our quest for a more just, inclusive, and sustainable society throughout our history." This exhibition gives people a chance to not only reflect on the actions of previous generations and recognize their hard work and sacrifice but to also be inspired to recognize that the struggle continues; that the problems that this and future generations face are not so dissimilar from those of the past. And with that take action to progress forward towards a more just world "Poco a Poco" (Little by little).
They thank all the artists and collectors, Alicia Barraza, Santa Barraza, Martha and Juan Cotera, the Pedro Meyer Foundation, Dolores and David Hibbs, Dr. Cynthia Orozco, Irma Orozco, Maria Teresa Orozco, Cynthia Perez, Delia Sifuentes, Juan Tejeda, and Modesta and Jose Trevino. The Nettie Lee Benson Latin American Collection and the Austin History Center have loaned works to the exhibition and have assisted in preserving history. Our public programs with Humanities Scholars Advisors Dr. Karen Mary Davalos, Dr. Cary Cordova, and the Humanities scholars.
They thank our generous sponsors — Dr. Maggie Rivas, Center for Mexican American Studies, Latino Studies at UT Austin, City of Austin Economic Development: Cultural Arts Division, Ford Foundation, Humanities Texas, National Endowment for the Arts, National Endowment for the Humanities, Texas Commission on the Arts, and The Andrew W. Mellon Foundation.
Mexic-Arte Museum's Chicano/a Art, Movimiento y Más en Austen, Tejas 1960s to 1980s exhibition will open to the public with an opening reception on Friday, April 8th, 2022. Non-members are able to experience the reception at 6:00 PM and the event will go until 9:00 PM. A special discount on Individual Memberships will be available during the reception at the Museum entrance for $25, usually priced at $40. Become a Mexic-Arte Museum Member by visiting the Museum website. Admission for the evening will be $10 and or free for Museum Members. The Exhibitions will stay open to the public until June 19, 2022. Musical performances will be provided by Conjunto Aztlan and Chulita Vinyl Club ATX throughout the evening!
Join us on Friday, April 8, 2022, 6:00pm – 9:00 pm est,
Mexic-Arte Museum, 419 Congress Ave, Austin TX, 78701, https://mexic-artemuseum.org,
---