---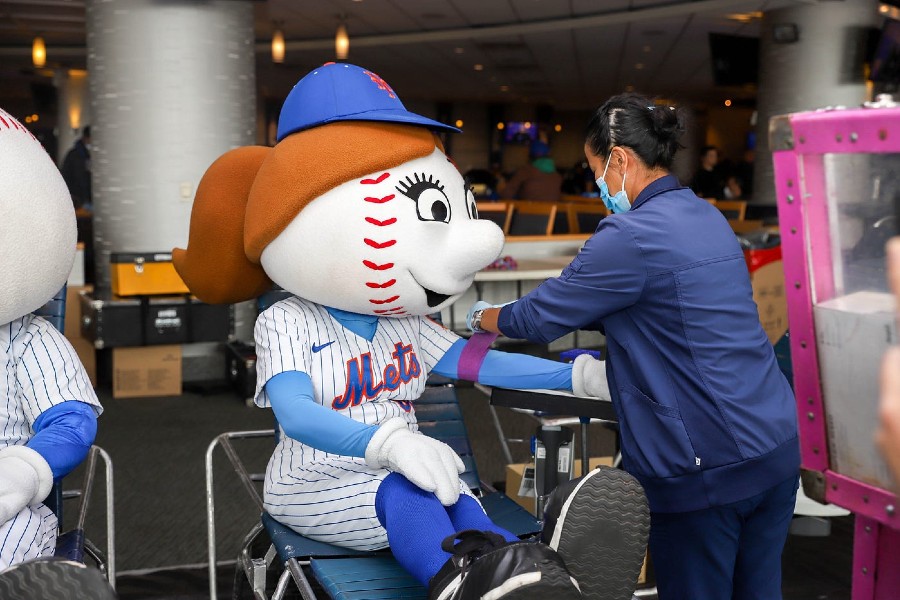 NY Blood Center (NYBC) will be partnering with the NY Mets to encourage New Yorkers to give blood by offering presenting donors a NY Mets t-shirt from Sunday, June 25 – Sunday, July 9, 2023.
Additionally, all platelet and double red cell donors during this timeframe will receive a voucher redeemable for two tickets to a select 2023 NY Mets home game. These promotions will be available at any of NYBC's 19 donor centers. 
The NY Mets have been a long-time partner of NYBC, hosting blood drives multiple times a year and encouraging blood donation during some of the most critical times for the blood supply. The NY Mets recently hosted their summer blood drive at the Piazza Club at Citi Field, where they collected 713 blood donations, bringing the organization's total blood donations to over 15,000. 
The summer months are always difficult for the blood supply, especially around the 4th of July holiday weekend, when school breaks and summer travel plans make blood donation less of a priority. In addition, the unprecedented COVID-19 health crisis has caused a loss of blood donations, including 20,000 fewer donations from high school and youth donors each year. Hospitals and patients rely upon a steady flow of volunteer donors to receive life-saving blood products, but blood donations still have not returned to pre-pandemic levels. 
"We are so grateful to the New York Mets for always stepping up to the plate to host blood drives and encourage blood donations, especially during the summer months, which are a critical time for the blood supply," said Andrea Cefarelli, Senior Vice President at New York Blood Center. "We're calling on all eligible New Yorkers, especially our youth donors, to come out and support the home team by donating blood and giving the gift of life this week." 
Blood donors can give every 56 days, and platelet donors can give twice per month. The Food and Drug Administration (FDA) recently lifted eligibility restrictions for individuals who lived in Europe during certain periods of time. To view current eligibility guidelines, visit nybc.org or call 800.688.0900.
To make an appointment at a donor center near you, donors can call 1-800-933-2566 or visit this link. Can't donate blood? You can still support NYBC's mission by texting 'NYBC' to '20222' to give $25.
New  York  Blood  Center
Founded in 1964, New York Blood Center (NYBC) is a nonprofit organization that is one of the largest independent, community-based blood centers in the world. NYBC, along with its operating divisions Community Blood Center of Kansas City, Missouri (CBC), Innovative Blood Resources (IBR), Blood Bank of Delmarva (BBD), and Rhode Island Blood Center (RIBC), collect approximately 4,000 units of blood products each day and serve local communities of more than 75 million people in the Tri-State area (NY, NJ, CT), Mid Atlantic area (PA, DE, MD, VA), Missouri and Kansas, Minnesota, Nebraska, Rhode Island, and Southern New England.
NYBC and its operating divisions also provide a wide array of transfusion-related medical services to over 500 hospitals nationally, including Comprehensive Cell Solutions, the National Center for Blood Group Genomics, the National Cord Blood Program, and the Lindsley F. Kimball Research Institute, which — among other milestones — developed a practical screening method for hepatitis B as well as a safe, effective and affordable vaccine, and a patented solvent detergent plasma process innovating blood-purification technology worldwide.
Photo credit: Source.
---