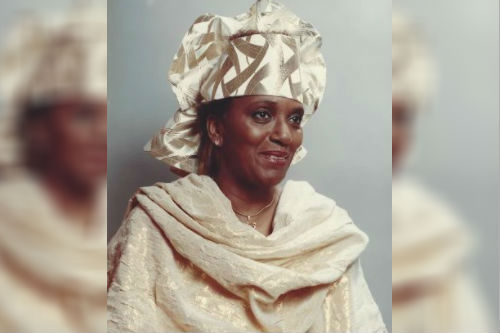 Join a celebration of Doris Jean "Devya" Richmond's Life and Passion during a memorial service of Music and Light. For more than 22 years, Devya helped corporate executives, middle managers, entrepreneurs, teachers, students, and creative artists gain inner balance and personal power by teaching meditation and incorporating the sound of the "Gong"
instrument in her energy therapy program.
In reference to Devya's work with hundreds of organizations, Susan Taylor, former Editor-In-Chief of Essence Magazine said, "Many sisters said that your clarity, wisdom and guidance made a tremendous difference in their lives. You are a gift to the universe."
Doris Jean Richmond, known to us as Devya, was born on October 18, 1934, at Sloane Hospital, part of the Columbia-Presbyterian Medical Center in northern Manhattan. She grew up in East Harlem, New York, to parents Doris Celestine Donaldson and George Edwin Knight. On September 19, 2016, Devya passed away peacefully at home surrounded by her loving niece Karen Joseph and devoted aide Carol Sippio.
Doris Jean was the youngest of four children and a musical prodigy. At the age of three, she surprised her parents by playing a Christmas song on her toy piano by ear. Her mother immediately enrolled her in piano lessons. She graduated from Hunter College with a B.A. in education and music. Devya was a master teacher whose students ranged
from elementary school to college. She was the Director of Education at The College of Human Services (once the Audrey Cohen College now the Metropolitan College of New York) where she developed educational policy and course curriculum.
Devya worked as a Certified Medical Assistant, an elementary school teacher and for 17 years as a New York State Disability Analyst before retiring in 1987 to pursue her loves of meditation, teaching and music.
Devya followed her calling through nontraditional education in meditation and the gong. She studied at the Himalayan International Institute of Yoga Science and Philosophy in Honesdale, PA. She learned advanced meditation techniques under Yogiraj (Charles Bates) at Growth Effectiveness Management Systems (now The Tenth Dot) in St Paul, MN. Her gong training was with Grand Master Don Conreaux here in New York City. Devya soon became a Gong Master in her own right, giving classes, healing sessions and leading monthly Satsangas. Her uplifting CD, "Devya presents: The Power of The Gong," was featured in "O" The Oprah Magazine, October 2002.
She created her business Devya & Associates — Meditation Mentor, GongMaster, and President of Devya Foundation — with the mission to teach people how to be efficient and productive while maintaining calm and clarity through all of life's circumstances. Devya customized her stress management programs to benefit thousands of men, women and
children. Her most unique meditation offering was the Gong Energy Therapy program. Devya was a radio personality who brought her message to morning listeners during her program, Devya's Meditation Moment, on WBAI and WEVD. She also appeared as a regular guest on Lloyd Strayhorn's Numbers and You on WLIB, and on WOLB with Cathy
Hughes and Dick Gregory.
Devya was preceded in death by her husband Robert Joseph and her son, Daniel Melvin Richmond. She is survived by her step-daughter Faith Flores, nieces Karen Joseph, Leslie Bryan, Jean Knight, nephews George E Knight and step-son Jose Joseph.
Saturday, June 10, 2017, 11:00 AM to 2:00 PM
The Social Hall at Union Theological Seminary, 3041 Broadway, New York, NY 10027
Related Articles