---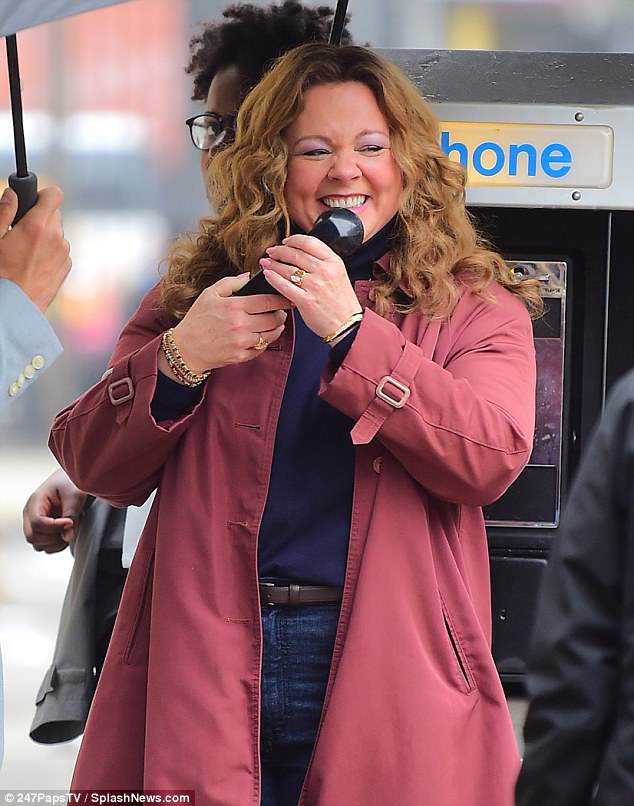 A source reports that she's known for her comedy chops that have earned a Hollywood career. But on Thursday, Melissa McCarthy turned serious to film scenes for her movie The Kitchen in New York.
The actress, 47, was spotted having what appeared to be a somewhat threatening encounter with a male co-star as she used a payphone on the streets of Harlem.
She furrowed her brow and appeared a little intimidated as the man in a sharp pale blue suit approached her and stared her down.
Given the movie is set in the 1970s, the suit had flared pants and the actor wore a dark blue patterned shirt with wide collar under the long jacket.
McCarthy was dressed in blue jean flares with matching turtleneck sweater and a dark red rain coat.
When cameras stopped rolling, the star of The Heat and Spy returned to her more jovial self.
She was seen doing a little dance on the street and laughing as she clutched the pay phone while sheltering under an umbrella held by a crew member.
Her long hair was loose with a center parting and styled in soft waves and she wore mauve eye-shadow and pink lip color.
McCarthy stars with Tiffany Haddish and Elisabeth Moss in the film about 1970s mob wives who keep their husbands' rackets going while they are in prison.
According to The Hollywood Reporter, the New Line feature is an adaptation of the DC/Vertigo female-fronted crime comic book series of the same name from Ollie Masters and Ming Doyle.
McCarthy 'will play an adoring mother who leads the women's charge to take over the business, while Haddish will portray a woman willing to kill anyone in the way of her plan,' the trade publication reported.
Moss rounds out the main cast as the 'timid wife of an abusive husband who falls in love with the violence of her new life.'
The Kitchen is slated to debut in theaters September 20, 2019.
Related Articles
---