---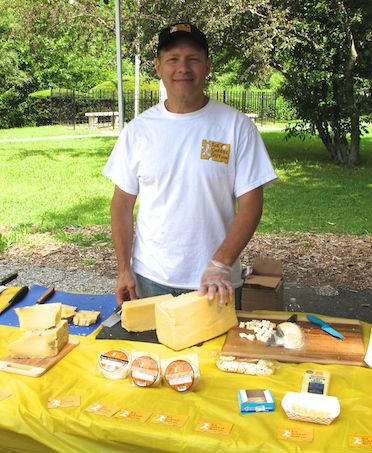 As a growing food capital of NYC Harlem loves food, so its nice to meet those who handle of our food. Meet The Cheese Guy, a man also known as Brent Delman, who has joined the Morningside Park Farmers Market this summer in Harlem.
He makes approximately 30 different kinds of delicious, artisanal cheeses. His food is also kosher and vegetarian. (You, too, thought all cheese is vegetarian? As it turns out, not necessarily; please keep reading…)
Delman was raised an Italian area outside of Cleveland, Ohio, not too far from an Amish settlement. He grew up with a love for cheeses from both communities. As a young man, he got an MBA and spent years using his marketing skills to promote specialty food companies. Along the way, his esteem for tradition grew. "As I got older, tradition became more important to me," he explains, "from the tradition of handmade cheese to the tradition of keeping a kosher home."
Then he went to the island of Sardinia in Italy. "A lot of things came together for me there. I love sheep milk cheeses. On Sardinia, their sheep graze in the fields and eat naturally. I learned how to make a sheep milk cheese in this setting," he says.
Not only did Brent practice traditional Italian methods on Sardinia, but he also met a farmer who proved to be invaluable to The Cheese Guy. In crafting cheese, makers use rennet. The rennet is a mix of enzymes added to milk to catalyze the curding process. As is custom, the rennet comes from the lining of a calf's stomach. This method, however, does not meet kosher requirements. The farmer on Sardinia was willing to use a microbial culture as a replacement for the animal-based rennet. "Then I was able to use traditional methods and my cheeses could become kosher," says Delman. With this alternative rennet, his cheese also became vegetarian.
Today, The Cheese Guy sells an amazing variety of cheeses, with everything from Parmesan to Brie. The New York Timesappreciates his work, too; enjoy this 2014 article about The Cheese Guy. Then stop by the market tomorrow from 9 am to 5 pm and explore his craft!
(via DowntoEarthMarkets.com)
---