---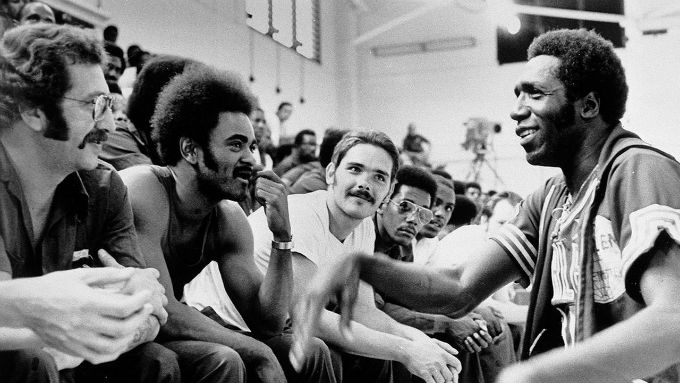 George Lemon III (April 25, 1932 – December 27, 2015), known professionally as "Meadowlark" Lemon, was an American basketball player, actor, minister and Harlem ambassador. For 22 years, Lemon was known as the "Clown Prince" of the touring Harlem Globetrotters basketball team. He played in more than 16,000 games for the Globetrotters and was a 2003 inductee of the Naismith Memorial Basketball Hall of Fame. When basketball legend Wilt Chamberlain was asked his opinion on the best player of all time, he responded, "Believe it or not, Meadowlark Lemon."
George Lemon was born in Wilmington, North Carolina, and attended Williston Industrial School, graduating in 1952. He then matriculated into Florida A&M University, but was soon drafted into the United States Army, serving for two years.
Lemon made his first basketball hoop out of an onion sack and coat hanger, using an empty Carnation milk can to sink his first 2-point hoop.
Lemon first applied to the Globetrotters in 1954 at age 22, finally being chosen to play the following year (1955). In 1980, he left to form one of his Globetrotters imitators, the Bucketeers. He played with that team until 1983, then moved on to play with the Shooting Stars from 1984 to 1987. In 1988, he moved on to "Meadowlark Lemon's Harlem All Stars" team. Despite being with his own touring team, Lemon returned to the Globetrotters, playing 50 games with them in 1994.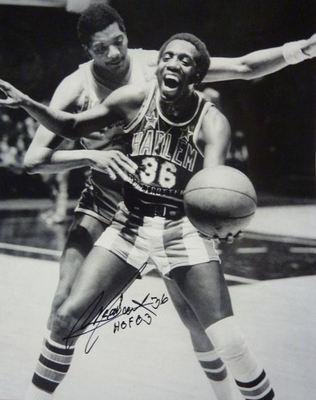 In 2000, Lemon received the John Bunn Award, the highest honor given by the Naismith Memorial Basketball Hall of Fame outside of induction. He was inducted into the Hall three years later as a contributor to the game. On May 18, 2009, Lemon became a partial owner of the Smoky Mountain Jam of the American Basketball Association.
In the 1970s, an animated version of Lemon, voiced by Scatman Crothers, starred with various other Globetrotters in the Hanna-Barbera animated cartoon series Harlem Globetrotters, as well as its spinoff, The Super Globetrotters. The animated Globetrotters also made three appearances in The New Scooby-Doo Movies.
Lemon appeared alongside Fred "Curly" Neal, Marques Haynes and his other fellow Globetrotters in a live-action Saturday-morning television show, The Harlem Globetrotters Popcorn Machine, in 1974–1975, which also featured Rodney Allen Rippy and Avery Schreiber.
In 1978, Lemon appeared in a memorable Burger King commercial by making a tower of burgers until he found a double-beef pickles and onions burger and no cheeseburger.
In 1983, Lemon appeared in a Charmin toilet paper commercial alongside Mr. Whipple (actor Dick Wilson).
In 1979, Lemon starred in the educational geography film Meadowlark Lemon Presents the World. Also in 1979, he joined the cast of the short-lived television sitcom Hello, Larryin season two, to help boost the show's ratings; in the same year, he played Rev. Grady Jackson in the movie The Fish That Saved Pittsburgh. It was several years before he actually became an ordained minister himself.
In 1982, Lemon was featured in the Grammy-nominated video Fun & Games, an interactive educational video produced by Optical Programming Associates and Scholastic Productions, on the then-emerging LaserDisc format.
Meadowlark Lemon had 10 children: Richard, George, Beverly, Donna, Robin, Jonathan, Jamison, Angela, Crystal and Caleb.
Lemon's estranged first wife, Willye, pleaded guilty to simple assault after admitting to stabbing Lemon with a steak knife in 1978.
A born-again Christian, Lemon became an ordained minister in 1986 and received a Doctor of Divinity degree from Vision International University in Ramona, California, in 1988. In his last years, he took up residence in Scottsdale, Arizona, where his Meadowlark Lemon Ministries, Inc. is located. After his first marriage ended in divorce, Lemon married Dr. Cynthia Lemon in 1994.
Lemon died on December 27, 2015, at the age of 83.
RIP Harlem prince.
Photo credit: 1) Meadowlark Lemon with game attendees. and 2) Meadowlark Lemon autographed photo with Harlem Globetrotters NBA photos.
Related Articles
---