---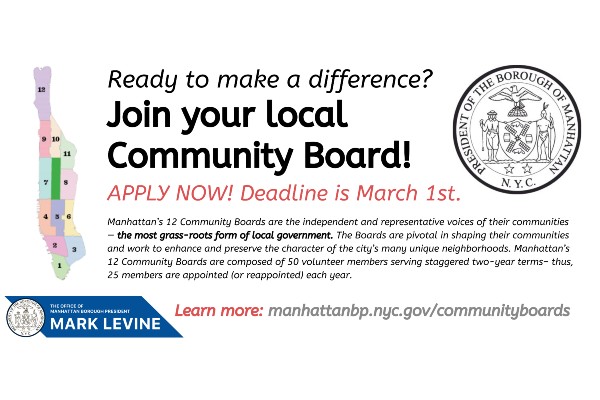 Tuesday, Manhattan Borough President Mark Levine announced the beginning of the annual Manhattan Community Board application process.
The 2022 Community Board application is due by March 1, 2022, and can be submitted digitally or in hard copy. Current members who are up for re-appointment must also apply.
Community Board members must live, work, study, or have an otherwise significant interest in the neighborhoods served by the community district, be a New York City resident, and be at least 16 years old. Appointments will be made by April 2022 and are based on the application, panel recommendation, and interviews.
"Having served on my local board for many years, I know first hand how Community Boards play a critical role in shaping our neighborhoods," said Manhattan Borough President Mark Levine. "I am committed to making Manhattan's 12 Community Boards better reflect the needs and diversity of the communities they serve. I strongly urge anyone who has a desire to get involved in the wellbeing of your community to apply."
"Community Boards are our local government's ears on the ground and are invaluable in giving all communities a voice in our city's political process," said Deputy Borough President Keisha Sutton-James. "So many elected officials either follow or seek the counsel of Community Boards, so we need to center this powerful platform in equity and inclusion. We are committed to equity in our Community Boards process and will give New Yorkers who historically haven't had a voice in government – people of color, gender minorities, public housing residents, immigrant communities, youth – a seat at the table. I encourage anyone who is dedicated to building a more equitable Manhattan to apply to their Community Board."
"Community Boards are a foundational element of local government in New York City," said Community Affairs Director Tricia Shimamura. "They give local residents an opportunity to help shape their neighborhoods and care for their communities. Now more than ever, we need New Yorkers who are committed to serving their neighborhoods to step up and consider serving on their local board."
Community Boards are the independent and representative voices of their communities – the most grassroots form of local government.
The boards are pivotal to enhancing and preserving the character of the city's many unique neighborhoods.
Manhattan's 12 Community Boards are each composed of 50 volunteer members serving staggered two-year terms – thus, 25 members are appointed (or reappointed) each year.
Community Boards consider a wide range of issues, including the distribution of liquor licenses and permits for street fairs and other outdoor events, among others.
They may also weigh in on issues before the Landmarks Preservation Commission or the Board of Standards and Appeals (the city agency dedicated to land use and zoning regulation) and provide input on proposals from city agencies.
Each Community Board member serves for two years and can re-apply at the end of their term. Members are usually expected to serve on a minimum of two committees, typically broken down by issue area and/or neighborhood, as well as attend the monthly board meeting where all committees make a report to the full board membership.
Members of Community Boards serve without compensation but may be reimbursed for actual, necessary out-of-pocket expenses in connection with their responsibilities.
Members are officially appointed by the Manhattan Borough President.
Half of the members of these boards are selected unilaterally by the Manhattan Borough President, and half are nominated by the City Council Members whose districts overlap with the community district.
---