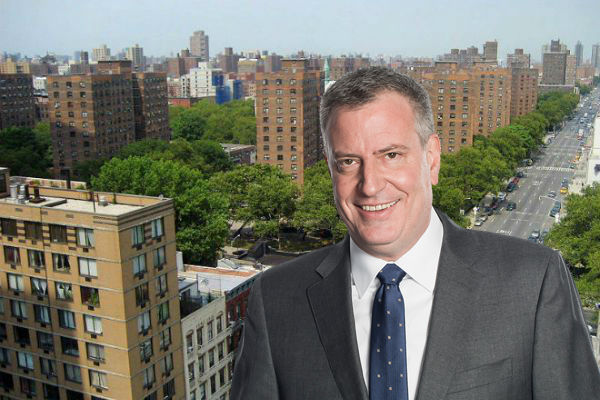 Mayor Bill de Blasio's Office of Immigrant Affairs today launched its first-ever annual report. MOIA's 2017 Annual Report, "State of Our Immigrant City," provides a demographic snapshot of the city's immigrant communities, the barriers they face.
This has been an issue particularly under the Trump Administration – and how the de Blasio Administration works together with the City Council, community leaders, advocates, and stakeholders to address those challenges.The report highlights the strong and enduring commitment the de Blasio Administration and the City Council have made to immigrant New Yorkers, and accomplishments achieved alongside our partners in government and beyond. Through groundbreaking programs like IDNYC and ActionNYC, proactive community outreach and civic engagement, and sustained advocacy, MOIA has made great strides in advancing the well-being of immigrant New Yorkers.
The report is available to all New Yorkers here.
"Immigrant communities are an integral part of our city and we have worked diligently to protect and strengthen this legacy," said Mayor Bill de Blasio. "While others try to play to ugly impulses that cast a shadow over our country's history, we know that over three million immigrant New Yorkers bring strength and vibrancy that help shape our city's future. This report details MOIA's indispensable role embracing immigrant communities to build a fairer and more inclusive New York City for all."
"There is no question our immigrant communities remain under attack. The local law the City Council passed that required MOIA to compile this annual report was designed to better understand the challenges faced by these communities so we can better serve them," said City Council Speaker Corey Johnson. "I thank everyone who took part in this important report, and look forward to our future efforts to further strengthen our immigrant communities."
"I am honored to work with strong and resilient immigrant communities every day who truly make this city great," said Bitta Mostofi, Acting Commissioner of the Mayor's Office of Immigrant Affairs. "In MOIA's first-ever annual report, we're proud to highlight our work throughout 2017. In spite of tough headwinds, we reached over 1 million IDNYC cardholders, connected thousands of New Yorkers with free and safe immigration legal services through ActionNYC, and stood with immigrant leaders in advocating for common sense immigration reforms. No matter what comes our way from Washington in the year to come, we will continue to build on the impressive gains we have realized under the leadership of Mayor Bill de Blasio and the City Council, in concert with our sister agencies to sustain our progress in making New York the most open and welcoming city in America."
"This report provides a comprehensive snapshot of New York City's immigrant communities, their challenges and offers insight on how the Mayor guarantees the safety and well-being of immigrants," said Council Member Carlos Menchaca, Chair of the Immigration Committee. "In a time where immigrant communities are under attack by heartless policies coming from the White House, this report shows that when we work together, New York immigrants feel welcome and protected. I look forward to continue working with the Mayor to ensure New York City remains a Sanctuary City for immigrant families."
"Immigrant New Yorkers are an integral part of the fabric of our City. The Human Resources Administration's Office of Civil Justice has a longstanding partnership with the Mayor's Office of Immigrant Affairs to expand the availability of immigration legal assistance," said Department of Social Services Commissioner Steven Banks. "We are proud to continue working with MOIA to provide these and other essential important services, including IDNYC, the most successful municipal ID program which ensures that all those who call New York home regardless of where they came from, have the same access to services and benefits the City has to offer."
"Today more than ever, it is crucial for City government and its partners to continue strengthening protections and support for immigrant communities that have shaped our city since its founding," said Chair and Commissioner at the NYC Commission on Human Rights, Carmelyn P. Malalis. "I applaud this first-ever annual report by the Mayor's Office of Immigrant Affairs and its work keeping immigrants in New York City safe and protected and look forward to continuing our partnership with MOIA and other sister agencies to make sure immigrants get the services and support they need to thrive, free from discrimination and harassment."
"Here in New York, one in three of us were born in another country," said DCA Commissioner Lorelei Salas. "This report provides an in-depth look into the everyday challenges plaguing New York City immigrants, and highlights the many ways the City is helping to support all of us through education, enforcement, and access to free, trustworthy services. DCA is committed to protecting the rights of all New Yorkers where they live, work, and shop, and also offers a variety of services to those in need, including free one-on-one financial counseling regardless of immigration status or ethnicity. Our Office of Labor Policy and Standards is committed to protecting and promoting labor standards and policies that help workers realize their rights and create fair workplaces including fair wages, and predictable schedules and paychecks. MOIA is such an important partner to our work, and we look forward to using the findings of this report alongside our sister agencies to continue to defend the rights and safety of all city residents. We encourage consumers to visit our website to access tips on immigration service assistance as well as the City's free immigration services available in several languages."
"Whether it's working with artists to foster new connections with local communities, or making sure that culture is a central component of the country's most successful municipal ID program, MOIA has been a visionary partner in using arts and culture to lift up our immigrant neighbors," said Cultural Affairs Commissioner Tom Finkelpearl. "This report is a great opportunity to reflect on what we've accomplished and what more we can do to support our fellow New Yorkers, and we applaud MOIA staff and leadership on their wide range of achievements."
"MOIA's accomplishments in the de Blasio administration provide a valuable service to New Yorkers, nearly two-thirds of which are living in families where at least one member is an immigrant," said Christine D'Onofrio, Director of Poverty Research, Mayor's Office for Economic Opportunity. "The data in this report creates an important portrait of the immigrant community, their needs and achievements."
---
"This report is great news for our immigrant friends, families, and neighbors," said Council Member Daniel Dromm, Chair of the Finance Committee. "The data it contains can help NYC agencies improve language access for those learning English, bolster cultural competency training for City staff, and much more. The possibilities are endless. As lead sponsor of Local Law 185 which calls for the issuance of this report, I am pleased to have worked alongside Mayor de Blasio and my colleagues in the Council to make NYC government work for our underserved communities."
"Immigrants are the backbone of this country and this reports only reinforces that fact," said Council Member Ydanis Rodriguez. "It reminds us of the importance of defending the rights and dignity of all immigrants, particularly those vulnerable to deportation, and ensuring they are represented in elected offices across the city. There is no room for equivocation on the topic of immigration. This Administration will stop at nothing to drive its agenda of hate. Our city has been threatened with spiteful, retaliatory actions in the past and we surely will be attacked in the future. May we continue to show up for those who are disenfranchised, voiceless, and living in the shadows. May we resist the bigoted rhetoric and falsehoods coming from Washington, D.C. May we stand steadfastly for our progressive values. May we remind everyone of the fact that this country was built for and by immigrants, which must never be denied or erased from our history."
"Our immigrant communities are a very special part of what makes New York City so unique. Millions of hardworking families have come here in pursuit of the American dream, and it is beneficial to our socioeconomic development to provide them with the resources they need to build for the future. Through critical programs and services, we are able to protect the rights of immigrant New Yorkers while enabling them to contribute to the success of our great city," said Council Member Mathieu Eugene. "I am thankful to the many immigration advocates who have demonstrated a profound commitment to this very important cause."
"With a federal government and a Republican Party nationwide that is openly hostile to immigrants, it could not be more crucial that New York stands as a beacon, a sanctuary, for immigrant communities. We owe it to the immigrants that make our city the diverse cultural center in which we take pride to not only do everything we can to protect them from hostility but to create programs that celebrate and uplift these vital communities economically, educationally, and in all facets of life." said Council Member Jumaane Williams. "I have been proud to work with MOIA on a variety of these programs and look forward to exploring and implementing new ways to support immigrant communities in New York."
"This report continues the trailblazing work that MOIA and other City agencies are doing to ensure that immigrants are protected and welcome anywhere in the Five Boroughs. With IDNYC and ActionNYC continuing to draw strong interest, we must keep up our investment in innovative programing and individualized reach out efforts to immigrant communities so that all New Yorkers are aware of the services they can access," said Council Member Carlina Rivera. "Hateful rhetoric and division may be the norm in Washington, but here in New York we will always elevate the immigrant communities that have made our city the greatest in the world."
"In a time when immigrant communities are increasingly under attack, this report shows the value of an immigrant-inclusive city and the need to address challenges with policy reform," said Council Member Keith Powers. "We need to keep New York City a place where all people are welcome, and I commend the Mayor for prioritizing this work."
"The Asian Americans Federation is proud to be a partner with the Mayor and MOIA in protecting our most vulnerable immigrants," said Jo-Ann Yoo, Executive Director, Asian American Federation. "We welcome this first-ever report highlighting the needs and contributions of immigrant New Yorkers. We look forward to working with the administration in deepening the connections between city agencies and the community-based organizations that most directly serve these immigrant populations."
"The long tradition of welcoming immigrants and New York's most vulnerable newcomers with help and with the promise of hope is deeply rooted in Catholic Charities' mission to uphold the dignity of every individual, of every worker, and of every family that seeks safety, possibility, and an opportunity to contribute their skill and energy to build their communities," said C. Mario Russell, Esq., Director, Immigrant and Refugee Services Division, Catholic Charities Community Services, Archdiocese of New York. "We are grateful for the partnership we have with the Mayor's Office for Immigrant Affairs and proud of the accomplishments that, together, we have achieved in helping so many children and families find stability and safety and a new future."
"As the Trump administration continues its assault on our communities, it's critical that New York City's government continue to prioritize the needs and rights of the 3.1 million immigrants living here," Javier H. Valdés, Co-Executive Director of Make the Road New York. "MOIA's first-ever annual report provides useful data on the immigrant communities within our city and the programs and activities underway to meet their needs."
"Immigrants remain a vital part of the social and economic fabric of New York City despite the daily attacks on our very existence. We can and must continue to work together to ensure immigrant New Yorkers access critical services, from English language learning to free legal help," said Steve Choi, Executive Director of the New York Immigration Coalition. "We cannot for a moment give in to the hate and lies of the Trump Administration, and thank the City for its continuing support in this time of crisis."
The report includes information about the mission of the Mayor's Office of Immigrant Affairs, immigrant New Yorkers by the numbers, and MOIA programs and activities in 2017.
Read the full report here:
For more information on all MOIA services, go to nyc.gov/immigrants, call 311, and follow us on Facebook, Twitter, and Instagram.
Related Articles