---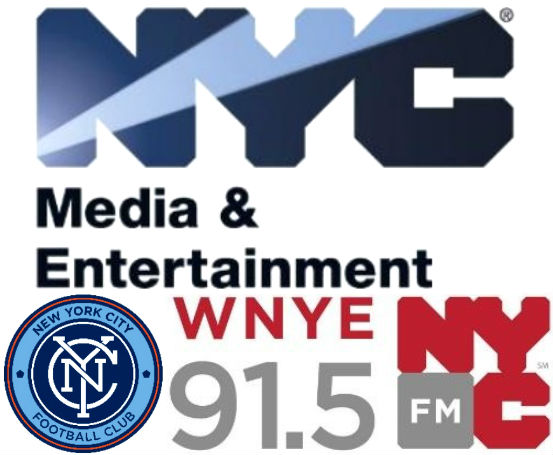 The Mayor's Office of Media and Entertainment (MOME) and the New York City Football Club (NYCFC) today announced a new partnership that will, for the first time, broadcast live all NYCFC games during the 2018 Major League Soccer season on WNYE 91.5 FM, the City of New York's official radio station. The new partnership will create greater access for New Yorkers to hear full play-by-play action for all 34 games starting March 4th, 2018, and running through the end of October.
In addition, soccer journalist and commentator Glenn Crooks will host a weekly talk show on WNYE 91.5 FM called Soccer City, which will uncover fascinating soccer stories from across the five boroughs, while discussing the global sport.
The collaboration with the NYU School of Professional Studies (NYUSPS) will focus on providing an academic experience for high school students from underserved communities across NYC that teaches them the technical aspects of radio broadcasting/audio podcasting, while strengthening their listening, interviewing, and storytelling skills. The program will consist of a semester-long, hands-on course during which public high school students will work on the Soccer City radio program in behind-the-scenes production roles. In addition to gaining hands-on experience in sports journalism, students will have the opportunity to work with local media talent who will advise them on their careers and will provide insight into this dynamic area of the broadcasting industry.
"Soccer is the world's most popular sport and New York City is in many ways a microcosm of the world, so it's fitting that the City's official radio station will bring NYCFC to audiences across the five boroughs," said Media and Entertainment Commissioner Julie Menin. "We are so excited that New York City high school students will have the chance to explore their interest in sports broadcasting and gain real-world skills in this exciting field. I am grateful to the NYCFC and NYUSPS for their innovative partnership, and I look forward to a wonderful season of soccer."
"We are proud to partner with both the Mayor's Office of Media and Entertainment and the NYU School of Professional Studies to bring this fantastic initiative to life," said Jon Patricof, president of NYCFC. "We're excited that so many New Yorkers want to follow our games on the radio and we know that soccer is deeply engrained in the many cultures and communities that make up NYC. Through a true collaboration, three great New York organizations have come together to put on the first weekly on-air show dedicated to the world's game via terrestrial radio. We'll use the power of soccer to provide broadcast experience and skills to talented youth from City in the Community foundation who will be contributing to our programming."
NYUSPS Dean Dennis Di Lorenzo commented, "We are pleased to be working with the Mayor's Office of Media and Entertainment and with NYCFC to launch this innovative educational program that will provide underserved youth with an opportunity to gain a deeper understanding of the broadcast industry. This new initiative expands and deepens the NYU School of Professional Studies commitment to bring our unique brand of professionally focused education to those who will benefit from it most."
Adding to its current roster of NPR content, world music and ethnic community programs, the local soccer coverage aims to broaden the range of WNYE-FM's diverse listenership, while supporting City-wide soccer initiatives. WNYE-FM is managed and operated by NYC Media, the city's broadcast entity, which also includes five cable channels with a reach of 18 million viewers, and is a division of the Mayor's Office of Media and Entertainment. Broadcasting throughout the metropolitan area from the 4 Times Square tower in midtown Manhattan, it serves the public 24/7 with its programming. NYC Media aims to inform, educate, and reflect the diversity of interests that make up New York City's population.
The students who will take part in this new NYUSPS course will be selected from the City in the Community programs that NYCFC supports. Since the Club's inaugural season in 2015, NYCFC has implemented various programs through City in the Community (CITC) foundation that use soccer to support the most in-need communities in the five boroughs. Serving 4,000 young people each week, these programs promote health, education, and inclusion for underserved local communities and young people across the five boroughs.
"NYC Media's sole mission is to create and schedule programming for New Yorkers about the great and diverse city that they live in," said NYC Media General Manager Janet Choi. "Our hope is that the NYCFC partnership will introduce more New Yorkers to the diverse range of programming available on the station."
On-air commentator Glenn Crooks added, "I've been covering soccer in NYC for more than 35 years and have witnessed first-hand the passion and commitment to soccer in the five boroughs. Now I can bring some of those stories to life with our new weekly program. Soccer City will also provide news, features and interviews with the NYCFC first team while also catering to the massive interest in the global game with coverage and tales from Europe, South America and anywhere soccer has an impact on the lives of our WNYE-FM listeners."
"Providing our students with real-world experience is one of the best opportunities we can give them," said Public Advocate Letitia James. "This new initiative will expose high school students from historically underserved communities to hands-on experience in the radio broadcasting field, giving them advantages and support they would not normally have at their disposal. This is a great example of the power of public-private partnership and I thank Commissioner Menin, the New York City Football Club, and the NYU School of Professional Studies for this new program that will enrich the education of our students."
"This collaboration will not only broadcast soccer games live to thousands of New Yorkers, but also give students from underserved communities a unique, hands-on training experience in radio journalism and the technical aspects of broadcasting and podcasting," said Council Member Debi Rose, Chair of the Committee on Youth Services. For many students, this semester-long course has the potential to open up new career opportunities that they might not otherwise have. I thank everyone who has come together to make this partnership happen, and I look forward to seeing this program in action in our schools."
"Bringing together the passion for the Beautiful Game that so many of our city's young people share with opportunities that offer real, hands-on career experience and invaluable guidance from professionals is a winning combination," said Council Member Mark Treyger, Chair of the Committee on Education. I applaud MOME, NYUSPS, and NYCFC for working to build pathways toward 21st century career opportunities for our students."
No related posts found...
---