---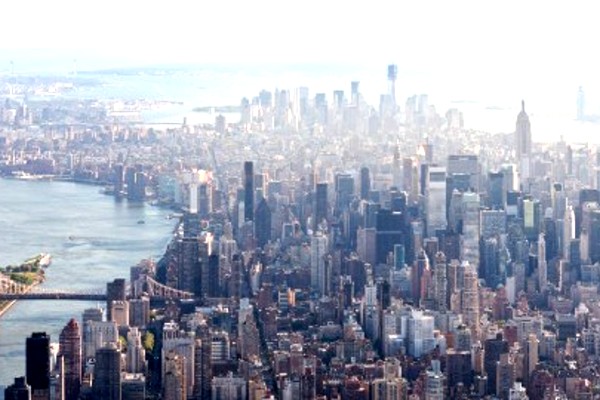 Mayor Bill de Blasio today released New York City's November Financial Plan Update for Fiscal Year 2022 (FY22).
The FY22 budget is now $102.8 billion and remains balanced. The final plan of this administration reflects strong fiscal management by drastically lowering budget gaps, remaining focused on savings, maintaining strong budget reserves and gives the incoming administration a springboard to success.
Budget growth in FY22 is driven by FEMA reimbursable costs and recognition of federal COVID-19 relief and stimulus funding the City used to save lives and drive an equitable recovery.
New City spending in FY22 funds investments to help the fight against COVID, bolster our recovery, and make New York City more resilient to climate change.
"This budget is an investment in working families and our recovery. The November Plan recognizes crucial help from the federal government which has allowed New York City to rebound strong and invest in our future, from fighting COVID-19 to climate change," said Mayor Bill de Blasio. "As this administration comes to an end, we've substantially lowered budget gaps and increased reserves, leaving the next administration with a strong foundation to continue New York City's recovery."
By achieving substantial pension, debt service and agency savings, budget gaps, which were already below historic norms, are significantly lower than at Adoption.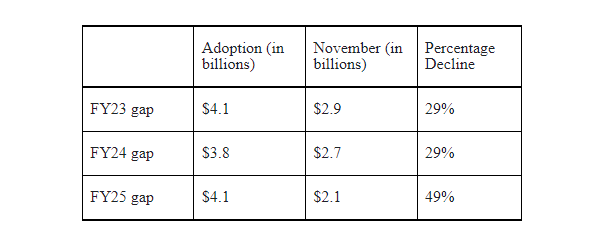 The Plan achieves $983 million in the Citywide Savings Program across Fiscal Years 2022 and 2023.
Budget reserves are $5.1 billion with $3.8 billion in the Retiree Health Benefits Trust, $1.0 billion in the Rainy-Day Fund which was created and funded under this administration, and $300 million in the General Reserve. At their highest NYC reserves totaled $6.1 billion in Fiscal Year 2020, before the pandemic hit.
Because the City's financial position has improved since the early days of the pandemic, the assumed annual outyear labor savings of $1.0 billion has been reduced to $500 million in Fiscal Years 2023 through 2025.
New agency spending of $534 million in FY22 is completely offset by a combination of pension adjustments, agency and debt service savings totaling more than $600 million achieved over the same year. FY22 investments deepen the Recovery for us All, expand the fight against COVID-19, increase the City's commitment to protecting New Yorkers from the impact of climate change and extreme weather, and more:
Fighting COVID-19 and Investing in our Recovery
Funding for Emergency Rikers Relief Plan actions ($57M)
Provide debt relief for taxi medallion owners with a City-funded backstop, $50M on top of the existing $65 million Medallion Relief Program
Reentry housing with healthcare and employment counseling for justice-involved New Yorkers returning to the community ($29M)
Extend COVID-19 Emergency Food Distribution ($15M)
Reduce recidivism with the MOCJ precision employment initiative ($14M)
Deepen funding for Key to NYC vaccine canvassing ($10M)
Expand street homeless outreach with mobile treatment vans ($4.4M)
Increase Test & Trace outreach ($7M)
Expand mental health services at domestic violence shelters ($5M)
$500 vaccine incentive initiative for City workers ($6M)
Protecting New Yorkers from Extreme Weather and the Impact of Climate Change
Address critical needs related to the response to tropical storms Ida, Henri and Isaias ($36M)
Implement recommendations in "The New Normal: Combatting Storm-Related Extreme Weather in New York City" report including an expanded sensor network, a database of basement apartments, green infrastructure maintenance, and wetlands management staffing, an investment of $15M which builds on $2.4B in funding that was included in the FY22 Capital Commitment Plan
Fund offshore wind capacity-building initiatives that will support the development and equipping of manufacturing firms in the City ($2M)
Read the November Financial Plan Update here.
---