---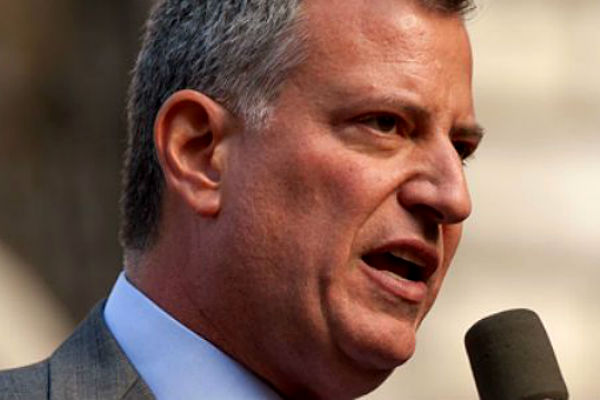 Mayor Bill de Blasio today signed Intro. 1241-A, which requires that public buildings provide diaper changing stations to all New York City parents. Sponsored by Council Member Rafael Espinal, the bill will ensure that all parents have access to these stations regardless of their gender identity. New York City is one of the first cities in the nation to make this enforcement in new or recently renovated buildings, further solidifying the City as a national leader in improving gender equity.
"As a Dad, I know first-hand how frustrating it can be to handle diaper emergencies in public without a changing station," said Mayor Bill de Blasio. "This new law will ensure that all parents will have access to these stations in public buildings regardless of their gender, and help make New York City fairer place to live."
"Intro. 1241-A is an important step toward making New York City more family-friendly for all parents, regardless of their gender. Too often, fathers and gender non-conforming parents are excluded from the resources aimed at supporting families. That has to change. I am proud that this Administration has emphasized equity, and put the experiences and needs of all families front and center from the very beginning. With the leadership of City Councilmember Rafael Espinal and this important bill, we add to the list of milestone achievements for families in New York City that includes: Pre-K and 3-K for All, Paid Family Leave, Increased Access to Mental Health Support through ThriveNYC, and the Children's Cabinet Baby Shower Series," said First Lady Chirlane McCray, Co-Chair of the Commission on Gender Equity.
"Requiring diaper changing stations in all public restrooms, regardless of gender, will go a long way to promote gender equity and encourage dads to also be on diaper duty," said Council Member Rafael Espinal, prime sponsor of Intro. 1241-A. "After witnessing a father changing his daughter's diaper on an unsanitary sink in a public space, I realized diaper changing stations must be a requirement in all public bathrooms, because moms and dads should have equal access to sanitary and safe spaces when changing their baby's diapers. Our city is now leading the nation on this issue, and I am proud that we are building upon the work of President Obama when he required federal buildings to have this service. For too long most public restrooms have not had dedicated spaces for families to care for their children, but after today's signing, every public building in NYC will be required to create a space to allow parents to change their child's diaper with dignity."
"Finding somewhere to change a diaper while out and about in New York can be as challenging as the Hunger Games," said Council Member Dan Garodnick, co-prime sponsor of Intro. 1241-A. "As the parent of two young boys, I have experienced this challenge firsthand and I know this legislation will be a major relief for families. Safe and sanitary spaces to care for children must be the norm for all parents."
Intro. 1241-A, which goes into effect in 180 days, requires that diaper changing stations be available to all persons regardless of gender identity on any floor where public restrooms are available in gathering spaces or spaces where merchandise is sold. Gathering spaces, classified as Assembly Group A occupancies, include places like theaters, bowling alleys and museums and spaces where merchandise is sold, classified as Mercantile Group M occupancies, include places like shopping malls. This requirement will only apply to new construction and substantial renovations that also change the use, egress or occupancy of a space. Enforcement of this law will be complaint based, and the civil penalties for failing to comply with this requirement range from $300 to $1,600.
"This common-sense bill creates family friendly public spaces and breaks gender role stereotypes. It is an important step in fostering gender equity in the daily lives of all New Yorkers," said Jacqueline Ebanks, Executive Director of the NYC Commission on Gender Equity.
"The challenges of parenting are so often seen from a mother's perspective that we tend to overlook the obstacles that fathers face daily. As chair of the Committee on Women's Issues and co-chair of the Women's Caucus, I am proud that today's enactment of Intro 1241 will help advance gender equity by expanding access to diaper changing stations for all. Every parent, regardless of gender, should have the same resources to ensure that they can provide the best level of care to their child(ren)," said Council Member Laurie A. Cumbo.
"We look forward to implementing this change for the better — helping all New Yorkers have greater access to diaper-changing stations," said Buildings Commissioner Rick D. Chandler, PE.
The de Blasio Administration is committed to fighting inequality across the five boroughs, and has placed gender at the center of this mission. The Commission on Gender Equity is charged with supporting agency initiatives by utilizing a gender lens to review policies and their impact on women, transgender and intersex individuals, and men in order to achieve greater gender fairness in the City.
New York City has made significant strides towards gender parity over the last three years, including:
Creating lactation rooms for new mothers at social service agencies across the city.
Creating first-ever maternal mental health services through ThriveNYC, a mental health initiative led by First Lady Chirlane McCray.
Signing Intro. 1253 which prohibits all NYC employers from inquiring about a prospective employee's salary history.
Establishing a historic partnership with UN Women and becoming the first American city to join the United Nation's Safe Cities Initiative.
Providing Universal Pre-K and 3-K for All.
Expanding paid sick leave to many of the lowest paid industries that employ disproportionate amounts of women.
Making unprecedented investments in domestic violence response and education through the Mayor's Office to Combat Domestic Violence.
Signing legislation to provide six weeks of fully paid parental leave to City employees
Appointing and promoting more women to leadership positions in agencies and City Hall than ever before – with women serving in more than 50 percent of the Administration's senior leadership positions.
"Planned Parenthood of New York City applauds Council Member Rafael Espinal and Mayor Bill de Blasio for introducing and signing legislation to improve access to diaper changing tables for all parents and caregivers. PPNYC recognizes that families come in all forms. No one should have to struggle to find a place to change their child's diaper when they're not at home because of their gender," said Laura McQuade, President and CEO, Planned Parenthood of New York City. "Parenting isn't the responsibility of just one gender–and it's time our laws caught up with people's daily lives. This is another step toward ensuring that New Yorkers have access to the resources they need to care for their families."
"The Center applauds Mayor de Blasio for introducing this bill to require all new or renovated buildings that contain places of public accommodation to include diaper changing tables that are accessible to people of all genders," said Glennda Testone, Executive Director of The Lesbian, Gay, Bisexual & Transgender Community Center. "This legislation serves to acknowledge that being a caretaker is not specific to a particular gender identity or expression and works to ensure the safety of caretakers and the well-being of children."
"As any parent knows, the lack of changing facilities for babies and toddlers makes being out and about in this city a challenge. A Better Balance is grateful to the City Council and the Mayor for passing this law that will make those facilities more accessible and will insure that dads who want to be equal partners in caring for their child will have that opportunity," said Sherry Leiwant, Co-President, A Better Balance.
"Citizens' Committee for Children of New York, Inc., thanks the New York City Council and the Mayor for enacting this commonsense piece of legislation, which will ensure that all parents, regardless of gender identity, have access to diaper changing stations," said Jennifer March, Executive Director, Citizens' Committee for Children.
"This Bill will empower many men that have felt left out of the equation as primary and secondary caregivers. A special Thank you to the Mayor and Council member Espinal for the signing of this bill," said Wayne Devonish, 500 Men Making A Difference.
No related posts found...
---