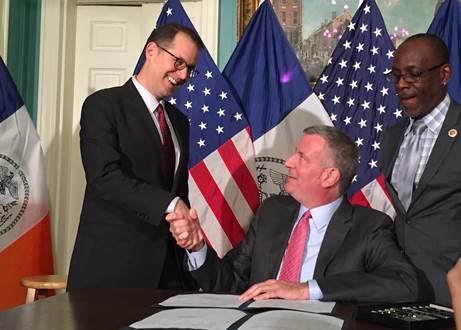 Today New York City Mayor Bill de Blasio signed legislation sponsored by Council Member Mark Levine that will enhance the way the New York City Police Department (NYPD) reports hate crimes.

"Like many New Yorkers, I am proud of the fact that we live in one of the most diverse cities in the world," said NYC Council Member Levine, Chair of the City Council Jewish Caucus. "New Yorkers represent all races, religions, nationalities, gender identities, and sexual orientations. For centuries, New York's diversity has made us a better, stronger city. However, where there is diversity, there can also be ignorance and intolerance. The results of this are sometimes manifested in attacks on innocent people. When these hate crimes occur, they are not just an attack on innocent victims, but on the values we share as New Yorkers."
The legislation, Intro. 959-B, will require annual hate crime reporting from the NYPD to be disaggregated by the identity of the targeted group, and by the demographics of the arrestee. The NYPD would also be required to report the data quarterly, and post the data on its website. Until now the public has had no real-time information on the trends in this ugly class of crimes, which often spike in response to current events.
"New York City was founded by people being persecuted for who they were and created a place where they can be free. This legislation carries the same principles they sought and helps to ensure today's residents have equal protection under the law. I would like to thank Mayor Bill de Blasio for signing this legislation into law, Councilman Mark Levine for introducing it, and all my colleagues for supporting this legislation," said Councilman I. Daneek Miller, sole Muslim member of the New York City Council.
"By passing this bill we are ensuring that we as a city are better prepared to fight back against all crimes targeting victims' identity," said Council Member Levine.
Office of NYC Council Member Mark Levine, 500 West 141st Street, New York NY 10031, 212-788-7007
Related Articles
---