---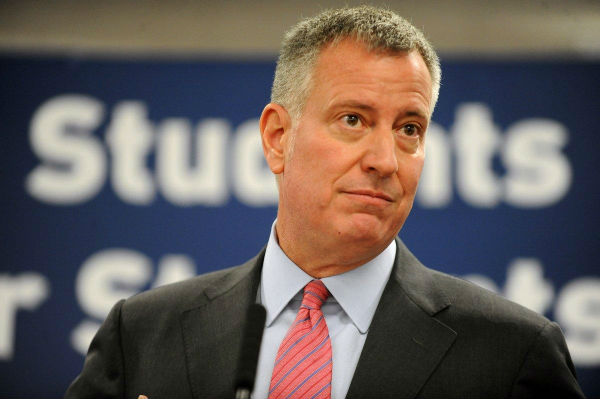 Mayor Bill de Blasio and the New York City Police Department today announced that the City will take heightened enforcement action against electric bicycles, otherwise known as "e-bikes," with a particular focus on the hazardous operation of e-bikes and businesses who use them or permit employees to ride them.
"E-bikes are illegal to operate in New York City and the NYPD is stepping up enforcement," said Mayor de Blasio. "Those at the top of the food chain need to be held accountable. That's why instead of merely targeting riders, we're going after businesses that look the other way and leave their workers to shoulder the fine."
"E-bikes are too often a danger on the City's streets and sidewalks," said NYPD Commissioner James P. O'Neill. "They're illegal to operate here, but it seems like you can spot them everywhere – and that's where our increased enforcement comes in. Officers are confiscating e-bikes from riders and issuing summonses that carry a stiff fine, and enforcement is up dramatically this year. Soon businesses will be held accountable too, because most e-bike riders are acting on their employer's behalf. The NYPD is committed to keeping City streets safe for everyone and e-bike enforcement is an important part of the plan."
E-bikes are illegal to operate on New York City streets. According to the City Administrative Code, an "e-bike" constitutes a "motorized scooter" and "no person shall operate a motorized scooter in the City of New York" (19-176.2.(b)). So far this year, the NYPD has seized 923 e-bikes compared to the 341 it confiscated this time last year, an increase of more than 170 percent. Nearly 1,800 civil and moving summonses have been issued to e-bike operators year-to-date.
Businesses that enable e-bike use and turn a blind eye to employees who operate them are also at fault. City law states that "a business using a bicycle for commercial purposes shall not possess any motorized scooter and shall not permit any person to operate a motorized scooter on behalf of such business" (10-157-(k)).
Beginning in 2018, the NYPD will issue a new department directive and provide officers with the necessary forms and training to execute civil enforcement against businesses much more efficiently by allowing officers to issue civil summonses to businesses through the mail. While the NYPD will continue confiscating e-bikes and issuing summonses to riders — particularly those riding in a hazardous manner — officers will step up enforcement activity against businesses that too often put their employees in a position to break the law.
Currently, riders caught operating an e-bike are subject to a civil summons, confiscation and fines of up to $500. Beginning next year, businesses that utilize e-bikes or allow employees to operate them will receive a civil summons and a $100 fine for a first offenses and a $200 fine for each subsequent offense (10-157-(g)).
"E-bikes are illegal in New York City, and are often operated in ways that make them unsafe for pedestrians and other bikers. E-bikes rate high among the complaints I hear from constituents, so I am pleased to see that the NYPD is increasing enforcement efforts, particularly by focusing on businesses that put their employees in harm's way by encouraging illegal e-bike use," said State Senator Liz Krueger.
"Electric bikes are dangerous nuisances in my Senate district for pedestrians, cyclists and drivers. Moreover, they're illegal, so it's outrageous that some irresponsible businesses in Manhattan brazenly flout the law by using E-bikes to make deliveries. I'm glad the Mayor is making enforcement against E-bikes a priority," said State Senator Brad Hoylman.
"We've seen a number of incidents involving e-bikes and pedestrians on the Upper West Side, and I want to thank Mayor de Blasio for being so responsive to community concerns. It's extremely important to hold restaurants accountable for the use of e-bikes when making food deliveries, whether the restaurants actually own the bikes or not. The onus of enforcement should not just be on delivery people. I look forward to continuing to work with the administration to make our streets and sidewalks truly safe for pedestrians," said Council Member Helen Rosenthal.
---