---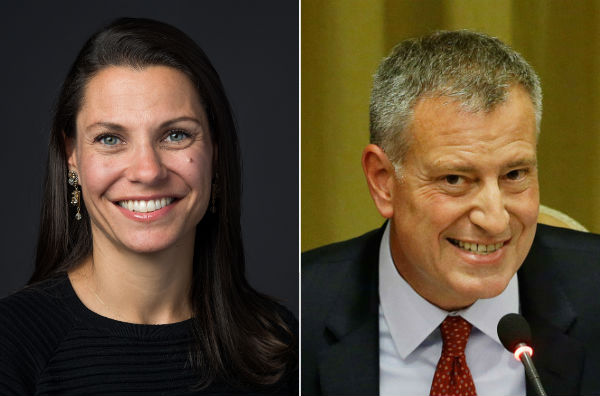 Mayor de Blasio today appointed Gabrielle Fialkoff as the next Commissioner of the Department of Parks and Recreation. Fialkoff, a former Senior Advisor to the Mayor, brings more than 20 years of experience leading organizations and working across government, nonprofit, philanthropic, and business sectors. She will begin her role on Monday. Fialkoff succeeds outgoing Acting Commissioner Margaret Nelson, who will return to her role as Deputy Commissioner for Urban Parks Services and Public Programs.
"Gabrielle Fialkoff is committed to fighting inequality and has shown her dedication to providing opportunities for open space and outdoor recreation in neighborhoods that have often been overlooked, underinvested in, and disconnected from the possibilities New York City has to offer," said Mayor Bill de Blasio. "She has a proven track record of bringing people together, aligning interests, and delivering results to ensure communities get the resources they deserve. She is a natural choice to lead the Department of Parks and Recreation as we guarantee a recovery for all of us."
"In Gabrielle's prior work with this administration, she pioneered a new approach to municipal government and philanthropy by establishing the Office of Strategic Partnerships," said Vicki Been, Deputy Mayor of Housing & Economic Development. "Her work on programs like Building Healthy Communities and Connections to Care will be especially helpful as we continue to make the equitable investment in our parks a keystone of our recovery. I look forward to working with Gabrielle in her new role, and I want to thank acting Commissioner Nelson for her amazing work stewarding the agency these past few months."
"I am thrilled to take on the role of Commissioner of the Parks Department and have the opportunity to work with its dedicated public servants who, through their enthusiasm, commitment, and hard work, make life better for all New Yorkers," said NYC Parks Commissioner Gabrielle Fialkoff. "The pandemic has brought into the sharpest focus what an extraordinary resource the City's parks can be for every New Yorker—they became our classrooms, our living rooms, our respite, and our peace of mind. Together we will continue the work of aiding the City's recovery and ensuring that every neighborhood has access to safe and vibrant open spaces. Thank you, Mayor de Blasio—it's a privilege to serve the City of New York, and I'm honored to join the Parks team."
Fialkoff served as Senior Advisor to the Mayor from 2014-2018 where she established the Office of Strategic Partnerships to engage the private sector in the fight against inequality through high-impact public-private partnerships. Fialkoff launched Building Healthy Communities, a City initiative that created the first urban farms on public housing properties in the nation, built 50 mini soccer fields in underserved neighborhoods, expanded free exercise classes in parks and recreation centers, supported community gardens and brought together communities to participate in improving their health outcomes.
She led initiatives such as The Center for Youth Employment, which delivered 100,000 yearly internships and summer jobs for young people, Computer Science for All, a public-private partnership to bring computer science education to all NYC public school students, and put more than $420 million of private funding toward combating income inequality.
In March of 2020, Fialkoff temporarily returned to serve as Senior Advisor for COVID Relief Efforts to the Mayor, leveraging her crisis management experience and relationships to aid in the City's pandemic response efforts. Prior to working in City government, Fialkoff had a successful business career, growing her fashion company from an early-stage business to become an industry leader. Earlier in her career she worked on the campaigns of President Bill Clinton in New York and Hillary Clinton's historic first run for U.S. Senate.
"Gabrielle understands that no one sector alone can fight inequality," said Darren Walker, President of the Ford Foundation. "She has been a leader in government in bringing philanthropy and the corporate sectors together to build upon public resources with strategic private investments that engage the community every step of the way. Her creativity and drive have led to the first farms on public housing property and over 100,000 summer jobs for New York City Youth. I applaud her appointment."
"Gabrielle can accomplish more in four months than most people can get done in four years," said Kathryn Wylde, President & CEO of Partnership for New York City. "She will be a terrific advocate for the parks at a moment when New Yorkers have come to treasure their outdoor green space more than ever."
"For more than 20 years, I've watched Gabrielle demonstrate her acumen in bringing together partners across the nonprofit, business, and government sectors to get things done effectively and with a real sense of purpose, to deliver sustained impact," said John Calvelli, Executive Vice President of Wildlife Conservation Society. "These skills are critical to enabling the Parks Department to serve New York's needs more equitably, and I'm excited to work with Gabrielle in this role."
"I know from working with Gabrielle that she not only shares the Parks Department's commitment to parks equity but is the right steward to continue the work of improving the lives of all New Yorkers, particularly in communities that have been historically underinvested in," said Mitchell Silver, FAICP. "Her leadership skills will help move New York City's recovery forward and ensure that all New Yorkers have access to New York City's most important assets, our parks."
"Across the five boroughs, park spaces large and small weave together with city streets to create an urban fabric that is uniquely New York," said Jessica Lappin, President of the Alliance for Downtown New York, which manages the City's largest Business Improvement District. "Gabrielle understands that interplay and the opportunity it brings for creative initiatives that can bring the benefits of parks to every New Yorker."
Fialkoff is a trustee of FIT, a board member of Stockade Works and a graduate of Colgate University. She lives with her family in New York City.
Photo credit: Bill de Blasio and Gabrielle Fialkoff.
---