---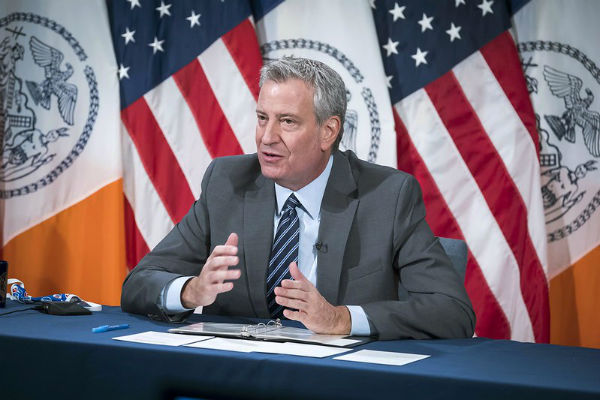 Mayor Bill de Blasio tonight issued a state of emergency ahead of the snowstorm, including restrictions on non-essential travel beginning 6:00 A.M. on Monday, February 1st, 2021. The mayor will issue a local Winter Weather Emergency Declaration restricting travel in all cases except emergencies, and warned New Yorkers to refrain from travel as the storm's intensity worsens throughout tomorrow.
The latest forecasts anticipate approximately 16-22 inches of snow and near-blizzard conditions across New York City.
"Make no mistake: this storm will bring heavy snowfall, and it will make travel dangerous in every neighborhood in our city," said Mayor Bill de Blasio. "New Yorkers should stay home, keep the roads clear for emergency vehicles, and let our plows work to keep us all safe. This order will be mandatory at 6:00 A.M. tomorrow, and everyone should make necessary preparations this evening."
According to the latest estimates from New York City Emergency Management, the city will see blizzard-like conditions periodically, with up to 2-4 inches of snowfall per hour after 10 am tomorrow.
The city will see sustained winds of 20-30 mph, with gusts up to 40-50 mph.
The following categories are exempt from these restrictions:
Public transit workers
First responders
Healthcare and homecare workers
Police officers
Peace officers
Any other workers engaged in vital City services
Delivery of food, medical supplies, or fuel
News media
Hotel workers
Homeless shelter and outreach workers
Utility workers performing emergency repairs
Persons employed by pharmacies, grocery stores (including all food and beverage stores), convenience stores, bodegas, gas stations, laundromats, hotels, restaurants/bars, and hardware stores
Individuals seeking medical treatment or medical supplies
For-hire vehicles, used to transport persons employed to perform any of these services to and from their places of employment
New Yorkers are encouraged to sign up for Notify NYC, the City's free emergency communications program, for the latest information and updates on this storm and emergency events in NYC.
To sign up for Notify NYC, download the free mobile application, visit NYC.gov/NotifyNYC, call 311, or follow @NotifyNYC on Twitter.
For more severe weather information, visit NYC.gov/SevereWeather.
---