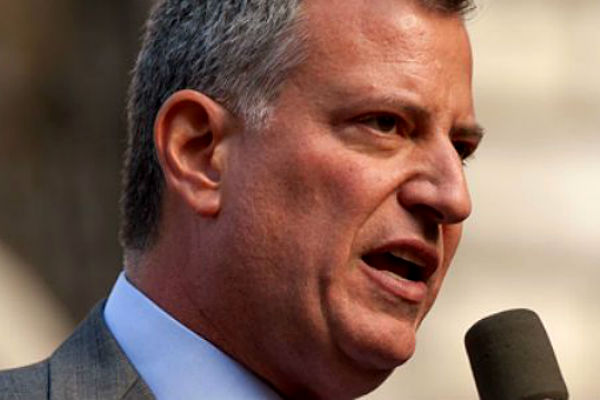 By Mayor Bill de Blasio
Where does the soul of our city reside?
Amid all the pressures and all the change in our neighborhoods, what do we—what can we—protect?
For me, it's a simple answer. The soul of our city is in the people.
It's in the people who stayed and fought when their neighborhoods were afflicted by violence, drugs and neglect. They succeeded, kept the flame of community burning, and their success has made New York what it is.
I see that soul in the overflowing congregation when I visit Pastor Michael Walrond's First Corinthian Baptist Church in Harlem a Sunday morning, where the older generation and a younger one celebrate and commune together, and are writing the next great chapter of their storied neighborhood.
The sentiment in last Sunday's "The End of Black Harlem" piece in the New York Times contends that the future for longtime residents is bleak, that their days calling Harlem home are numbered. The author sees new buildings going up, and cherished institutions closing their doors, and predicts the fight is lost.
It's not. The fight of our time is just beginning.
We are asserting a new vision for our neighborhoods that turns on its head the old mindset that we cannot have communities that are safe, successful and—at the same time—affordable. We aren't nibbling at the edges—this is a major shift in how the City of New York operates, and what it means when we put government on the side of working people.
We're delivering on a scale that will change our city, and focusing where it matters most: keeping housing affordable. Nearly 90,000 people in Central Harlem alone call our public housing and rent-stabilized apartments home. They 're working parents and retirees, families on public assistance and those reaching up to the middle class, and longtime residents that have built a good life on modest means.
It's in protecting these people that we protect the soul of our neighborhoods. These families ARE Harlem. They're the same people who helped bring Harlem back, and we have made it our mission to put government on their side for a change.
Just ask the tenants at Riverton Houses, which have stood for generations as a symbol of Harlem's middle class, the place for African-American families who had 'made it.' A decade ago, it fell victim to predatory owners. Residents were left to fend for themselves as they fought to keep their homes. We intervened decisively last year, locking in a 30-year affordability guarantee with a new owner. In one action, we kept 2,500 people in affordable housing in Harlem, with the security to raise a family and live in dignity.
---
---
In another sweeping action this winter, we launched a complete rehabilitation of 30 buildings across Harlem—giving 1,000 people new kitchens, new floors and new bathrooms. They now have a 35-year guarantee setting their rent at 30 percent of their income, so even those of the least means will be able to afford the necessities of life: childcare, insurance, groceries and maybe even save a little each month to get ahead.
And this past year, more than 60,000 people who live in rent-stabilized apartments in Central Harlem got the first rent freeze in history.
We put in place a new mandatory affordable housing requirement—the toughest in the nation. Whenever a developer tries to build bigger than the surrounding neighborhood, they have to provide affordable housing in return—so we can ensure new development delivers for the community.
And we've invested in protecting our original affordable housing: NYCHA. More than 27,000 people call public housing home in Central Harlem. For years, the Housing Authority has drifted closer and closer to bankruptcy, falling behind on maintenance and subjecting tenants to ever-worsening living conditions. We're turning it around, with hundreds of millions of dollars in new investments, fixing everything from leaking roofs at Carver Houses to elevators at Rangel Houses.
And it goes beyond just housing. We're strengthening the fabric of communities.
When I look at Harlem today, I see a community that's changing, but one where the City is taking new steps to embrace and strengthen its longtime residents.
I see a neighborhood with twice as many children enrolled in free, full-day Pre-K so they can build a foundation for school, and so their parents can work.
I see a community where graduation rates are up, and where four-times more middle school kids are now enrolled in free after-school programs spanning everything from prize-winning drum lines to composing poetry.
I see our major expansion of the Mt. Morris Historic District, protecting Harlem's unique row houses for the ages.
I see the Studio Museum, which has been a pillar of black culture since the 1960s, growing into a beautiful new building on 125th Street with City support, where it will anchor the cultural life of Harlem for a new generation.
This is how we're protecting Harlem's heritage, honoring its people and securing its future.
Change is a constant in our growing city. But it's not the yardstick for whether the people are winning or losing.
Fairness is my measure.
And it's what our administration is fighting for in Harlem and beyond.
Via Bill de Blasio is Mayor of New York City.
Related Articles
---