---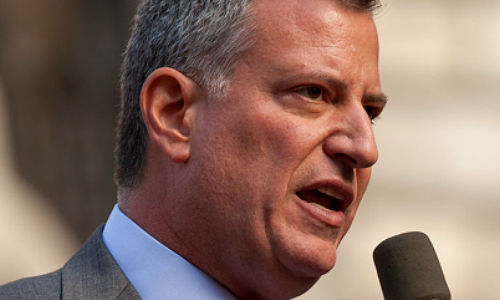 Mayor de Blasio today delivered an update on the city's response to Saturday's storm, and thanked New York City's workers for keeping residents safe throughout the weekend. The Mayor also urged New Yorkers to sign up with the Sanitation Department as day laborers, and reminded residents that alternate side parking is suspended through Monday, February 1.
"This weekend, Mother Nature sent us the second largest snowfall since 1869 – and hundreds of our city's tireless workers rose to the challenge to keep our city safe. Under the toughest of circumstances, our sanitation workers and first responders braved the elements to protect the people of this city," said Mayor Bill de Blasio. "New Yorkers should continue to use extreme caution when walking and driving. When shoveling, remember to stay safe, and do not overexert yourself."
DSNY
Since the end of the storm, DSNY has plowed up to 97 percent of streets (all primary and secondary streets) at least once. Only some tertiary streets remain impassable, and DSNY has been focusing plows to those streets in Queens. DSNY is also revisiting some secondary areas where snow has been dumped back into the streets.
DSNY has plowed 96 percent of routes in Queens since the end of the storm, a 26 percent increase since 8:30 PM last night. In Staten Island, DSNY has plowed 94 percent of routes since the end of the storm, a 16 percent increase since 8:30 PM last night.
There has been a significant increase on tertiary and smaller routes since last night, 34 percent on all citywide routes, including a 43 percent increase in Queens, 65 percent increase in Staten Island, and a 42 percent increase in the Bronx.
DSNY has more than 2,000 pieces of snow clearing equipment out. Of those 2,000 pieces of equipment, more than 900 are being used for snow removal in Queens, where areas recorded 30+ inches of snow.
DSNY has diverted front-end loaders from other boroughs and hired private contractors to assist in digging, piling, and hauling snow away to melters.
DSNY workers remain on two 12-hour shifts, with 2,300 workers per shift.
DSNY is hiring snow laborers to assist with continued cleanup. 920 snow laborers have been hired. For more information on how to become a snow laborer, visit nyc.gov/snowlabor.
DOT
As of this morning, DOT has a total of 305 pieces of equipment, including 90 plows, on the ground and 450 staffers dedicated to snow removal.
As of this morning, DOT has worked with its contractor to clear 1600 of 3400 bus shelters across the City.
DOT has cleared 354 overpasses and 39 step streets.
Alternate Side Parking rules suspended through Monday, February 1. Payment at meters remains in effect.
SI Ferry continues to operate on a normal schedule.
DPR
Deployed more than 50 plows and more than 60 salt operation vehicles to assist with snow removal in Queens. 285 snow operation staff in Queens today.
DOE
All schools opened this morning and regular programming, including after-school activities, is going on as scheduled. All field trips using school buses have been cancelled.
The facilities team is continuing to work closely with bus companies and DSNY to ensure students are safely transported to and from school.
Students, parents and staff should continue to plan extra travel time to and from school this week, and are encouraged to use mass transit.
DOB
DOB has issued a snow and ice melt advisory to builders, contractors, and property owners urging them to take precautions during snow and ice melt conditions, and to secure their properties from hazardous conditions.
NYCHA
NYCHA locations are in the salting or final stage of their snow removal operations.
Actively treating icing conditions at NYCHA properties.
NYC SERVICE
200 NYC Service volunteers signed up to assist in shoveling operations.
NYCEM
NYC Emergency Management deployed 50 CERT (Community Emergency Response Teams) volunteers to assist with snow measuring and digging out hydrants.
Is any of this happening on your block in Harlem?
Related Articles
---