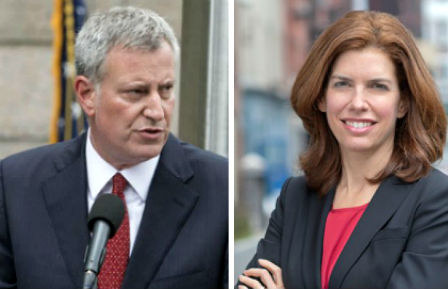 Mayor Bill de Blasio and Media and Entertainment Commissioner Julie Menin today announced the results of the first-ever economic impact study of New York City's music industry from Harlem to Hollis. The study, conducted by Boston Consulting Group, found that the sector supports nearly 60,000 jobs, accounts for $5 billion in wages, and generates $21 billion in total economic output for the city. The sector is growing faster than the rest of the local economy: music-related jobs and wages are growing at annual rates of 4 and 7 percent respectively, as compared to 3 and 5 percent in the City overall. The report establishes New York as one of the largest—if not the largest—music ecosystems in the world.
When Mayor Bill de Blasio appointed Julie Menin Commissioner of the Mayor's Office of Media and Entertainment (MOME), he also expanded the agency's portfolio to include music. This marked the first time a City agency has been given a mandate to support and promote the music industry in New York. An essential step for supporting this industry is to fully understand its scale, landscape, challenges and opportunities. To this end, MOME commissioned this study.
"Music is an inclusive force and economic driver in this City," said Mayor Bill de Blasio. "As we continue to build good jobs for New Yorkers, we see that raw talent and homegrown energy has built a powerful local industry. Together, we will continue to grow that success."
"The music industry is a vital part of the city's creative economy and we are thrilled to be its go-to agency in the City,"Mayor's Office of Media and Entertainment Commissioner Julie Menin said. "This first-of-its kind study details the substantial amount of economic activity that all aspects of this rapidly changing sector of the entertainment industry generates in the City. The study also squarely reaffirms New York City's status as the music capital of the world. Because of the City's resilience and resourcefulness, New York has weathered changes in the music industry better than other cities and has come out on top. We look forward to building on that momentum and working with the industry to help it continue to grow and thrive."
With jobs and wages growing at 5 and 12 percent respectively, this segment contributes nearly 50 percent of all direct economic output.
The mass music consumption segment of the industry (consisting of major venues, large-scale performances, digital streaming, radio broadcasts and retailers) is driving growth. With jobs and wages growing at 5 and 12 percent respectively, this segment contributes nearly 50 percent of all direct economic output.
---
Become a Harlem insider - Sign-Up for our Newsletter!
---
The study found that New York City is a center for of digital music innovation and services. With over 70 digital music start-ups, New York City has twice as many digital music companies as either San Francisco or Los Angeles.
The study also found that more tickets are sold to live music performances in New York City – 5.4 million in 2015 – than any other city in the world….New York City could support additional marquee venues.
The study also found that more tickets are sold to live music performances in New York City – 5.4 million in 2015 – than any other city in the world. Analysis suggests that despite these high ticket sales, the market is not yet saturated: New York City could support additional marquee venues.
More Findings Of The Report
The music industry everywhere has experienced extreme disruption in recent years due to digital technologies and innovation, but the City's industry has shown resilience. This is because New York is not only home to a diverse range of talented artists, but it also offers the advantage of proximity to hubs of advertising, media and finance. Synergies with these industries help anchor the industry.
This study defines and details the four pillars that comprise New York's music ecosystem: local artist communities, mass music consumption, the global recording industry, and infrastructure and support services.
Local artist communities are the City's artists, small venues, rehearsal spaces and music schools.
Mass music consumption consists of the major venues, concerts, festivals, large performing groups, digital streaming, radio broadcasts and retailers selling recorded music.
Global record business is the full range of record labels, music publishers, talent managers and promoters.
Infrastructure and support services

include recording studios, digital technology centers, accounting services, entertainment lawyers, and related industries, such as advertising, media and finance.
The report measures these pillars' contributions to the economy in four ways: direct, indirect, induced, and ancillary (also known as tourism).
Direct impact: The core sectors of the music industry contribute 31,400 jobs, $2.8 billion in wages, and $13.7 billion in economic output. The average annual wage for the direct music industry was $90,000 in 2015, up from $85,000 in 2014.
Indirect impact: Through transactions with suppliers and vendors to the music business (such as professional services, IT, and telecom), New York City's music industry has an indirect economic impact amounting to approximately 10,100 jobs, $900 million in wages, and $3.4 billion in economic output.
Induced impact: When those employed directly or indirectly by the industry spend their wages in New York City, they support approximately 16,100 jobs, $1.0 billion in wages, and $3.9 billion in economic output.
Tourism spending that can be attributed solely to attending music-related events amounts to $400 to $500 million (note: this figure is not included in the $21 billion total economic output figure).
Challenges and Opportunities
The report also details challenges and opportunities for MOME as it designs programming to support the local music ecosystem. A few examples include:
The city's local artist communities – composed of musicians, small venues, collaborations spaces, and music education institutions – are most vulnerable to economic trends. Smaller venues are the incubators of talent, and the report found that over 20 percent of these venues have closed in the past 15 years. This presents a potential problem for maintaining a thriving artist community, and NYC as the destination of choice for up and coming artists.
Leading the globe in ticket sales with over five million tickets sold annually to major music events, demand suggests that the concert and festival market has not yet hit a saturation point and, as such, there is room for growth in this area.
"New York is a one-of-a-kind music city – the ideal environment for artists to hone their craft, and for music creators to nurture artists bringing great music to the world," Michele Anthony, Universal Music Group Executive Vice President, said. "Today's study demonstrates how vital music is to New York's cultural and commercial ecosystem. We are very pleased that the City has added the New York music community to the Commissioner's portfolio.  Now, music has an important ear at City Hall."
"Those of us who work in the music business in New York City have always known that this is the music capital of the world, and now we have the facts to prove it," said Craig Kallman, Chairman & CEO of Atlantic Records. "The U.S. music industry was born in New York — where Atlantic Records was founded 70 years ago — and it remains central to its cultural and business life, a fact impressively borne out by this enlightening study. It is tremendous that the Mayor's Office of Media & Entertainment has chosen to include music in its portfolio, which will bring the entire industry closer to those who govern the city we all love."
"I applaud New York City and the Mayor's Office of Media & Entertainment for having the vision to commission this important study," Mark Shulman, Senior Vice President, The Bowery Presents / AEG Live NYC said. "NYC is the music capital of the world and the benefits to the local economy in the form of jobs, tourism, and culture are beyond tremendous. Through MOME, the industry finally has a partner to collaborate with so NYC can achieve the potential it has only started to tap into."
"New York City has hosted some of the most iconic performances in the history of music. This timely, in-depth study commissioned by the Mayor's Office of Media & Entertainment confirms that our city continues to be a creative and inspirational home for artists, producers, writers, and the industry as a whole," said Daniel Glass, of Glassnote Music. "New York is as artistically organic and as fertile as any community has ever been, which is why groundbreaking, cutting edge music is, should be, and forever will be created here. As the study acknowledges, the recording industry, and record companies in particular, are integral to New York's cultural and economic future. We must make it affordable for artists and music educators to live here. It is vital that New York's music scene continues to thrive, to motivate, and to excite, and will endure as one of the most enriching and influential arts meccas in the world. We are proud that our Music company was founded and is based here."
"Over 20% of successful music projects on Kickstarter are from New York City and we are so encouraged by the data in this study demonstrating the economic impact of the music community on the city," said Molly Neuman of Kickstarter. "We are so pleased to see the Mayor's office add music to the portfolio of [The Mayor's Office of?] media and entertainment and to the development of additional resources for the music community in our city."
"By driving a multi-billion dollar cultural and tourism economy, it's clear that musicians are not only crucial to the cultural vibrancy of New York City, but to the vitality, diversity and health of our overall economy as well," said Tino Gagliardi, President, Local 802 AFM. "Musicians come to New York from across the country and the globe for the opportunity to perform with the most talented artists and be part of the most creative community in the world. In order for New York City to maintain its standing as a cultural capital, we must continue to work hard to ensure that our artists have the support and wages necessary to achieve financially and artistically fulfilling careers that allow them to live, work and raise a family here. We are glad that MOME is focusing on supporting our music industry, and look forward to continuing to work with Commissioner Menin and Mayor de Blasio to build upon the industry's strengths and ensure that work standards are protected, musicians can earn livable wages, and New York City remains a place where creativity and artistry can thrive."
"After owning live music venues in NYC for 20+ years, it was a great feeling to hear that the City's lauded Media & Entertainment Office now has expanded its portfolio to include Music. Yay!" Peter Shapiro, Owner of the Brooklyn Bowl, and previously of Wetlands, said.  "I knew when I first heard it was happening that it would bring meaningful impact to what we do on a day-to-day basis, bringing the magic of live music to the most energetic and magical city in the world. This study is a great example of government working to support and enhance the work of its citizens and their communities, and it demonstrates, with powerful quantitative numbers, the importance and impact that music has on the city that never sleeps."
"New York has long been a magnet for creativity, serving as a prime breeding ground and market entry point for the most popular music in the world. This has resulted in far-reaching social, cultural and economic benefits for New Yorkers across all five boroughs," said Justin Kalifowitz, CEO of Downtown Music Publishing, Co-Founder of NY is Music. "As the music industry continues to evolve, it's critical that the City understand its impact, quantify its contributions, and assess both the challenges and opportunities ahead. With music now formally in its portfolio, we are thrilled to see MOME providing a much-needed entry point for the industry to engage with our local government."
"I am so happy that the Mayor's Office of Media & Entertainment finally has music in its portfolio, giving the group of businesses involved with music a much needed entry point to local government," said Danny Goldberg, President of Gold Village Entertainment. "As long as there has been a music business, New York has been at its center. It's so great that there is finally an administration that recognizes the jobs and the culture the business creates. This is a big deal and much appreciated."
"As part of the vibrant arts ecosystem in New York City, the music business is vital to our economy and our culture," said Matthew Siegel, Chief Digital Officer of Roc Nation. "It's terrific that the Mayor's Office commissioned this study so that we can now identify the $21 billion in economic output that music generates for our city!"
Related Articles
---
VIDEO
---
"Dr. Harry Delany is a renowned Harlem born and raised surgeon, the son of the great jurist and civil rights leader, Hubert Delany...." This monthly post is made in partnership with Harlem Cultural Archives.