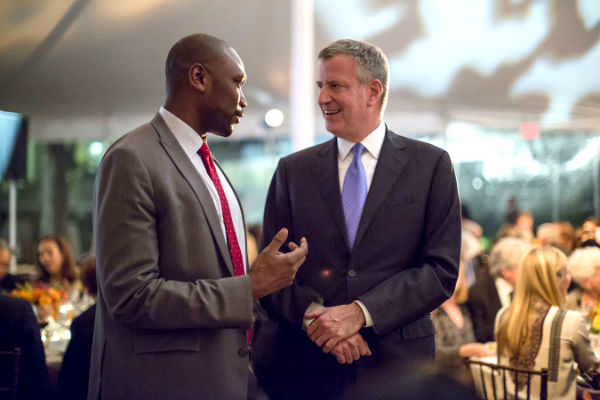 Mayor Bill de Blasio and Commissioner Gregg Bishop of the Department of Small Business Services, today announced academic, employer and philanthropic commitments for the NYC Tech Talent Pipeline (TTP) initiative from Harlem to Hollis.
The initiative is an industry partnership that helps NYC businesses start and grow by equipping New Yorkers for 21st century jobs.TTP's occupational training programs have raised graduates' salaries by an average of 34 percent since it was launched in 2014, and its Web Development Fellowship has resulted in an average starting salary of $65,000, with 96 percent of graduates of its first group of participants placed in a job. Tech Talent Pipeline is one of the City's five industry partnerships run by the Department of Small Business Services that deliver quality jobs for more New Yorkers and quality talent for the city's businesses.
"The NYC Tech Talent Pipeline is centered on providing new opportunities for all New Yorkers. Those impacted by this initiative will gain the skills and experiences they need to be a part of one of the fastest growing sectors of our economy," said Mayor Bill de Blasio. "TTP will benefit all five boroughs and will pave the way for expanded opportunities for residents and businesses across our city."
"The NYC Tech Talent Pipeline has created opportunities for more New Yorkers to achieve good, career track jobs in the tech field, and I am pleased that the commitments announced today will expand its reach," said Gregg Bishop, Commissioner of the Department of Small Business Services. "The tech field is important to New York City's economy and we will continue to work with our private sector partners to forge a future that is inclusive and taps the rich talents of all of our people."
Expansion of NYC TTP Residency Program
TTP will expand its TTP Residency Program, which connects qualified undergraduate computer science students to internships with industry leaders looking for specially trained tech employees. The program will expand beyond its founding campus at Queens College to include Lehman College, increasing 2017 program investment to over $1 million. The program not only develops talent and helps connect them to career opportunities, but also features a commitment from participating schools to better align curriculum in computer science degree programs with in-demand skills needed by tech employers.
Consistent with TTP's goal to drive systemic change throughout the NYC tech ecosystem, the program engages faculty and career advisors in ongoing work to align the college's tech education offerings with industry demand. This is accomplished through activities like project-based software engineering courses, involving industry experts in teaching and career coaching, and providing tech-specific career development support.
TTP Residency is one of 10 training and education solutions designed by the TTP in partnership with NYC businesses. Of the New Yorkers who have completed TTP programs to date, 40 percent were previously unemployed and many more were underemployed. Though a majority of new pilot programs have yet to complete their training and placement periods, initial data from those participants who secured jobs and reported pre- and post-program wages indicate that annualized salaries grew by 34 percent after training.
Personal Impact of TTP Training
NYC Web Development Fellowship participant Lois Tatis said that TTP training had an enormous impact on his life. Lois's parent was deported to the Dominican Republic when he was young, leaving him alone with very few options. Living in his grandmother's living room, he spent most of his days in between shifts as a sales representative learning new technologies. Inspired to develop a better understanding of the tools he used every day, he applied and was accepted into the NYC Web Development Fellowship, a 22-week intensive web development training program offered by the NYC Tech Talent Pipeline in partnership with the Flatiron School. After completing the program, Lois landed a front end engineer internship at LearnVest, and within a few months was promoted to full-time software engineer, nearly tripling his pre-program earnings.
Additional Employers Committed To Hiring Participants
Recognizing the need to expand entry-ramps to local talent seeking their first jobs in tech – including those with non-traditional backgrounds – the following TTP industry partners will commit to launching or expanding tech fellowships, internships, and full-time hires in 2017:
---
---
The New York Times and Huge will commit to launching or expanding tech fellowships, internships, or full-time junior level hires in 2017, recognizing the need to expand entry-ramps to local talent seeking their first jobs in tech.
Women in Tech and Entrepreneurship NY – an initiative of Cornell Tech, CUNY, and NYC businesses, will expand tech internship opportunities at companies like Verizon, Accenture, and IBM, for women enrolled in computer science programs across CUNY by 60 percent.
These partners join the following additional TTP companies who have recently hired entry-level local talent: Time, Inc., Jet, YieldMo, Urban Outfitters, Mapbox, Weiss Analytics, Programmatic Mechanics, FXCompared, Alluvium, Glossier, Hi Clark (Clark, Inc.), Ivy Connect Inc., Swiftquick Mobile, Prolific Interactive, and TRN Fitness.
Additional Commitments from New and Existing Academic Partners
Today, 15 leaders of NYC Colleges – members of the Mayor's Tech Talent Pipeline Academic Council – are releasing updates on progress they've made on commitments to create stronger pathways to tech careers for NY students. These updated commitments, which are expected to reach an initial 1,300 students, can be found at techtalentpipeline.nyc/academiccouncil2017/.
In addition, the College of Staten Island has committed to join the Academic Council, pledging to work more closely with the City and NYC employers in one of the following areas: curriculum alignment, scaling proven programs, building new industry-driven programs, and fostering industry-faculty collaboration.
Renewed Philanthropic Commitments
JPMorgan Chase & Co is announcing a renewed $500,000 commitment to support TTP's efforts to deliver quality jobs for New Yorkers and quality talent for the city's businesses. The New York City Workforce Funders, a group of foundations with an interest in improving the system of employment services in the City, also renewed its investment of $175,000 in TTP.
"Growing opportunities in New York City's tech sector requires an end-to-end approach, from our schools and colleges to partnerships with employers," said Manhattan Borough President Gale A. Brewer. "I'm thrilled to see Cornell Tech, CUNY and tech-industry leaders in our city working together to expand tech industry opportunities for people of all backgrounds who have the skills and talent to succeed."
"The growth in the technology sector is not only a tremendous boon to our city's economy, it also provides well-paying and exciting jobs," said City Council Minority Leader Steven Matteo. "The NYC Tech Talent Pipeline is a great way to prepare our youth for these rewarding careers by connecting them with companies on the cutting edge of technology and utilizing existing academic capacity. I am glad the College of Staten Island will now be joining this initiative, so that hopefully students in our borough will be able to access the resources, training and internships that will lead them to long-term success in this booming field."
"The addition of the TTP Residency program at Lehman College will be an immense benefit to our students and faculty members engaged in the fast-changing world of today's new digital technologies," said Dr. José Luis Cruz, President of Lehman College. "An opportunity to learn first-hand from practitioners and innovators in tech workplaces around New York City will prepare students to thrive in a challenging environment and, in turn, help lead the industry forward – just what you would hope for in a public – private partnership."
"We're investing in the Tech Talent Pipeline to help build the skilled tech workforce that employers in New York need right now," said Chauncy Lennon, Head of Workforce Initiatives at JPMorgan Chase. "It's also critical for our larger economic future to create career pathways for people to enter into the growing tech sector and the NYC Tech Talent Pipeline is a terrific model for doing so."
For more information on all SBS services, go to nyc.gov/sbs, or call 311.
Related Articles
VIDEO
---
Harlem Cultural Archives is a donor and foundation-supported Historical Society, Its mission is to create, maintain and grow a remotely accessible, online, interactive repository of audio-visual materials documenting Harlem's remarkable and varied multicultural legacies, including its storied past as well as its continuing contributions to the City and State of New York, the nation, and the world.
Support Harlem Cultural Archives
and
click here to get more Harlem History
, Thank you.