---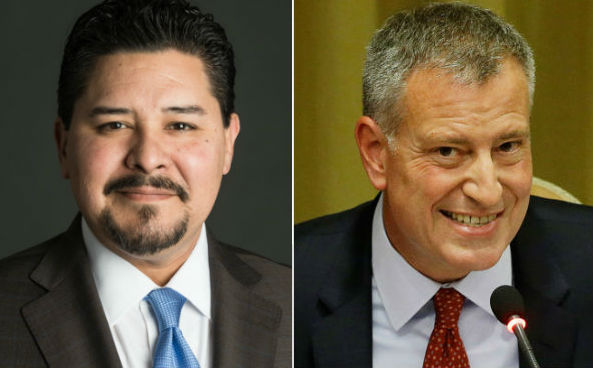 Mayor Bill de Blasio and Schools Chancellor Richard A. Carranza announced today that the City of New York has reached a tentative contract agreement with the Council of School Supervisors and Administrators (CSA), representing over 6,400 employees. The CSA represents school leaders for all 1,800 public schools in New York City. The de Blasio Administration has now reached agreements with 81.3 percent of the workforce in the 2017-2021 round of bargaining.
"Our children are the future, and they deserve the best school leaders to inspire them every day," said Mayor Bill de Blasio. "With this agreement, we are ensuring our schools retain top talent and our employees get the fair wages and benefits they deserve, including the paid parental leave necessary to support new members of their own families."
"Our principals, assistant principals and supervisors lift our schools up and put our students on the path to bright futures, and we're proud to come to an agreement with the CSA," said Chancellor Richard A. Carranza. "Our school leaders put their students first each and every day, and this historic deal will deliver on key reforms including paid parental leave and hard to staff differentials for principals. I look forward to our continued partnership on behalf of the city's 1.1 million public school children."
"CSA members have more than earned this contract with their incredible talent, professionalism, leadership and dedication to the families they serve," said CSA President Mark Cannizzaro. "Those who protect and educate the city's children deserve the time necessary to welcome their own children into the world, and we are proud to secure Paid Parental Leave that provides eligible members with flexibility and security during such a significant period in their lives. This agreement also provides fair compensation and maintains benefits for our members. In addition, we have taken a significant step toward achieving more equitable salaries for principals. These advances, along with many commonsense workplace protections, will help enable our school leaders to continue to focus on their guiding priority of ensuring that all students receive a first-rate education."
CSA represents public school principals, assistant principals, directors, supervisors and education administrators serving 1.1 million students and their families each day. As part of today's tentative agreement, the City and the CSA have agreed to pattern conforming wage increases and additional benefits including paid parental leave, an enhanced salary schedule for elementary and middle school principals, the creation of a tenure framework for supervisors, a plan to create a new evaluation system for assistant principals and establishing a hard to staff differential for principals.
The pattern conforming agreement with CSA would begin retroactively on April 23, 2019 and expire on January 28, 2023. The terms of the agreement must be approved by the union's membership.
Key Reforms for School Administrators:
The tentative contract agreement includes key reforms, such as:
Creation of a new Paid Parental Leave (PPL) benefit that allows up to 25 work days of paid leave for the employee to bond with a newborn, adopted or foster child. Employees would stay on the city payroll and have the ability to use PPL intermittently over a 6-month period of time from the date of the qualifying event. The option of intermittent usage with supervisor approval allows school level supervisors to make tailored arrangements to benefit schools.
Elementary and Junior High School Principal Salary
The creation of an enhanced salary schedule for elementary school and middle school principals in order to narrow the gap in salary with high school principals. These salary increases are in addition to the general wage increases.
Lead Education Administrator
A stipend for selected education administrators to conduct flexible additional work that will streamline and improve management in citywide offices. This helps leverage existing staff and streamline processes for schools.
Establish a Hard to Staff Differential for Principals
A differential of between $10,000-$15,000 to be offered to individual principals to either attract or retain school leaders to certain schools at the Chancellor's discretion in close consultation with the CSA.
There will be changes to the process intended to be more collaborative between principals and superintendents, including requiring advanced notification of meetings.
Fair Wages:
The tentative contract agreement is pattern conforming and includes the following wage increases:
April 23, 2019: 2.00%
July 23, 2020: 2.50%
September 23, 2021: 3.00%
Affordable Costs:
The gross cost of this pattern conforming deal over the financial plan is approximately $378 million, and funding is fully reflected in the budget.
---