---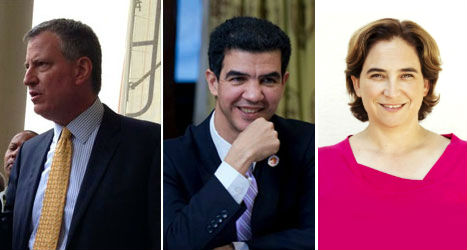 Mayor Bill de Blasio, Barcelona Mayor Ada Colau, Uptowns Council person Ydanis Rodriguez and others today announced a new joint call for innovative solutions to enhance safety at intersections for blind and low-vision pedestrians. This announcement is the culmination of a months-long effort, and is part of New York City's strategy to work with cities around the world to solve our shared challenges. Winning solutions will be announced in November 2017 and will receive funding to pilot technology-enabled solutions at designated locations in both New York City and Barcelona, Spain.
"We are so proud to partner with Barcelona and Mayor Colau on a critical effort to make our streets safer and accessible to people with disabilities," said Mayor Bill de Blasio. "We look forward to seeing the great ideas found in this joint competition, one of several new efforts – as part of our own AccessibleNYC plan — to make sure our streets and public places better support the needs of blind and low-vision pedestrians."
"Barcelona and New York share the same ambition of improving the quality of life of our citizens, offering better services and making the city more accessible for everyone," said Barcelona Mayor Ada Colau. "By launching this joint challenge with the city of New York, Barcelona is contributing to the development of complementary technology which guides people with visual impairment as they get around the urban environment. The administration is also promoting and aligning itself with existing talent and innovation in the city, transforming the way problems are tackled and resolved, creating new markets through original ideas which provide a vision of the future for the evolution and transformation of infrastructures and urban services."
New York City is home to more than 200,000 people with vision loss, including a growing population of seniors. Increasing accessibility for all New Yorkers is a key element of the de Blasio administration's Vision Zero plan, launched in 2014 to reduce and eliminate traffic injuries and fatalities. In New York City, the competition is led by the New York City Department of Transportation, Mayor's Office of People with Disabilities, and the Mayor's Office of Technology and Innovation. Solution providers are invited to propose the next generation of wearable technologies, smartphone applications, or other technology-enabled solutions that can help blind and low-vision pedestrians navigate street crossings with greater confidence, safety, and ease.
"I can think of no other city with which New York City DOT could better partner in the search for innovations than Barcelona," said NYC DOT Commissioner Polly Trottenberg. "Mayor Colau's creative transportation solutions, like the creation of pedestrian-friendly 'superblocks,' have already rightfully earned her world attention. Here in NYC, from new pedestrian ramps to "talking" bus countdown-clocks, we at DOT have been working hard to make our streets more accessible to low-vision and blind pedestrians. I am excited to see what innovations this joint competition in our two cities will inspire to further assist us in those efforts."
"The City of New York has been putting significant efforts into researching future accessible technologies that can enhance traveling and wayfinding for people with disabilities," said Victor Calise, Commissioner of the Mayor's Office for People with Disabilities. "This Call for Innovations is a milestone in the process of implementing solutions to use citywide that will help New Yorkers who are blind or have low vision travel more safely, efficiently and confidently around the streets of NYC."
"New York City is home to some of the busiest intersections in the world. There could be no better place to demonstrate the power of technology than at the intersection of public service, improving the urban experience for millions of residents, workers and visitors," said Miguel Gamiño, Chief Technology Officer for the City of New York. "We are excited to invite creative proposals from the global technology community and look forward to help bringing these new solutions to life."
"New York City and cities around the world are working to solve many of the same challenges, and we can be most effective if we address them together," said Penny Abeywardena, Commissioner of the Mayor's Office for International Affairs. "We want New Yorkers with disabilities to be able to travel through our city safely and easily, and we recognize that the best solutions may come from anywhere in the world. We commend everyone involved for this innovative collaboration."
Competition participants can submit their proposals online at http://nyc.gov/cfi/dot. The deadline for submissions is November 2, 2017. Finalists will be announced at the Smart City Expo World Congress, scheduled for November 14-16 in Barcelona. The selected solutions will be piloted at the intersection of 7th Avenue and West 23rd Street in Manhattan for one year beginning in the winter of 2018. The solutions identified through the Call for Innovations will complement the continued citywide installation of Accessible Pedestrian Signals (APS) and the pilot deployment of new tactile maps.
"New York City and Barcelona, as cities with large populations and as major tourist destinations, are uniquely positioned to lead in pedestrian safety innovation," said NYC Council Transportation Committee Chair Ydanis Rodriguez. "The outcomes of this call for innovation has the potential to impact city planning here, in Barcelona, and many cities across the country and around the world. I look forward to more opportunities to exchange transit and pedestrian safety ideas and innovations with Barcelona and other global cities in our efforts to achieve Vision Zero goals and equitable access to public transit across the city."
"This joint competition offers an exciting opportunity to develop innovative solutions to increase safety and improve services for pedestrians who are blind or have low vision in two of the world's great cities," said Assembly Member Richard N. Gottfried, who represents some of the most heavily traffic-congested areas in the country and chairs the Assembly Health Committee. "By harnessing human ingenuity and the power of new technologies, New York City can make even greater strides for traffic safety for all, including blind persons and those with low vision."
"Our streets must be accessible to all New Yorkers," said Council Member Costa Constantinides. "This joint competition for accessibility upgrades at intersections across our city will help make our streets more navigable for residents who are blind or have low vision. Thank you to Mayor de Blasio and DOT Commissioner Trottenberg for their leadership in keeping our streets safe and accessible."
"Especially in this time of turbulence and strife, I am happy to be part of a joint effort that seeks to embrace innovative solutions in order to create safer streets for everyone – including people with disabilities," said Council Member Margaret S. Chin. "I thank Mayor de Blasio and Mayor Colau for their commitment to pedestrian safety so that low-vision and blind people can travel the streets and sidewalks of two of the globe's greatest cities with greater confidence and ease."
"We are proud and deeply passionate about supporting this call for innovations by two of the most forward-looking cities in the world," says Julia Haselmayer, Principal, Citymart. "We are breaking important new ground to elevate the needs of our most vulnerable residents to the attention of urban innovators around the world."
"Technology can make daily activities for people with vision loss more productive and safe. Wearable technology, smart phone applications, sight substitution, voice technology and other advances have the potential to enable even greater independence. Lighthouse Guild applauds New York City's global call for proposals which will help encourage innovative solutions that will improve the safety and independence of people with vision loss," said Alan R. Morse, JD, PhD, President and CEO of Lighthouse Guild.
"As a founding member of Pedestrians for Accessible and Safe Streets, (PASS), and as the Director of the Computer Center for Visually Impaired People, (CCVIP) at Baruch College, I am thrilled to see the city step up and invite developers to apply their creativity and smarts to techniques, apps or methodologies to enhance safe street navigation, particularly at the many intersections we have in the City that are complex and where conditions can change by the minute," said Karen Gourney, Director, Computer Center for Visually Impaired People, Baruch College and Member, PASS. "Accessible pedestrian signals are the gold standard and the foundation for safe street crossing, but if developers take the critical step of partnering with the blind/low vision community to test and refine their ideas, results could be astounding!"
"On behalf of the Smart Cities for All global initiative, we applaud New York City and Barcelona for their leadership," said James Thurston, Vice President for Global Strategy and Development at G3ict and Dr. Victor Pineda, President of World Enabled. "Smart Cities that incorporate accessibility into their programs and solutions can deliver enormous benefits for citizens with disabilities, older citizens, and the population as a whole. This call for innovation is being designed to showcase new products and solutions that can be deployed by Smart Cities to positively impact mobility for all their citizens."
Related Articles
---