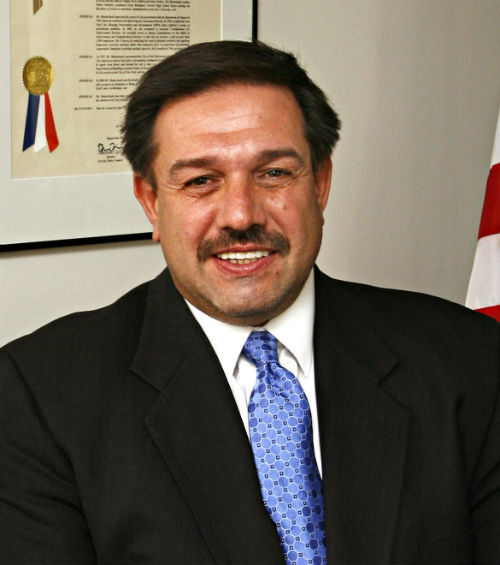 Mayor Bill de Blasio today appointed Vito Mustaciuolo (pictured) as acting General Manager of the New York City Public Housing Authority. Mustaciuolo brings decades of experience securing repairs for tenants and holding landlords accountable at the Department of Housing Preservation and Development's Division of Enforcement and Neighborhood Services, including as its Deputy Commissioner since 2009. At HPD, Mustaciuolo launched and managed the City's Alternative Enforcement and Emergency Repair programs, initiatives that have rehabilitated hundreds of apartment buildings and protected affordable homes for tens of thousands of New Yorkers.
As NYCHA's principal administrator, the General Manager oversees the maintenance of all developments. Mustaciuolo will succeed NYCHA's current General Manager, Michael Kelly. Since Kelly's appointment is 2015, NYCHA has reduced average repair wait times by 8 days, begun a massive resiliency program to modernize buildings, and launched NextGen Operations to improve customer service and resident engagement.
"This Administration has made an unprecedented commitment to strengthening public housing, and we are bringing in one of the City's best to further our progress. Vito Mustaciuolo has a proven track record of fighting for tenants across the five boroughs, and I know he will hit the ground running at NYCHA," said Mayor Bill de Blasio. "I also know we are in good hands with AnnMarie Santiago as HPD's enforcement boss. A tireless and talented public servant, she's been a behind-the-scenes driver of some of the City's most creative and efficient tools for getting property owners to live up to their obligations."
"Vito Mustaciuolo has a long and successful history of advocating for tenants," said NYCHA Chair and CEO Shola Olatoye. "His more than 30 years of experience at HPD will be invaluable as we implement broader reforms to strengthen public housing. I'm excited about the operational expertise he brings to the role. I would also like to thank Michael Kelly for his years of public service, especially his two stints at NYCHA. I and the executive team are grateful for Michael's deep industry knowledge and connections and his commitment to improving the lives of the 1 in 14 New Yorkers who call NYCHA home."
"I am humbled by Mayor de Blasio's appointment. I want to thank Chair Shola Olatoye for her confidence and support and I look forward to working with the entire NYCHA team," said Vito Mustaciuolo, acting NYCHA General Manager. "My top priorities are advancing the level of service to NYCHA tenants, increased portfolio wide capital improvements, and timely restoration of essential services. There is nothing more important than improving the quality of life of the thousands of families and individuals that call NYCHA 'home'."
AnnMarie Santiago will be promoted to acting Deputy Commissioner of the Division of Enforcement and Neighborhood Services at HPD, a division for which she has worked for 20 years. She is the first Hispanic-American woman to hold the leadership post. Currently Assistant Deputy Commissioner, she has served as Vito Mustaciuolo's second in command for two years.
"Serving more than 400,000 residents, NYCHA is one of the most critical sources of affordable housing in New York City. Protecting the quality and safety of that housing stock is paramount, which is why I'm so grateful to HPD Deputy Commissioner Vito Mustaciuolo for stepping in and lending his decades of expertise and experience in housing enforcement. During this transition, AnnMarie Santiago, Vito's second in command, will serve as Acting Deputy Commissioner at HPD. I am confident that HPD's enforcement work will carry on seamlessly under AnnMarie's capable and experienced leadership. The City of New York is fortunate to have tireless, talented public servants like Vito and AnnMarie who are so deeply committed to the safety and well-being of their fellow New Yorkers," said Maria Torres-Springer, Commissioner of the Department of Housing Preservation and Development.
"At HPD's Office of Enforcement and Neighborhood Services, we work day in and day out to safeguard the city's housing stock so that New Yorkers have a safe, decent place to call home. I am absolutely honored to be called on to fill the shoes of my long-time mentor, Vito Mustaciuolo. As we move forward, my team and I won't miss a beat and we will continue to push the envelope, build on our experience with new enforcement tools, and hold landlords accountable to their tenants and the law," said AnnMarie Santiago, acting HPD Deputy Commissioner of Enforcement and Neighborhood Services.
Related Articles