---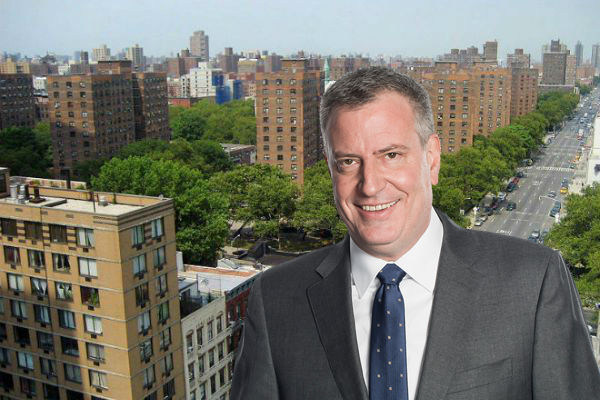 Mayor Bill de Blasio today announced the appointment of three new members to the Board of the New York City Housing Authority (NYCHA), including one current public housing resident. Joseph Adams Sr., Paula Gavin, and Matt Gewolb have joined the board. The new board appointments ensure residents are represented in decision making to preserve and protect public housing. The appointments include New Yorkers with experience in both the public and private sector across various industries, including research, telecommunications and government.
"NYCHA residents are the backbone of New York City, and the board serves an important role in making sure the City is best-serving the needs of those who call NYCHA home," said Mayor de Blasio. "I welcome Joseph, Paula and Matt to NYCHA's board, and look forward to working with them to ensure we do right by public housing residents and strengthen public housing for the next generation."
"I've called NYCHA my home for years, and I am proud to serve as a voice for the thousands of other New Yorkers who also call NYCHA home," said Joseph K. Adams. "I would like to thank Mayor de Blasio for appointing me to the board and I look forward to working with other members to ensure every resident has a say in the way NYCHA is managed."
"Public housing provides thousands of New Yorkers with opportunities for a better future," said Paula Gavin. "I thank Mayor de Blasio for appointing me to the NYCHA board, and I am excited to help tackle the challenges facing NYCHA and provide all residents with those opportunities to pursue a high quality of life."
"In a city as costly as this one, NYCHA serves a critical role in ensuring that New Yorkers have affordable housing options in their neighborhoods," said Matt Gewolb. "I appreciate Mayor de Blasio naming me to the NYCHA board and am looking forward to getting to work to ensure we are making the best decisions to support the thousands of NYCHA residents across the five boroughs."
The NYCHA Board is comprised of seven members appointed by the Mayor, including three members who are current residents of public housing and have a direct say in NYCHA's operations. The Board Chair – designated by the Mayor – serves as Chief Executive Officer of the Authority and is responsible for the supervision of the business and affairs of the Authority. Board members' duties include voting on contracts, resolutions, policies, motions, rules and regulations that affect all NYCHA residents.
Resident members of the Board attend each monthly meeting along with the NYCHA Chair and CEO, General Manager, and other NYCHA executive leadership and appointed board members. Resident board members also represent NYCHA at a variety of events ranging from press conferences to Family Days.
Resident input is integral to the success of NYCHA 2.0, and will continue to fuel the Authority's 10-year strategic plan to preserve and protect public housing. In September 2018, NYCHA announced an opening for a resident to join the board as a member. Applications were accepted online and at each development's property management and borough management offices. NYCHA expanded its board from four members to seven in 2013.
Former housing resident Joseph K. Adams Sr.
A NYCHA resident for more than 20 years, Joseph K. Adams Sr. currently resides at Manhattan's Sondra Thomas Apartments. He is a former resident of Manhattan's Woodrow Wilson Houses and the Bronx's Patterson Houses.
Adams' extensive experience in advocating on behalf of the community is reflected through the jobs he's held and his volunteer work over the past few decades. He is a member of New York Communities for Change, was Vice President of John Jay College's Able Forces Club (which advocates for students with disabilities), and served for many years as a Union Shop Steward and Grievance Representative at the Teamsters Local 237 union. A School Safety Agent for over 15 years, he later worked at his alma mater, CUNY's John Jay College of Criminal Justice, as a Research Assistant for a professor in the Department of Africana Studies and as a Research Coordinator in the Women's Center's Department of Counseling.
While overcoming a learning disability, Adams obtained his High School Equivalency Diploma. He later earned his bachelor's degree and Master of Public Administration degree from John Jay College. Adams received certification in public advocacy and leadership from the Joint Public Affairs Committee's Institute for Senior Action.
He raised four of his six children as a single parent while living in public housing, and was proud to see them graduate from elite high schools and universities, including Harvard University and the University of Chicago.
Paula L. Gavin brings 50 years of leadership 
In a career that spans 50 years of leadership and executive management, Paula L. Gavin possesses a unique combination of business, nonprofit, and government experience focused on strategic planning and youth, community, and leadership development.
From 2014 to 2018, Gavin served as the New York City Chief Service Officer, responsible for NYC Service. NYC Service – a division of the Office of the Mayor – promotes volunteerism, engages New Yorkers in service, builds volunteer capacity, and mobilizes the power of volunteers and national service members to address the city's greatest needs. Prior to that, she served as the Executive Director of the Fund for Public Advocacy, a nonprofit organization affiliated with the Office of the Public Advocate, and she also served as President of National Urban Fellows, a leadership development and diversity organization.
Gavin has also served as the founding Executive Director of the New York City Center for Charter School Excellence, a nonprofit organization launched to promote the development and quality of charter public schools, and as President and CEO of the YMCA of Greater New York. During her tenure, she doubled revenues to $100 million.
She has also held multiple executive positions in operations, marketing, sales, and human resources with AT&T; her 20-year career with AT&T culminated as Vice President of Network Operations, where she supervised business planning, finance, and personnel and training for AT&T's operational unit of 60,000 employees.
A graduate of the University of Delaware, Gavin has been an adjunct professor at the NYU Wagner Graduate School of Public Service, The New School, and Columbia University. She has served as a volunteer for the YMCA d' Haiti and the YMCA of Bogota, Colombia, as well as multiple New York City civic and nonprofit organizations. In July 2018, Gavin was appointed by Mayor Bill de Blasio to serve on the 2019 City Council Charter Revision Commission. She also supports multiple government and nonprofit organizations as a strategic coach.
Chief Legal Adviser Matt Gewolb
Matt Gewolb is Assistant Dean & General Counsel at New York Law School. He is the Law School's chief legal adviser, serves as Secretary to the Board of Trustees, and advises the Dean, members of the Board of Trustees, and others on a variety of legal, policy, academic, and operational matters. He was Executive Director and Counsel for the 2018 New York City Charter Revision Commission.
He previously served as the Legislative Director of the New York City Council. In that capacity, he oversaw much of the Council's legislative, policy, and oversight work. He has also served as an adjunct professor at Fordham Law School, teaching State and Local Government and the Law of the City of New York.
Gewolb is the former Director of Government Programs and Lecturer-in-Law at Columbia Law School, where he co-taught the Externship on the Federal Government in Washington, D.C., and directed Social Justice Initiatives programming relating to public service. Prior to joining Columbia, Mr. Gewolb served as a Legislative Counsel at the New York City Council. He was previously Chief of Staff to Georgia Senate Minority Leader Robert Brown and Executive Director of Residents for a More Beautiful Port Washington.
Gewolb is a graduate of Cornell University and Emory Law School. He also holds master's degrees in Higher and Postsecondary Education from Teacher's College, Columbia University.
---