---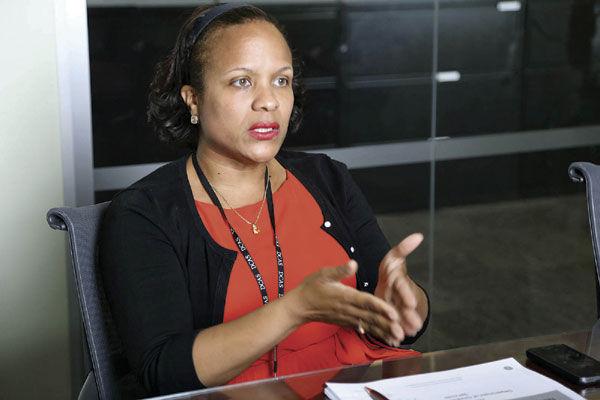 Mayor Bill de Blasio today appointed Dawn Pinnock as Acting Commissioner of the Department of Citywide Administrative Services (DCAS). As Commissioner, Pinnock will support City agencies' workforce needs, oversee citywide procurement, manage the City's public buildings and real estate portfolio, oversee the City's vehicle fleet and meet the Mayor's energy and electrification goals. Commissioner Lisette Camilo's last day will be November 12th, 2021.
Prior to this appointment, Pinnock served as the Executive Deputy Commissioner at the Department of Citywide Administrative Services. She was also recently appointed by the Mayor to serve on the Pay Equity Cabinet to address race and gender-based pay disparities in New York City.
"Dawn is a dedicated public servant with the experience and passion for excellence necessary to lead an agency as important to the inner workings of City government as DCAS," said Mayor Bill de Blasio. "I also want to thank Lisette for her six years of distinguished service as Commissioner."
"Public service is an honor and a privilege, and I am humbled to be named as Acting Commissioner for DCAS," said Dawn Pinnock, incoming Acting Commissioner for the NYC Department of Citywide Administrative Services. "As someone who has proudly worked in New York City government throughout my career, including the past seven years at DCAS, I know first-hand the crucial role this agency plays in making local government work for all New Yorkers. I look forward to building upon the important work we do at DCAS and would like to thank Mayor de Blasio for entrusting me with this position. I would also like to thank Commissioner Lisette Camilo for her nearly six years of service leading DCAS and for the positive impact she made."
"I would like to congratulate Dawn Pinnock for being named as DCAS's Acting Commissioner," said Lisette Camilo, Commissioner of the NYC Department of Citywide Administrative Services. "Dawn has been a trusted and highly effective executive at our agency for years, and I know first-hand the immense talent and abilities she will bring to this job. I would also like to thank Mayor de Blasio for the honor of allowing me to serve as DCAS commissioner since 2016. It has been a distinct privilege, and I thank the Mayor and all of my colleagues."
Dawn Pinnock
As a proud native New Yorker, Dawn Pinnock is a transformative leader with more than two decades of experience at some of New York City's largest municipal agencies. Most recently, Pinnock served as the Executive Deputy Commissioner at the Department of Citywide Administrative Services, where she led the agency's people-centered functions, including Administration, Citywide Equity and Inclusion, Citywide Human Capital, and the Internal Audits. In her role, she maintained citywide oversight of services provided to the human resources, equal employment, and diversity and inclusion departments serving at every agency. Pinnock has also served as the Deputy Commissioner for Human Capital, overseeing all aspects of civil service administration and human resources operations. During her tenure at DCAS, she led teams that developed both the City's remote work policy and the return to work policy, launched mandatory sexual harassment training for over 360,000 City employees, and made the City's civil service process more accessible to current and potential City employees.
Prior to joining DCAS, Pinnock served as the Vice President of Human Resources at New York City Transit and as the Director of Human Resources at the New York City Housing Authority (NYCHA). She holds a Master of Science in Urban Policy Analysis and Management from The New School for Social Research and a Bachelor of Business Administration from Baruch College. She is a Certified Human Resource Professional, and a member of both the Association for Talent Development and the Society of Human Resource Management. She lives in the Bronx with her family.
"DCAS is in excellent hands with Dawn. Her work in city government over the last two decades has resulted in transformational change. I look forward to continuing to see her thrive in this new role. I want to thank Lisette for her service to our City- I am grateful for her partnership over the last six years," said Melanie Hartzog, Deputy Mayor for Health and Human Services.
"Dawn Pinnock is an exceptionally talented and respected leader in one of NYC's most complicated oversight agencies. Over the last 8 years, Dawn has been both an excellent partner and advisor to the Mayor's Office of Labor Relations. Her thoughtful approach has allowed us to solve problems and address issues that allow us together to support NYC's employees," said Renee Campion, Commissioner of the Mayor's Office of Labor Relations.
"Dawn Pinnock is a human-centered and transformational leader. Over the past year, I was fortunate to co-chair the City's Pay Equity Working group with Dawn and witnessed her fierce and relentless commitment to building a productive, inclusive, and equitable work environment for the city's 400,000+ employees. I congratulate Dawn on her appointment as the City's Commissioner for the Department of Citywide Administration and Services; and am confident she will continue to create equitable and inclusive policies, practices, and programs that enable our city's workforce to thrive," said Jacqueline M. Ebanks, Executive Director for the Commission on Gender Equity and Co-Chair of the Pay Equity Cabinet.
"I've had the pleasure of working with Dawn Pinnock for over a decade, both in my position as Civil Service & Labor Chair and previously as President of the Amalgamated Transit Union where she was Vice President of Human Resources for the MTA. We worked together to benefit workers and combat inefficiencies, and so we knew that all things were possible when it came to working with the Council. Throughout these past eight years, Dawn has been an incredible partner in promoting opportunities for middle-class employment with our municipal workforce. She has overseen the use of citywide Civil Service 101 information sessions, improvements to the civil service examination process, the creation of digital testing centers, and much more to bring our civil service system into the twenty-first century and most importantly expand access to civil service careers for more New Yorkers, especially in communities of color. Dawn will bring with her a wealth of experience and institutional knowledge to this role and undoubtedly serve with fundamental respect and appreciation for every member of our City's workforce. I offer her my sincere congratulations, and look forward to continuing working together in this new capacity," said Council Member I. Daneek Miller, Chair of the Committee on Civil Service and Labor.
"The work of DCAS is critical to the success of the city overall and the mayor made an excellent choice with Dawn," said Henry Garrido, Executive Director, District Council 37, AFSCME. "I know she will be a great partner and I look forward to working with her on behalf of all of my members."
Photo credit: Dawn Pinnock.
---