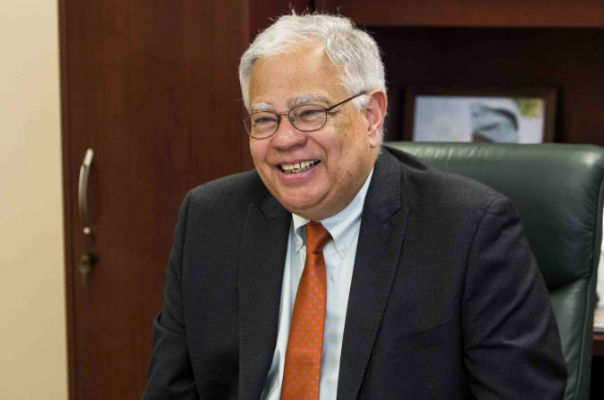 Mayor Bill de Blasio today announced the appointment of Cesar Perales as Chair of the City's newly formed Charter Revision Commission. The Commission, announced at this year's State of the City and part of the Mayor's DemocracyNYC agenda, is charged with proposing a plan to deepen New York City's campaign finance system and empower New York City government to enhance voter participation and improve the electoral process. As required by law, the Commission will also examine the entire Charter to identify additional areas for potential revision.
Perales' appointment follows a 50-year career in public service and advocacy. Most recently, he served as New York State's Secretary of State, where he was directly involved in the state's economic development, government efficiency, local government services and anti-poverty efforts. He was also the co-founder of the Puerto Rican Legal Defense Fund (PRLDEF). In 1981, as President and General Counsel of PRLDEF, he initiated successful anti-racial gerrymandering litigation in New York City. Previously, Perales successfully sued to require New York to provide language assistance at the ballot box-a requirement that was subsequently made an amendment to the national Voting Rights Act. He also has expansive experience in the health and human services field, working as senior vice-president for community health at New York-Presbyterian Hospital, the Deputy Mayor for Health and Human Services under Mayor Dinkins and Assistant Secretary for the United States Department of Health and Human Services.
"For democracy to truly function, we have to get big money out of politics," said Mayor de Blasio. "With Cesar at its head, the Charter Revision Commission will help New York City lead the nation in improving our democracy."
"It is an honor to serve as Chair of this commission," said Cesar Perales. "I have spent my entire career trying to make government more democratic. I look forward to this opportunity to review our City's charter to help make New York a more fair and equitable place for all of us."
Today's announcement also marks the appointment of Rachel Godsil as Vice Chair of the Commission. Godsil, a Professor of Law and Chancellor's Scholar at Rutgers Law School, is the co-founder and director of research for the Perception Institute, a national consortium of social scientists, law professors, and advocates focusing on the role of the mind sciences in law, policy, and institutional practices. She collaborates with social scientists on empirical research to identify the efficacy of interventions to address implicit bias and racial anxiety. She is also a former Chair of the Rent Guidelines Board, worked previously as an Assistant United States Attorney for the Southern District of New York, and as an Associate Counsel at the NAACP Legal Defense and Educational Fund.
Joining full time in May, Matt Gewolb will be the Commission's Executive Director and counsel. At present, Gewolb is the Assistant Dean and General Counsel of New York Law School. In his current role, Gewolb advises the Dean and President, Members of the Board and the senior administration on significant policy, management and legal issues and coordinates work on institutional regulatory and accreditation matters. He was previously the director of legislation for the New York City Council. He is the former Director of Government Programs at Columbia Law School and teaches State and Local Government and Law of the City of New York at Fordham Law School.
"I am honored to join the Commission led by Chair Perales in a thorough review of the New York City Charter with the goals of promoting democracy and equity in City governance," said Rachel Godsil.
"It is a tremendous privilege to have the opportunity to work with Chair Perales and the Commission," said Matt Gewolb. "I am looking forward to a robust public process and extensive stakeholder engagement as we engage in this critical work."
The remaining members of the commission will be announced in the coming weeks. Their first public meeting will be held by early next month.
"I have worked closely with Cesar, and know that he will bring the utmost integrity to this role. His dedication to making our system more democratic and equitable makes him the ideal candidate for Chair of the Commission," said Former Mayor David Dinkins.
"I know Cesar cares deeply about improving democracy and know from his advocacy in connection with the 1989 charter review process that he is strongly in favor of a commission that is independent, committed to an open process, and relates transparently to all the citizens of New York City," said Frederick A.O. ("Fritz") Schwarz, Jr., Chief Counsel at the Brennan Center for Justice, and former Chair of the 1989 Charter Revision Commission.
Photo credit: Cesar Perales via source
---
---
Related Articles