---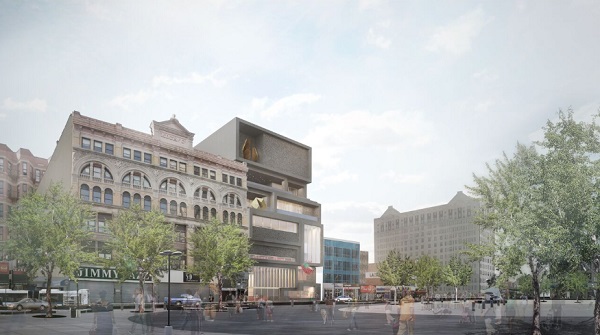 Mayor Bill de Blasio, Deputy Mayor Alicia Glen, Public Design Commission President Signe Nielsen, and Executive Director of the Commission Justin Garrett Moore, today announced the winners of the 36th Annual Awards for Excellence in Design. This year's projects were honored for remarkable designs that enliven neighborhoods, improve recreational and cultural spaces, and preserve New York City's historic gems.
"These eleven winning schools, parks, libraries, museums, and artworks aren't only beautiful – they enrich their communities by bringing revitalizing existing spaces and creating vibrant new ones," said Mayor Bill de Blasio.
In coordination with NYCxDESIGN – an annual citywide celebration of innovative art and design from around the world – this year's awards recognize projects that help fulfill the de Blasio Administration's commitment to providing for a more equitable, resilient, and diverse city for all New Yorkers.
Projects include the reconstruction of Garrison Playground and renovation of the Brownsville Recreation Center, both of which will provide communities with much-needed recreation and amenities with human-centered designs.
The Studio Museum in Harlem's new building, the renovation of the Hamilton Fish Park Branch Library and the installation of artworks at the Westchester Library and Snug Harbor Music Hall will enhance the City's cultural offerings, providing inspiration and educational opportunities.
The stabilization and lighting of the New York State Pavilion, the adaptive reuse of the World's Fair Reflecting Pool, and the restoration of the Concert Grove Pavilion will preserve New York City's rich historic fabric for the enjoyment of future generations.
In addition, a new education center and hotel at Cornell's Roosevelt Island campus will act as the northern gateway to this center for learning, while a prototypical design for City plaza kiosks will offer a sleek and cost-effective solution to maintaining public plazas.
"The Public Design Commission is pleased to recognize these outstanding public projects, which prove that thoughtful design is a critical component of providing quality, equitable, and sustainable public spaces to all New Yorkers. By utilizing key principles of good design, these projects will provide new opportunities for education and recreation, offer inspirational artworks and cultural programming, and preserve our city's historic structures and public plazas for the future enjoyment of New Yorkers and visitors," said Public Design Commission President Signe Nielsen.
"The projects that we are awarding today highlight the very best of our shared values and represent real investments in building a better city for all New Yorkers. Through excellence in design, our city's agencies, architects, landscape architects, artists, and designers are working to enhance neighborhoods, improve our environment, health, and opportunities, and celebrate our creativity, history, and culture," said Public Design Commission Executive Director Justin Garrett Moore.
"Every one of these projects demonstrates how public art and design can creatively enrich the built environment while responding to the unique circumstances of each community," said Tom Finkelpearl, Commissioner of the Department of Cultural Affairs. "Whether it's a park, a library, or a cultural venue, inclusively and thoughtfully designed art and infrastructure has the power to bring all New Yorkers together and shape an engaging, interactive, and welcoming city."
The Public Design Commission
The Public design Commission reviews permanent works of architecture, landscape architecture, and art proposed on or over City-owned property. The Commission comprises 11 members, including an architect, landscape architect, painter, sculptor, and three lay members, as well as representatives of the Brooklyn Museum, Metropolitan Museum of Art, New York Public Library, and the Mayor.
Members of the Commission serve pro bono and meet once per month. Projects considered for the annual awards are submitted by City agencies and include the construction, renovation, or restoration of buildings and other structures; the creation or rehabilitation of parks, playgrounds, and plazas; installation of lighting and other streetscape elements; signage; and the installation and conservation of artwork and memorials. The Commission has been honoring extraordinary projects annually since 1983.
The Award-Winning Projects
Garrison Playground
East 146th Street, Walton Avenue, and the Grand Concourse, Bronx
A project of the Department of Parks & Recreation
Department of Parks & Recreation In-House Design
As part of the Community Parks Initiative, the reconstruction of this park will benefit the previously underserved neighborhood of Mott Haven. With flexible spaces for a variety of uses, the park will become a nexus of community engagement and recreation for all age groups.
The Studio Museum in Harlem
144 West 125th Street, Manhattan
A project of the Department of Cultural Affairs and The Studio Museum in Harlem
Adjaye Associates and Cooper Robertson
The Studio Museum's new home will establish a distinguished architectural presence that celebrates the legacy of this critical cultural resource. Enlarged exhibition and program spaces will enhance the organization's programming for Harlem residents and visitors from around the world.
Check out all the designs here.
---