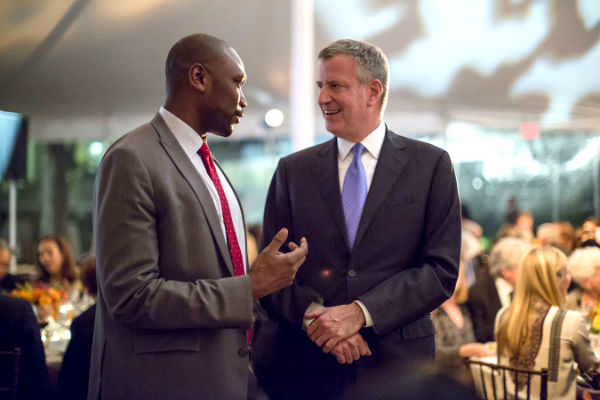 Mayor Bill de Blasio and Department of Small Business Services Commissioner Gregg Bishop today announced the launch of 'NYC Love Your Local,' a new initiative to celebrate and promote the diverse, independent, small businesses that enrich neighborhoods from Harlem to Hollis. The program encourages New Yorkers to share their favorite independent, non-franchise businesses, which will add them to an interactive map that is now available online at nyc.gov/loveyourlocal. Shared businesses may also apply for a share of $1.8 million in grant funding and expert advice to help them better meet competitive pressure. New Yorkers may share why they love their favorite local business on social media by using the hashtag #LoveYourLocalNYC.
"New York City thrives on the energy, culture and diversity of small businesses," said Mayor Bill de Blasio."The NYC Love Your Local program gives New Yorkers a chance to support their favorite businesses by bringing the local establishments they love into the limelight and giving them the chance to cultivate business through a nomination to win a $1.8 million grant."
"Independent, small businesses are the backbone of our neighborhoods, and the NYC Love Your Local initiative recognizes and supports their vital role in the fabric of New York City," said Gregg Bishop, Commissioner of the Department of Small Business Services. "New York City is full of unique neighborhoods that are given character by local merchants and entrepreneurs. New Yorkers should share their favorite neighborhood business and be sure to show their love."
This new initiative will tap into New Yorkers' love for the neighborhood staples they frequent to spread the word about shopping local. Small businesses face unique challenges but have an important place in the fabric of New York City.
"Shopping local is a proud Brooklyn tradition. We celebrate our independent small businesses that provide the unique commercial character of our neighborhoods, a truly invaluable piece of what makes our borough special. The NYC Love Your Local campaign is an innovative technology-driven way to engage New Yorkers in spreading the word about their favorite stores and merchants, while giving entrepreneurs much-welcomed financial and marketing assistance," said Brooklyn Borough President Eric Adams.
---
Become a Harlem insider - Sign-Up for our Newsletter!
---
"Our small businesses are one of the many factors that make Staten Island so unique," said Staten Island Borough President James Oddo. "This initiative gives voice to the community to call out their favorite small businesses and that's always a good thing."
Council Member Robert Cornegy, Chair of the Committee on Small business, said, "As a strong advocate for small businesses, I love this idea. It's time for our communities to support our local merchants and small businesses on a grander scale. What a fun way to make New Yorkers a part of that process. I look forward to not only seeing the winners in the fall, but sharing the hashtag #LoveYourLocalNYC and patronizing the winners."
"Studies have shown that for every $100 spent at a local business, $68 stays in the community," said Council Member Rafael Espinal, Chair of the Committee on Consumer Affairs. "I urge New Yorker's to show their love and nominate their favorite businesses for this opportunity and to continue patronizing neighborhood businesses all year round!"
"New York City's small businesses give so much back to our city – they create jobs, supply outstanding goods and services, and make New York 'New York', helping to define and nurture our shared culture. I wholeheartedly support the efforts of the City's Department of Small Business Services to celebrate and assist our vibrant small business community. I hope New Yorkers will get involved and nominate their favorite small business and put them 'on the map,'" said Council Member Helen Rosenthal.
"Small businesses not only are the backbone of a community, they also give a unique charm to neighborhoods and are reflective of the people who patron their establishments. I encourage all to nominate their favorite local businesses so that everyone can see just how diverse New York City's small businesses are," said Council Member Jumaane D. Williams.
"Providing opportunities for New York City's small businesses to grow and thrive is pivotal for creating jobs and a stable economy. The 'NYC Love Your Local' initiative is a creative way to engage consumers to show support for local shops, all while helping these business access capital, improve their operations, and gain recognition. I applaud the Mayor and Commissioner Gregg Bishop for this grassroots approach and for innovating the way New York City supports its small business community," said Council Member Julissa Ferreras-Copeland.
"Local businesses always have been and always will be the backbone of New York City. By combining the power of "word of mouth" support and City funds, the Love Your Locals initiative will provide local entrepreneurs with the opportunity to thrive. I applaud Mayor de Blasio and SBS Commissioner Gregg Bishop for today's announcement and encourage all New Yorkers to support their local businesses," said Council Member Vanessa Gibson.
"Diverse, independent small businesses are central to our economy, and a hallmark of neighborhoods all across New York City. The NYC Love Your Local campaign is a great opportunity for New Yorkers to showcase their favorite local small business and highlight New York City's incredible diverse businesses and entrepreneurs," said Council Member Rory Lancman.
"It has always been my priority to make sure that government supported its diverse and robust small business community. That is why I created several merchant groups in my district's business corridors and encouraged the formation of Business Improvement Districts. This new initiative underscores how important local businesses are to our communities, and I commend the Administration and SBS for working to highlight and support them across the City," said Council Minority Leader Steven Matteo.
"We applaud SBS for helping small businesses flourish by providing expert advice and resources. Everybody loves a winner and now the Love Your Local Program will identify and reward local businesses that help their communities become better places to live and work," said Mark Jaffe, President and CEO of the Greater New York Chamber.
"I love the concept of the NYC Love Your local campaign," said Linda Baran, President and CEO of the Staten Island Chamber of Commerce. "It shines the light on our neighborhood 'mom and pops' who contribute so much to our local economy. Kudos to Mayor Bill de Blasio and Commissioner Gregg Bishop for showing their heartfelt support for our city's small businesses."
"The Queens Chamber of Commerce is thrilled about this initiative," said Thomas J. Grech, Executive Director of the Queens Chamber of Commerce. "As the most diverse county in the U.S. and the largest geographic borough in New York City, Queens and our small local businesses will be well served by this unique initiative. Queens has nearly 47,000 business entities spread across fourteen NYC City Council District so this project will truly spread the love across the Borough."
Wellington Z. Chen, Executive Director of the Chinatown Partnership, said, "As a BID that is almost exclusively all local independent mom-and-pop stores, we are delighted that the City is launching this great initiative to support our small merchants. They are the backbone of our community and it is about time we celebrate all their contributions and the value they bring to this dynamic city."
Dan Clark, Executive Director of the Staten Island Business Outreach Center and Forest Avenue BID, said, "Staten Islanders can be fiercely loyal to our local neighborhood businesses as they help make up the culture and identity of our communities. They deserve all of our support and any additional help we can provide these community pillars is well deserved."
Tim Laughlin, President of the Lower East Side Partnership, said, "Small merchants, whether opening a new store or operating a multi-generational business, form the foundation of dynamic and active retail corridors throughout the five boroughs. The NYC Love Your Local initiative will help highlight independent merchants and their unique offerings while also providing an important tool to support the continued growth of New York City's small business community."
Michael Lambert, Executive Director of the Bed-Stuy Gateway BID, said, "The NYC Love Your Local Program is a great way to acknowledge and promote many of the City's unique small businesses that are key contributors to the City's economy. By allowing New Yorkers to nominate their favorite local small businesses, the program provides a unique opportunity for local businesses to be recognized on a citywide platform and promote many businesses in neighborhoods that are typically only noticed by their hyper-local followers."
Renee Giordano, Executive Director of the Sunset Park BID, said, "Sunset Park's 5th Avenue has over 500 mostly small, Mom and Pop shops. They are owned by the many hard-working individuals, who strive each day to be successful, while enhancing the quality of life in their community. These businesses represent the diverse fabric of the Sunset Park community, who respect and support them."
Marie Torniali, Executive Director of the Steinway Astoria Partnership, said, "The NYC Love Your Local initiative is a great way to spread the word and shine a light on our small businesses here on Steinway Street. These businesses help Astoria thrive and are an integral part of what makes Astoria great!"
NYC Love Your Local: Put Your Favorite Business 'On the Map'
New Yorkers may now share their favorite small business and the campaign will run through April. Shared businesses will be put 'on the map" – an interactive map that is available online so that these businesses can be discovered by other friends and neighbors. Once shared, businesses will be able to apply for a grant to help with various business improvements. Sharing a business is the first step, but a small business must complete an application to be considered for a grant.
NYC Love Your Local: Help Them Win a Grant
Small businesses will be eligible to apply for grants of up to $90,000 and long-standing businesses will be given preference for awards. Winning businesses will receive advice from industry experts and a grant to make proposed changes a reality. Improvements might include making menu changes, or improving a shop's layout, but will be as unique as the businesses that win. Though businesses may be shared by New Yorkers, businesses must submit applications for grant funding. Applications will be open through April and grant decisions will be made this fall.
For more information on all SBS services, go to nyc.gov/sbs or call 311.
Related Articles
---
VIDEO
---
"Dr. Harry Delany is a renowned Harlem born and raised surgeon, the son of the great jurist and civil rights leader, Hubert Delany...." This monthly post is made in partnership with Harlem Cultural Archives.